Laser treatment for vitiligo in Turkey has given new hope to remove skin pigmentation while restoring the skin's natural color in the pigmentation area, so how is vitiligo treated using a laser?
Vitiligo manifests as light spots different from the standard skin color. These spots may spread to other body areas, such as the face, neck, and hands or feet. Vitiligo treatment using ultraviolet light eliminates these annoying pigmentations forever, so how is this done? Treatment? Is it harmful to the skin?
The main cause of vitiligo is not clearly understood to this day. Still, doctors believe that vitiligo is an autoimmune disease that occurs due to the lack of pigmentation in patches of skin or hair because they are devoid of melanin, which gives our skin its natural color.
How to treat vitiligo with laser in Turkey
Laser treatment is one of the effective ways to get rid of vitiligo pigmentation on the skin, as the dermatologist uses UVB waves precisely in the direction of pigmentation areas on the skin; these waves stimulate melanocytes to produce melanin, which leads to coloring vitiligo spots.
A dedicated device that generates a laser, known as an excimer laser, which is one of themost effective treatment for vitiligo and a way to restore the skin's natural color in the pigmentation area.
Vitiligo is treated with laser in specialized centers or the outpatient clinic of a specialist doctor. Often the patient needs to conduct several sessions until treatment is completed. Laser treatment applies to all affected areas of the body, whether the pigmentation is present on the neck or face, as well as the hands or feet. Studies show that the treatment gives better results on exposed areas, especially the face and neck.
The Excimer laser device for vitiligo is safe to use and is not usually accompanied by any pain, and one session usually takes about half an hour only, and it is suitable for all patients of different ages and skin types, and it is a preferred option for vitiligo patients who do not benefit from other treatments such as using creams or lotions, as well asphotodynamic therapy .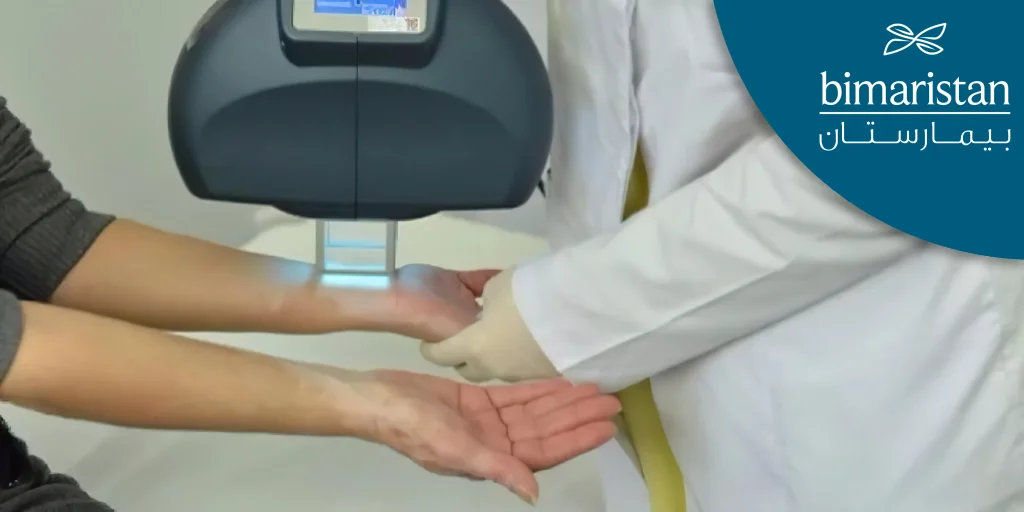 Benefits of laser treatment for vitiligo
Laser treatment of vitiligo has many benefits and advantages when compared to other treatment methods, including:
A precise treatment that focuses on the pigmentation area without disturbing the natural skin nearby
It can be used to treat sensitive areas such as the ear or pubic area that are difficult to treat using other methods
Safe to use in children
Easy to apply and painless procedure
A highly effective technique with satisfactory results
The patient can live his life normally immediately after the treatment session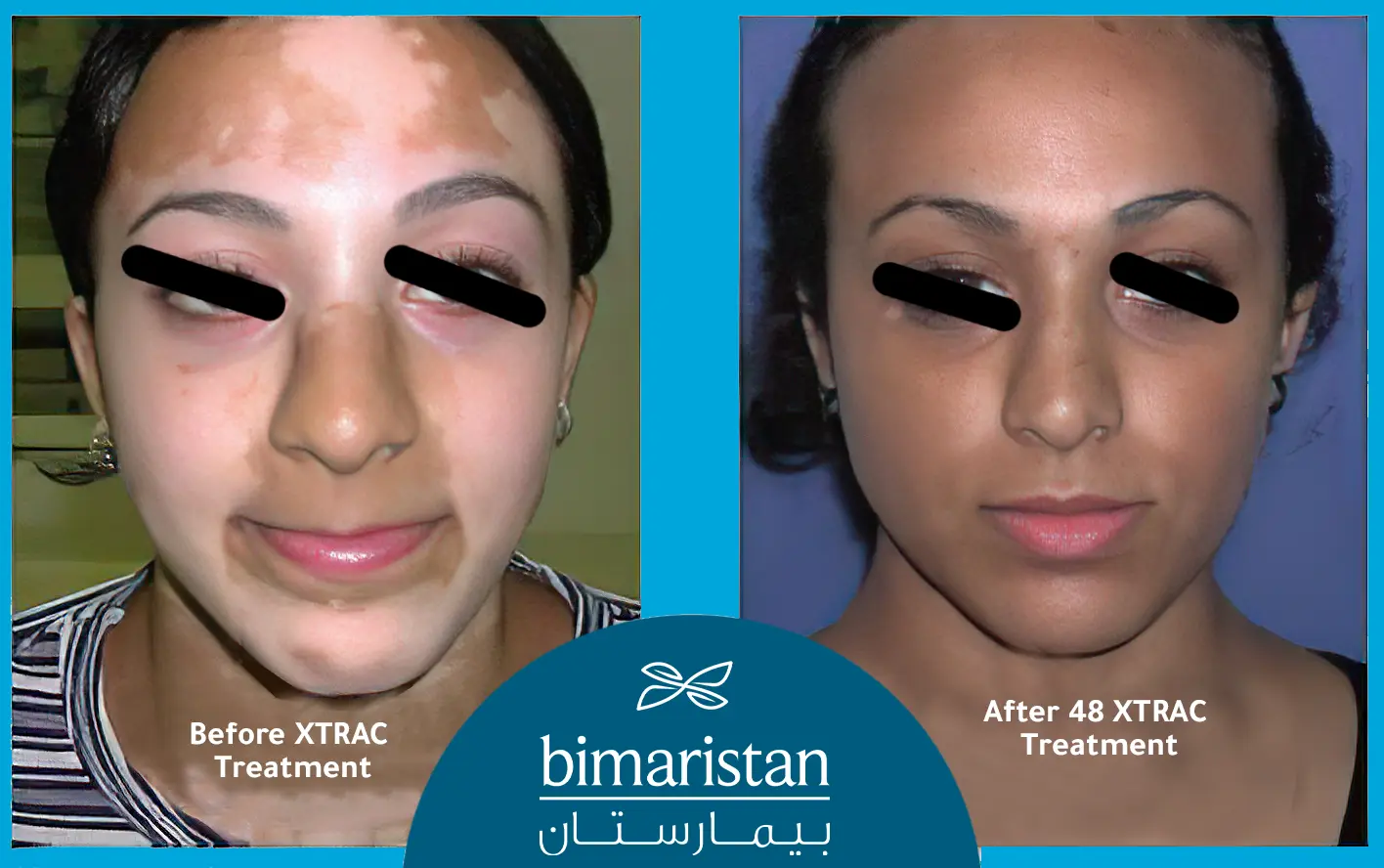 Risks of laser treatment for vitiligo
Although treatment using laser is considered a safe procedure, however, there is a rare possibility for some side effects of treatment, including:
Skin redness
Mild pain around the treatment area
Skin sensitivity to laser and widespread erythema (urticaria)
Hyperpigmentation or blackening of the skin where the laser was used
Skin lesions or burns

Success rate of laser treatment for vitiligo in turkey
The success rate of laser treatment depends on several factors, including the size and location of the lesion and the type of laser used. However, according to studies, more than 70% of people who underwent excimer laser treatment sessions benefited from the treatment and expressed great satisfaction with the results.
Vitiligo is a common skin disease among the general public, with more than 70 million people suffering from it, and vitiligo treatments have increased in recent times. Still, the excimer laser remains the best and most effective option for treatment.
Turkey, and Istanbul in particular, contains many centers specialized in treating skin problems and diseases, as the treatment is carried out under the supervision of experienced specialists using the best laser devices with high success rates.
Cost of laser treatment for vitiligo
The price of laser treatment for vitiligo varies from one patient to another according to the size and location of the pigmented lesion, the type of laser used, and the number of treatment sessions. The price may also vary from one center to another in Turkey.
On average, the price ranges from 1,000 to 5,000 US dollars. You can contact us to request more details about the cost and to guide you to the best medical centers in Turkey that provide the best service at a reasonable price.
The Bimaristan team consists of a group of Arab and Turkish doctors who help the patient step by step to receive his treatment in Turkey, starting with the travel procedures until the end of the treatment and the patient's return to his country.
Laser treatment for vitiligo is one of the procedures used in Turkey to remove skin pigmentation. Laser technology is characterized by being easy to perform and low in risk. In addition, ultraviolet rays can treat vitiligo effectively. Turkey provides the latest excimer laser devices for treating vitiligo at a low cost compared to Other countries, making it a destination for many tourists wishing to treat vitiligo.
---
Sources: