When you have tonsillitis, you may feel sore throat and difficulty swallowing. The treatment of tonsillitis for adults tends towards surgery often, so Turkey has given it special importance.
Tonsillitis for adults
Tonsillitis is a very common disease, and although it is more common in children and adolescents, it can also affect older adults.
The tonsils are small, oval-shaped, soft-tissue lymph nodes that are pink in color and can be seen in the throat on both sides when the mouth is opened. They are part of the immune system that fights germs and viruses to avoid infection.
Tonsillitis occurs when you have a bacterial or viral infection that swells and turns red. In the worst case, an abscess may develop next to the tonsil (peritonsillar abscess) that may need surgical drainage.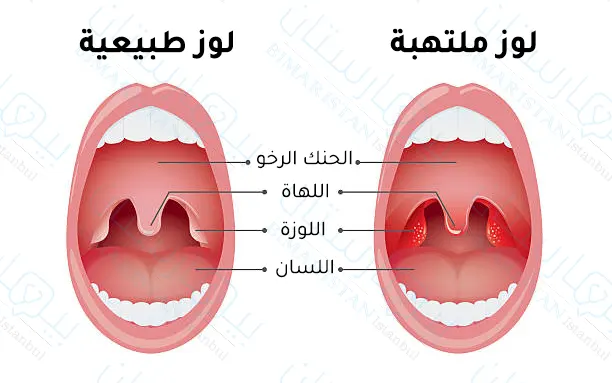 The bacteria or viruses that cause tonsillitis are easily transmitted from person to person. Treatment for adult tonsillitis depends mainly on the causative agent, so it is important to get an accurate diagnosis of the type of infection.
Tonsillectomy is only used in people who have frequent tonsillitis that don't respond to other treatments or who develop serious complications.
Causes of tonsillitis in adults
The tonsils are the first line of defense against bacteria and viruses that are transmitted orally, which makes them vulnerable to many infections and infections. However, the immune function of the tonsils decreases significantly after puberty, and this explains the prevalence of tonsillitis in young children more.
Viral tonsillitis occurs more frequently than bacterial tonsillitis, as the tonsils are more likely to be infected with viruses than bacteria.
There are several viruses that can infect the tonsils, including:
Influenza and parainfluenza viruses
common cold viruses
adenoviruses
herpes simplex virus
Epstein-Barr virus
Cytomegalovirus
Varicella virus
Bacterial tonsillitis occurs by 15-30%, and the most common pathogen is Streptococcus pyogenes. The onset of bacterial infections is often more sudden and its symptoms are more severe on the body than viral infections, and patients do not usually suffer from coughing as in viral infections.
Symptoms that suggest a bacterial infection also include:
Patient's temperature rises
Enlarged lymph nodes in the neck
There are white spots filled with pus on the tonsils
bad breath
It is noteworthy that tonsillitis as a result of infection with one of these microorganisms, whether germs or viruses, is highly contagious, meaning that the infection is transmitted easily from one person to another, and the infection is most severe in the early stages of the disease.
Symptoms of tonsillitis for adults
Symptoms of tonsillitis in adults may vary from person to person, and include:
Sore throat
pain while swallowing
Enlarged tonsils
red tonsils
White or yellow spots on the almonds
Enlarged lymph nodes in the neck
Fever
cough
sneeze
hoarseness
Nasal congestion
Earache
a headache
exhaustion
stomach pain
stiff neck

Picture showing the symptoms of tonsillitis for adults - the difference between viral tonsillitis and bacterial tonsillitis
If adult tonsillitis is not treated, an abscess can develop around the tonsils; An area filled with pus and germs, a tonsil abscess can cause the following symptoms:
Severe pain in the throat
Patient's temperature rises
fading out
drooling
Difficulty opening the mouth
One tonsil may be larger than the other
Diagnosis of tonsillitis for adults
The otolaryngologist will take the patient's medical history and conduct a clinical examination to look for any sign that may indicate the type of causative agent. The doctor may take a swab from the tonsils and throat to obtain a sample of the secretions and plan treatment according to the causative agent, including tests that are done on the sample :
Rapid streptococcal test: This test can detect streptococcus bacteria within minutes, but it can give false negative results.
Implant and allergy tests: The sample is cultured in a laboratory to detect germs and help choose the best antibiotic for the treatment of tonsillitis for adults. It may take two or three days for culture to obtain results that are more accurate than the previous test.
Tonsillitis treatment for adults
The method of treating bacterial tonsillitis is completely different from the method of treating viral tonsillitis, but in all cases it may be necessary to remove the tonsils when the tonsils are inflamed frequently and when the inflammation is severe.
How to treat tonsillitis at home for adults
There is no specific treatment For viral tonsillitisAnd often, mere home care is sufficient to help treat tonsillitis for adults without surgery. Among the procedures that are recommended to be done at home in order to control the infection, relieve symptoms and speed up the pace of recovery:
Get some rest
Drink enough water or fluids
Take pain relievers such as paracetamol and ibuprofen
Gargling with saline solutions
Eat foods and drink warm liquids, such as tea with lemon
Sucking on medicinal lozenges to moisten the throat, or eating honey
Avoid certain irritants, such as cleaning tools
Avoid Cigarette Smoking - Learn More About The effect of smoking on oral health
but regarding for bacterial tonsillitis With Streptococcus pyogenes, the treatment is mainly with antibiotics, and it can be said that penicillin is the best antibiotic for the treatment of adult tonsillitis caused by streptococcus type A.
Knowing that another antibiotic can be used in case of allergy to penicillin, such as cephalosporin, erythromycin or clindamycin.
It should be noted that the antibiotic should be taken in the full dose prescribed by the doctor (for 10 days for penicillin) even if recovery occurs and symptoms disappear before the deadline.
Not taking the medication properly can worsen the situation, return the infection and spread to other parts of the body, and make bacteria more resistant to antibiotics.
Surgical treatment of tonsillitis for adults
In most cases, healing of tonsillitis takes about a week, but in other cases, recovery requires more than that. An ear-nose-throat doctor may decide to perform a tonsillectomy in Turkey in order to treat tonsillitis for adults in the event of:
7 or more lab-proven tonsillitis attacks in one year
5 or more attacks per year for 2 consecutive years
3 or more attacks per year for 3 consecutive years
Tonsillectomy surgery may also be resorted to when the case of tonsillitis is severe and accompanied by breathing difficulties or with sleep apnea, or when an abscess around the tonsils has not improved over traditional treatment.
The primary function of the tonsils is to resist infection, but this function is lost in adults, which makes tonsillectomy seem like the best option for treating tonsillitis in adults.
In addition, tonsillectomy can be performed on an outpatient basis, which means that the patient can go home on the same day.
Many studies have been published on the benefits of almond surgery for adults who suffer from recurrent tonsillitis and pharyngitis A study On the experience of tonsil surgery for adults published in 2013 to compare a group of patients who had tonsillectomy with a group who did not.
Tonsillectomy for adults and children is performed in the same way, but recovery after the operation will take longer with age; Healing of the wound after the operation may take one week for children. As for the healing of the wound of the tonsil operation for adults, it may take about two weeks until they can return to work.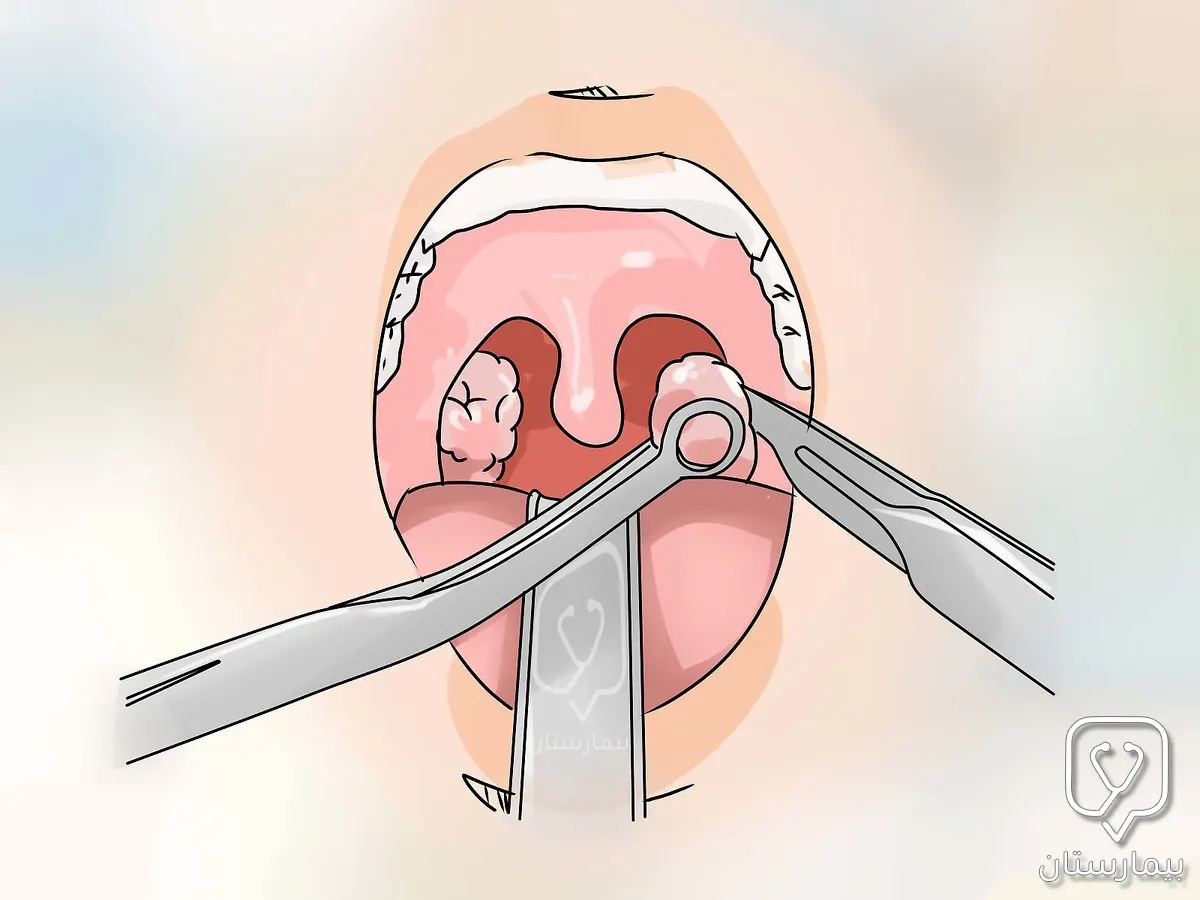 Why should I choose treatment in Turkey?

Recently, Turkey has become one of the leading countries in the field of medical tourism in the world.

The reason for this is due to the presence of advanced medical centers that provide appropriate treatment by the most skilled doctors and the latest medical devices at a low cost.

Regarding what has been said, the medical center of

 Bimaristan Medical Center

 is your first choice 

the best treatment in Turkey

.

We guide you to the best expert specialists in all fields.

We facilitate the language of communication between you and everyone through specialized Arab doctors who will help you communicate with your doctor.

We help you secure the right treatment and high-end service in the most modern hospitals and medical centers in Turkey.

We provide our services extensively and precisely.

We will be with you step by step towards recovery.

Free consultations around the clock.

don't hesitate to

contact us

,Bimaristan center is your family in Turkey.