Tonsillitis is a common condition among children. Learn about the most important symptoms, causes and methods of treating tonsillitis in children if your child suffers from tonsillitis.
Overview
The tonsils are two glands located at the back of the mouth on both sides, and they are part of the immune system responsible for defending the body against microorganisms that enter through the mouth or nose before these minutes enter and cause inflammation in the entire body.
The tonsils usually do their job perfectly, but sometimes a child's tonsils get infected with a bacterial or viral infection and cause them to become infected.
And since the immune function of the tonsils declines with age until it disappears completely, the occurrence of tonsillitis in children is more common than Tonsillitis in adults.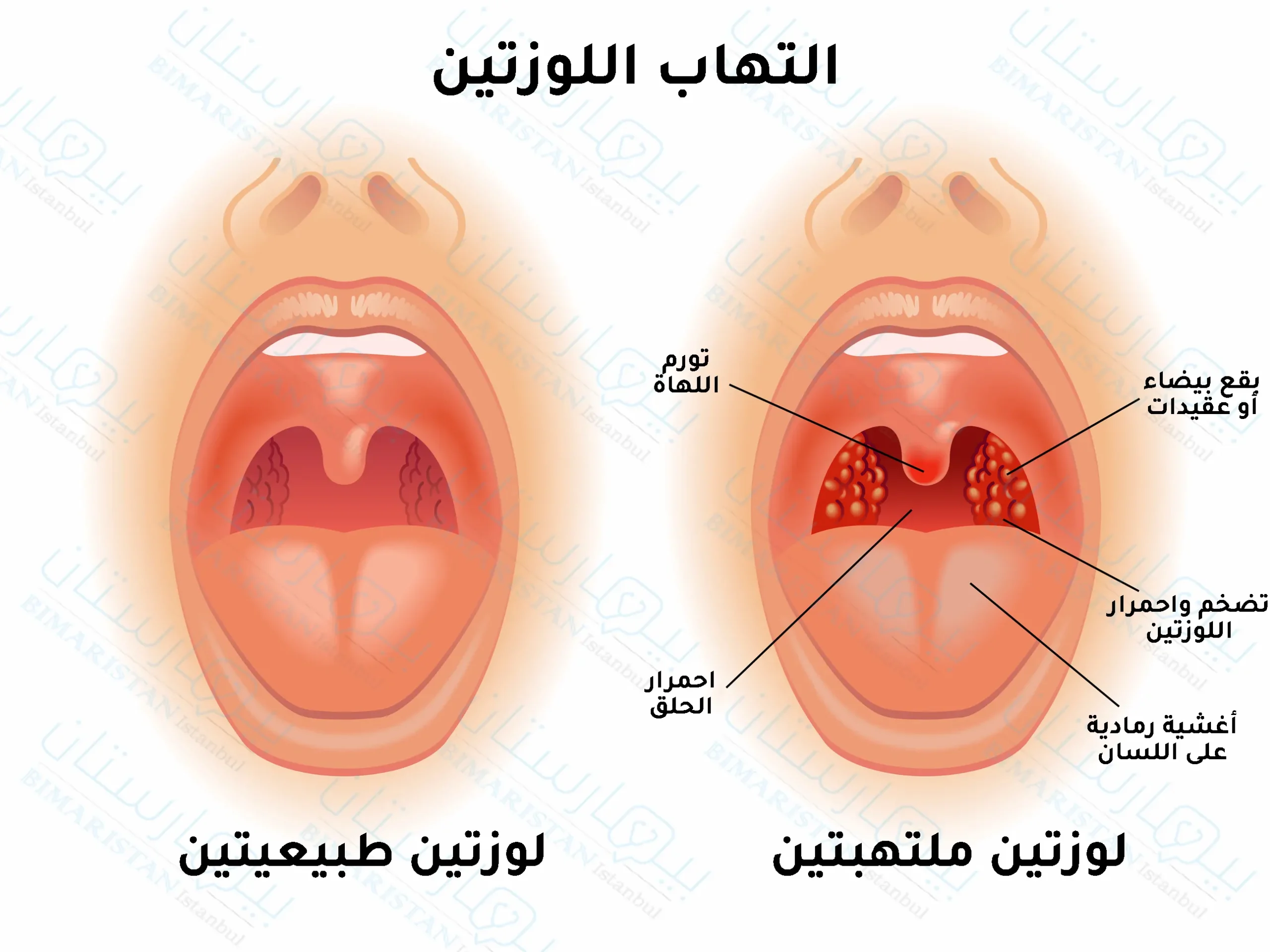 Tonsillitis is a common disease in children of all ages, but it is more common between the ages of 5-15 years, and the child must suffer from it at least once, as I mentioned. article Published by the American Academy of Otolaryngology.
Tonsillitis usually occurs suddenly and is known as acute tonsillitis. Some children have recurrent attacks of acute tonsillitis, while others have persistent tonsillitis known as chronic tonsillitis.
Tonsillitis in young children usually occurs when a child has a cold with a cough and runny nose, and glandular fever (with Epstein-Barr virus) in adolescents may lead to severe tonsillitis.
Causes of tonsillitis in children
Most cases of tonsillitis in children are caused by infection with viruses common in the winter season. Where the incidence of tonsillitis of viral origin is estimated at about 70% of all tonsillitis patients. The causes of recurrent tonsillitis in children include infection with one of the following viruses:
adenoviruses
influenza viruses
parainfluenza viruses
Enteroviruses
Epstein-Barr virus that causes infectious mononucleosis
herpes simplex virus
CMV . cytomegalovirus
Varicella virus
While the causes of bacterial tonsillitis include the bacteria Streptococcus pyogenes (type A).
It should be noted that if bacterial tonsillitis is left untreated, it may lead to severe complications for the child, such as scarlet fever, otitis media and rheumatic fever.
While viruses cause more cases of tonsillitis in children (it does not commonly affect children under three years of age), especially in the winter, bacteria lead to a severe case of tonsillitis in a child that requires special attention, because bacterial tonsillitis is accompanied by more symptoms. Dangerous to the health of the child.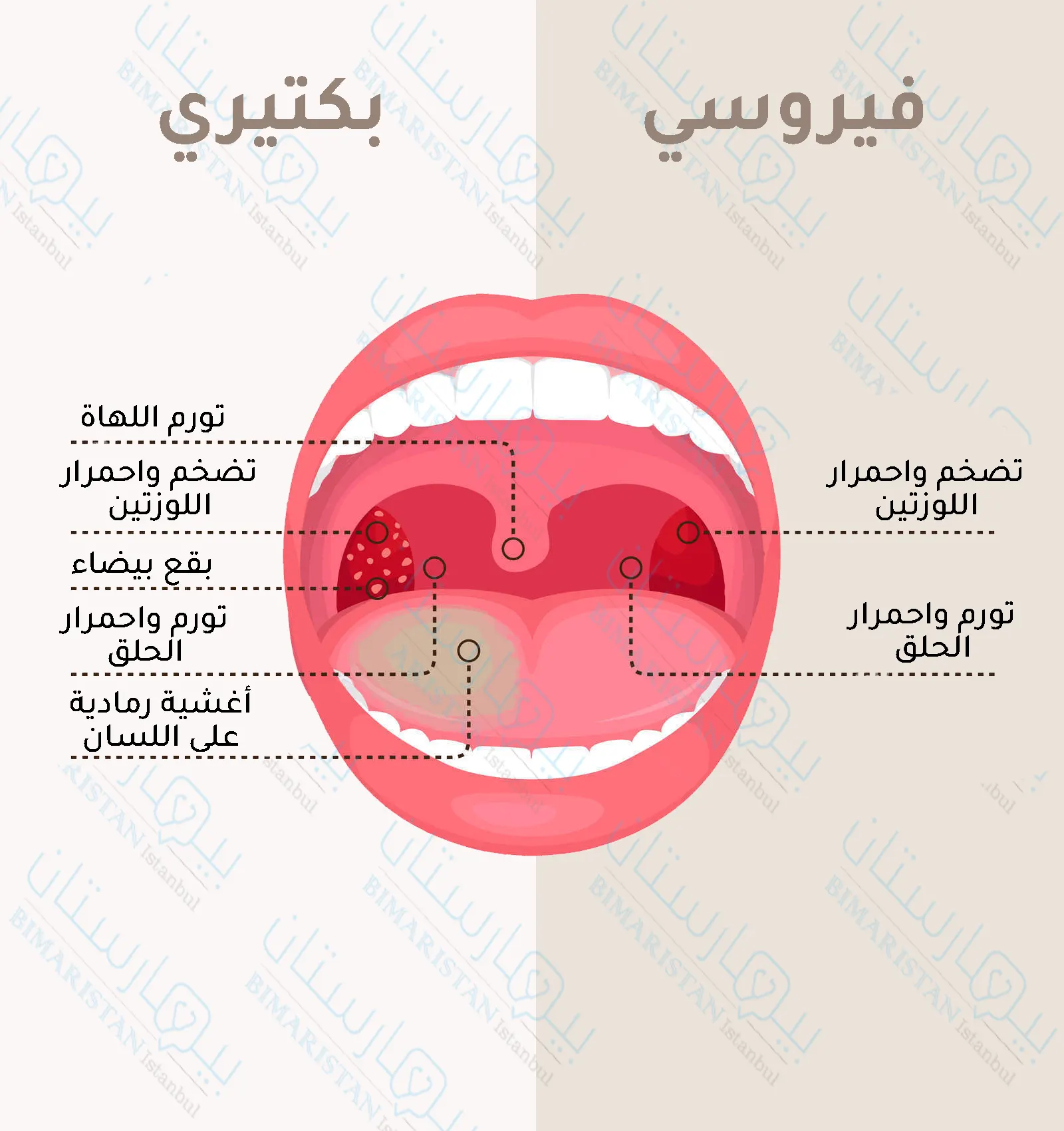 Tonsillitis in children is considered a non-contagious disease in itself, but the bacteria and viruses that cause inflammation are contagious; Wet cough droplets, for example, carry bacteria or viruses that infect other children.
Therefore, you should prevent your child from going to school while he is infected with this disease so that he is not the reason for spreading the infection to his classmates.
Symptoms of tonsillitis in children
Symptoms are generally similar to Tonsillitis for adults; A child with this type of disease mainly suffers from a sore throat, accompanied by any of the following symptoms:
Enlarged tonsils
red tonsils
White or yellow spots on the tonsils
difficulty swallowing
Difficulty breathing or snoring
raise of temperature
cough
Enlarged lymph nodes
pain in the ear
a headache
exhaustion
Roughness and change in voice
Sometimes a runny nose or other cold symptoms
Stomach pain or nausea and vomiting

A picture showing the main symptoms of tonsillitis in children
The child may also have a rash depending on the type of causative agent. However, these symptoms often improve after a few days and go away within a week.
Diagnosis of tonsillitis in children in Turkey
The doctor will ask some questions to the child about the disturbing symptoms he is experiencing, then he will measure the child's temperature and do a clinical examination focused on the nose, ear, throat and tonsils. Diagnosis in Turkey also includes the following:
Blood tests: to detect certain infections such as Epstein-Barr virus infection (infectious mononucleosis or glandular fever).
Rapid streptococcal test: to detect the occurrence of streptococcal tonsillitis within minutes and avoid complications.
Implant and allergy tests: where the doctor takes a swab from the tonsils and throat to confirm the occurrence of streptococcal infection and choose the appropriate antibiotic to treat it, but the result takes several days.
How to treat tonsillitis in children in Turkey
Treatment of tonsillitis in children in Turkey depends on the symptoms, the type of causative agent, general health, and the severity of the infection. Simple home procedures may be enough to treat tonsillitis in children, and the child may need to take antibiotics or have surgery to remove the tonsils, talk to your doctor for The best possible treatment.
Treating tonsillitis in children at home
Tonsillitis in a child is often mild and goes away on its own Viral tonsillitisAntibiotics do not work in this case, but the symptoms improve if the father or mother does some simple methods at home, such as:
Make sure your child gets enough rest.
Encourage him to drink more water or other fluids such as ginger or ginger tea to avoid dehydration.
There are no reservations about the type of food and drink that your child can eat, but it is preferable to eat soft food that is easy to swallow.
Gargling with salt water is very useful, the doctor will teach him how to do it.
Special medicinal lozenges for the throat can be used
Give your child pain medication such as paracetamol or ibuprofen if he feels any pain. The doctor may prescribe other medications if the pain is severe.
The child should stay at home until the fever goes away and he is able to swallow again so as not to infect other children, this may take 3-4 days.
Either in Bacterial tonsillitis The treatment of tonsillitis in children and high fever is mainly with antibiotics to avoid complications such as rheumatic fever.
The most popular antibiotics for treating tonsillitis in children include penicillins, cephalosporins, macrolides, and clindamycin. Check with your doctor to find out the best antibiotic to treat your child's tonsillitis.
Surgical treatment of tonsillitis in children
Tonsillectomy in children to treat sore throat is no longer as common as it used to be based on studies Modern, where the tonsils are not removed in every child suffering from tonsillitis carelessly, but special criteria are followed to decide whether the child is suitable for the operation or not. These criteria include the following three possibilities:
The child has had at least seven attacks of tonsillitis in the past year
The child has at least five attacks per year for two consecutive years
The child has at least three attacks per year during three consecutive years
If the child has one of the above and tonsillitis is accompanied by symptoms such as (fever - secretions from the tonsils - positive streptococcal test...) the operation to remove the tonsils is considered. Surgery can also be resorted to in Turkey in special circumstances.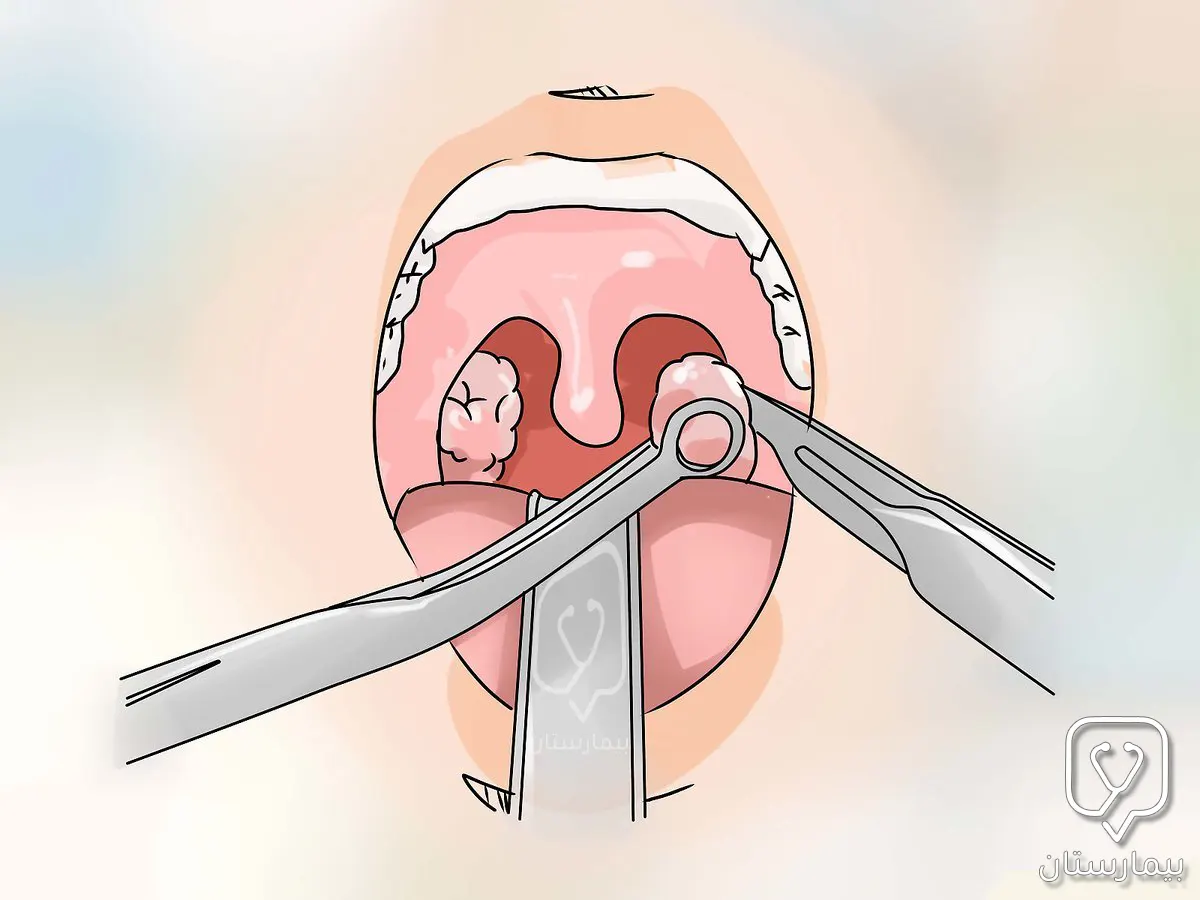 The removal of tonsils to treat throat pain does not have a significant impact on the child's immunity and immune system, as there are of course many other areas responsible for defending the child's body, and therefore removing the tonsils does not weaken the body's ability to fight bacteria and viruses in the future.
Why should I choose treatment in Turkey?

Recently, Turkey has become one of the leading countries in the field of medical tourism in the world.

The reason for this is due to the presence of advanced medical centers that provide appropriate treatment by the most skilled doctors and the latest medical devices at a low cost.

Regarding what has been said, the medical center of

 Bimaristan Medical Center

 is your first choice 

the best treatment in Turkey

.

We guide you to the best expert specialists in all fields.

We facilitate the language of communication between you and everyone through specialized Arab doctors who will help you communicate with your doctor.

We help you secure the right treatment and high-end service in the most modern hospitals and medical centers in Turkey.

We provide our services extensively and precisely.

We will be with you step by step towards recovery.

Free consultations around the clock.

don't hesitate to

contact us

,Bimaristan center is your family in Turkey.