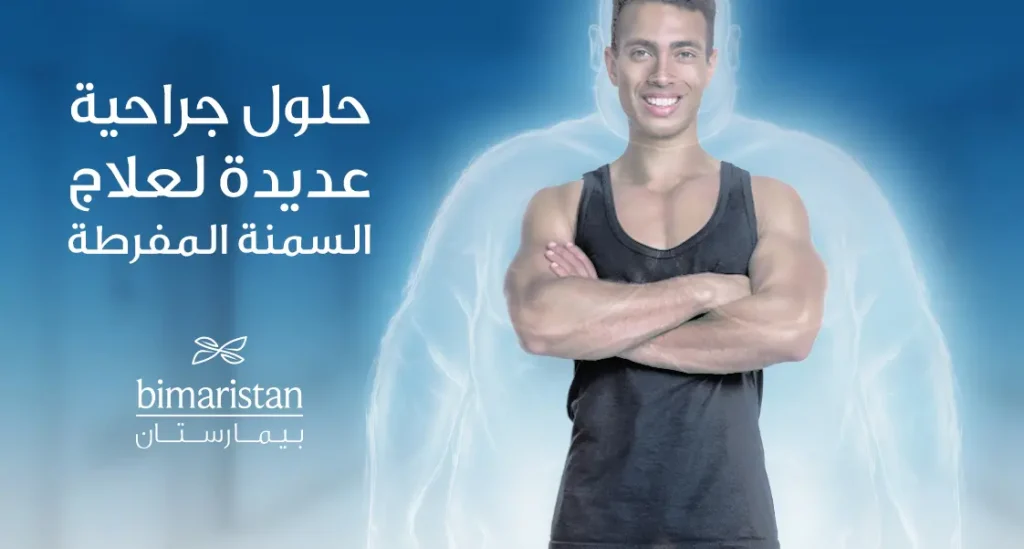 Obesity surgery and treatment
Obesity has become one of the most prevalent diseases in the world, particularly in the past decade. It is a serious health condition that is associated with numerous acute or chronic diseases, as well as various physical and mental disorders related to physical health.
There are several surgical options available to treat obesity, such as sleeve gastrectomy, gastric bypass, gastric banding with adjustable gastric band, gastric balloon, and more. The choice of the most suitable operation is determined by the doctor after conducting a medical diagnosis of the individual case.
The latest methods of treating obesity
Our medical team offers you the latest surgical methods and technologies for obesity surgeries and treatment in Turkey, within the best hospitals equipped with the latest medical facilities and at reasonable prices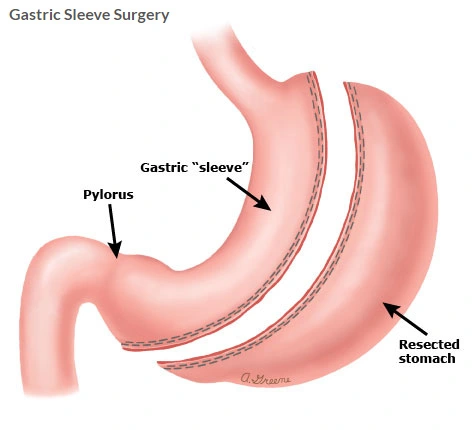 Gastric Sleeve
Gastric sleeve surgery is the preferred treatment method for patients looking to lose weight. With gastric sleeve surgery, the size of the stomach is reduced, and weight loss is effectively and permanently targeted. As a result, patients feel full more quickly with smaller portions. By shaping the stomach into a tube through size reduction, the desire for food decreases, and the brain's feeling of hunger diminishes. We adopt a comprehensive approach to treating obesity with experienced medical staff and personalized treatment programs.
Gastric sleeve surgery is a type of weight loss surgery. It is commonly performed using laparoscopic techniques, also known as minimally invasive surgery. The procedure involves reducing the size of the stomach by removing a portion of it, which restricts the amount of food that can be consumed. Additionally, after the stomach size is reduced, there are hormonal changes that aid in weight loss. These changes contribute to the patient's significant weight loss or maintenance of an ideal weight after the surgery.
Gastric sleeve surgery is performed to eliminate the risks of health problems, not just for aesthetic improvement. After gastric sleeve surgery, there has been a significant success in treating many obesity-related diseases, especially diabetes. On the other hand, gastric sleeve surgery can also be used as a transitional procedure for patients who suffer from severe obesity. Patients with severe obesity can be prepared for a bypass surgery after gastric sleeve surgery. When obesity is not treated, it can cause the following health problems:
Heart disease
High blood pressure
High cholesterol
Sleep Apnea
Type 2 diabetes
Stroke
Cancer
After gastric sleeve surgery, patients become less hungry, eat less, eat slowly, and feel full quickly.
The gastric sleeve surgery does not cause any serious problems in the functioning of the digestive system. In the initial months, eating is relatively limited, leading to rapid weight loss. In the long term, there are no significant issues with the absorption of necessary nutrients by the body. Generally, gastric sleeve surgery carries a low to moderate risk compared to other surgical procedures, and the majority of patients do not experience any additional problems. The rate of complications is around 2%.
Gastric Balloon
The gastric balloon procedure is considered to be a restrictive weight loss surgery. During the procedure, an deflated balloon is inserted into the stomach through the mouth to restrict the amount of food consumed in a single meal. Once in place, it is filled with water, providing a feeling of fullness and reducing hunger sensations. The gastric balloon procedure is not recommended for individuals who have previously undergone obesity surgery or those who have intestinal or liver diseases.
The balloon remains inside the stomach for a duration of 6 months without the need for any surgical incision, and there is no requirement to stay in the hospital after the procedure. Patients can lose approximately ten percent of their excess weight.
Possible stomach pain, nausea, and vomiting may occur after the placement of the balloon.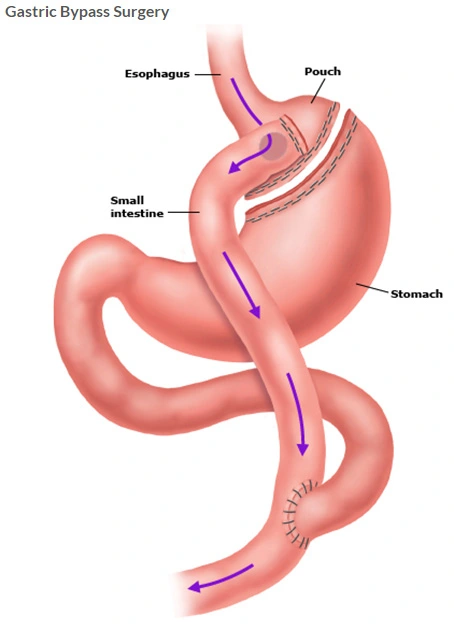 Gastric Bypass
Weight loss tends to be very rapid. 50% of weight loss occurs within the first 6 months and can continue for up to about two years after the procedure. Due to the rapid weight loss, conditions affected by obesity such as diabetes (with a 90% cure rate), high blood pressure, high cholesterol, arthritis, sleep apnea, and acid reflux often improve. Additionally, gastric bypass surgery has long-term benefits, as studies have found that many individuals maintain a healthy weight for up to 10 years or more without the need for another surgery.
The food will not be absorbed in the way you are used to, which puts you at risk of not getting enough nutrients. Calcium and iron deficiency can lead to osteoporosis and anemia. You should be very careful with your diet and take supplements for the rest of your life.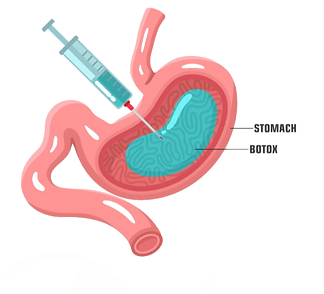 Gastric Botox
Gastric Botox is a modern therapeutic method for weight loss and obesity treatment. This method involves injecting Botulinum toxin into specific areas of the stomach wall to reduce muscle contractions, which delays the gastric emptying process. As a result, the patient loses their appetite and feels full for longer periods, helping them reduce their weight. This approach serves as an alternative to diet and exercise and is not suitable for cases of severe obesity. Gastric Botox injections do not require hospitalization, as they are performed using endoscopic technology to achieve the best therapeutic results.
Gastric Botox is a safe procedure for patients without muscle disorders and who are not allergic to botulinum toxin. The majority of patients do not experience any side effects after the procedure.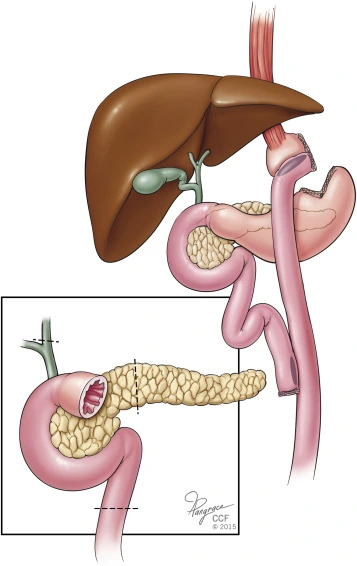 Pancreatic Biliary Bypass
Pancreatic biliary bypass is less common than gastric bypass. This procedure significantly reduces weight by decreasing the amount of food consumed in one meal, as well as decreasing calorie absorption in the intestines. Consequently, the risk of malnutrition is significantly increased. It carries several risks similar to gastric bypass, but the occurrence of dumping syndrome is lower. This procedure aids in better long-term control of diabetes compared to gastric bypass and sleeve gastrectomy.
Pancreatic biliary bypass can lead to faster weight loss compared to gastric bypass. Despite removing a significant portion of the stomach, the remaining stomach is larger than the pouches created in gastric bypass or gastric banding procedures. As a result, you can consume larger quantities compared to other procedures. This operation reduces absorption and is not a restrictive procedure.
The food will not be absorbed in the way you are used to, which puts you at risk of not getting enough nutrients. Calcium and iron deficiency can lead to osteoporosis and anemia. You should be very careful with your diet and take supplements for the rest of your life.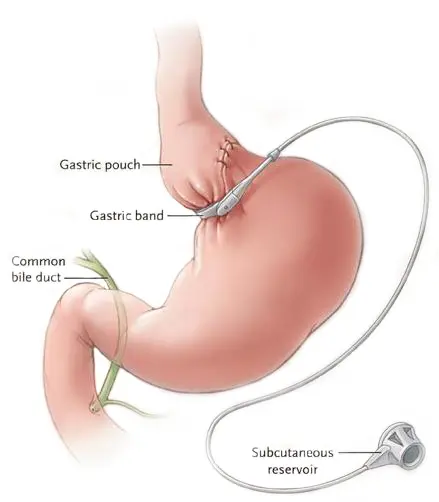 Laparoscopic Gastric Banding
In this procedure, the surgeon uses an inflatable band to apply pressure on the stomach, causing it to divide into two sections: a small upper pouch and a larger lower section. These two sections remain connected by a very small channel, which slows down the emptying of the upper pouch into the lower section. The band can be adjusted in the doctor's clinic, where the doctor injects more saline solution into the band to tighten it and further restrict the size of the stomach. The doctor can also reduce the pressure by removing fluid from the band using a needle. After the procedure, most people will only be able to consume half a cup of food before feeling full.
This procedure is easier and safer compared to gastric bypass surgery and other procedures. The patient only gets a small scar on the abdominal wall, resulting in faster healing. Additionally, the patient can undergo a surgical procedure to remove the band if needed.
Weight loss in individuals who have undergone gastric band surgery is often much less compared to those who have undergone other surgical procedures, and they may be more susceptible to regaining some weight over the years.
Gastric band surgery is indeed safe, but one of the most common side effects of gastric banding is vomiting after eating a large amount of food quickly. Complications can also occur due to the band.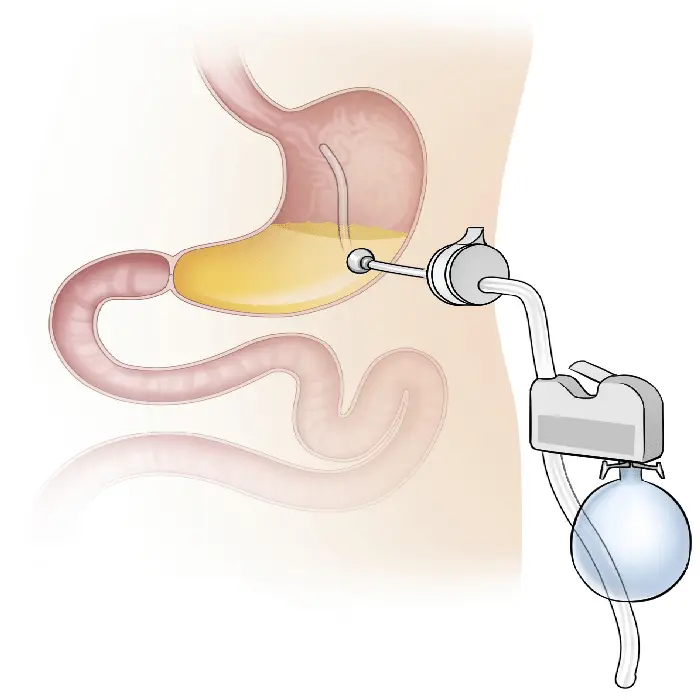 AspireAssist - Gastric Tube
A tube is placed inside the stomach through a surgical incision in the abdomen. The patient connects this device to another device after a meal for 30-20 minutes, which directly removes the food to the toilet without digesting it. This device was approved by the Food and Drug Administration for weight loss in 2016, as it reduces approximately thirty percent of the calories consumed.
The tube and disc that provide access to the stomach should be adjusted so that the disc remains in contact with the skin after the patient loses weight. It is also necessary to visit the doctor regularly to monitor the condition of the device and seek advice. Side effects of its use may include digestive problems, nausea, constipation, and diarrhea.
One study found that patients lost about half of their excess weight in the year following the installation of the device. Another advantage is that the tube can be inserted under local anesthesia and non-deep anesthesia.
Surgical Results/Operations
Why Bimaristan Center?
First, the quality of healthcare services is at a global level, as Turkey continuously works to bring in the latest medical devices.
There is a high medical efficiency, as Turkey has worked to bring back all doctors from abroad after political stability and incentivized them to open multiple medical centers that serve their medical specialties.
There are competitive pricing advantages.
There are personalized and diverse services.
There is a significant number of healthcare institutions and organizations internationally accredited by the Joint Commission International (JCI).
There are many companies that facilitate patient access to hospitals for treatment, and most hospitals, whether public or private, have translators who speak multiple languages.
The waiting time in hospitals is very short for patients.
There is a rich cultural heritage.
Frequently Asked Questions
To seek advice from the Bimaristan medical team or if you have any questions, please fill out the form below