What is TAVR (Transarterial Aortic Valve Replacement)?
 Through this small operation, the new heart valve is placed over the diseased valve, whereby a new valve is obtained without surgery.
How does a valve work inside a valve?
This valve functions similarly to the meshes used to dilate coronary (coronary) vessels when they are clogged (due to myocardial infarction).
As soon as the new heart valve is placed, it removes the old valve and replaces it in regulating blood movement.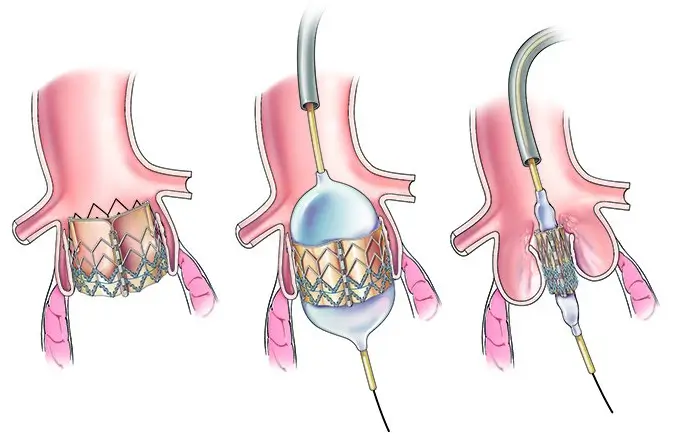 How is aortic valve replacement using a TAVR or TAVI catheter different from surgical valve replacement?
This operation is performed for those who have stenosis of the aortic valve but who cannot perform an open heart operation due to the presence of accompanying diseases.
What is involved in TAVR aortic valve replacement?
Valve replacement usually requires an open heart procedure with a "sternum incision", where the chest is surgically separated (opened) for replacement, while TAVR or TAVI can be done through very small incisions that leave all of the breastbone in place.
Although every operation, no matter how small, has several risks, the risks of this operation are very few, as it is similar to placing a stent in the coronary arteries, and it also provides a good option for patients who do not have the opportunity to change the valves through surgery, and there are two methods for this operation, the doctor chooses the best for your case :
First method:
The angiologist inserts the cardiac catheter from the femoral or radial artery, which does not require a surgical incision in the chest. Many patients are treated with sedative drugs and local anesthesia, which are called non-hypnotic narcotics. The valve is reached with the help of interventional radiology and the artificial valve is placed in place of the old valve.
Second method:
The second procedure is done by entering through a very small incision in the chest and then accessing the aortic valve.
Catheter Aortic Valve Replacement Risks in Turkey
As mentioned, all operations involve some kind of risk, no matter how small. The risks of transcatheter aortic valve replacement (TAVR) may include the following:
hemorrhage
Reposition of the heart valve after transplantation
vascular problems
Bleeding in the skin area where the femoral artery was entered
Bleeding due to the diluted medicines that the patient uses most often
Kidney failure due to medications given during the operation that may cause anaphylactic shock (a very small percentage)
irregular heartbeat and the need for Implantation of a pacemaker
Heart attack
septic infection
Is Catheterized Aortic Valve Implantation (TAVI) better, or Laparoscopic Aortic Valve Surgery? robot?
Recently approved by the U.S. Food and Drug Administration (FDA), this procedure is an alternative to surgery for a patient with aortic valve stenosis if surgery is high-risk.
There are significant differences between standard aortic valve surgery and TAVI.
TAVR may also be an option if you have a biological valve that was previously implanted to replace the aortic valve but is now not working well.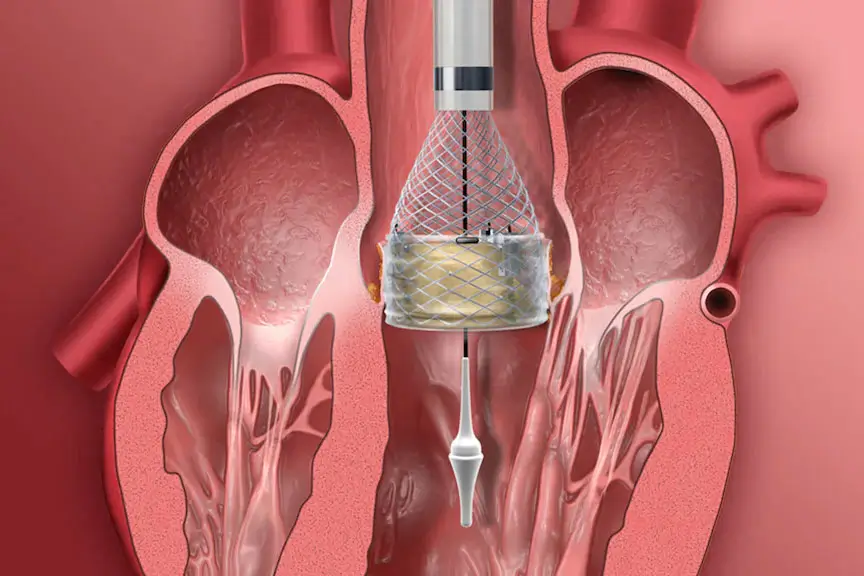 Who is a suitable candidate for aortic valve replacement without surgery?
Patients who undergo a TAVI procedure are usually in their 70s or 80s, so they have other concomitant health problems, and these patients benefit most when using minimally invasive methods with a rapid recovery.
Although it is a new method, it significantly increases the quality of life in patients with aortic valve disease who do not have a surgical alternative, because it prevents further damage to the heart, increases the quality of life and increases the length of survival, which cannot be achieved with drug therapy.
The quality of life - as I explained Studies Short term on this operation - it was similar with the surgery, but so far there are not enough studies on the preference of choosing treatment by catheter or by surgery.
But the installer so far via this study Several other studies show that transcatheter heart valve replacement is the gold standard for patients with symptomatic aortic valve stenosis who are classified as high risk for intervention.
You can also read more about Valve Replacement via Robotic Surgery in Turkey.
Bimaristan Medical Center It is your first choice for treatment in Turkey.
We guide you to the best expert specialists in all departments.
We facilitate the language of communication between you and everyone through specialized Arab doctors who will help you communicate with your doctor.
We help you secure the right treatment and high-end service in the most modern hospitals and medical centers in Turkey.
We provide our services extensively and precisely.
We will be with you step by step towards recovery.
Free consultations around the clock.
don't hesitate tous,Bimaristan center is your family in Turkey.