Full or partial Implant supported denture technology that is available in Turkey is the solution if you are looking for Fixed, stable and appropriate denture that appropriate compensation for the loss of all or some of the teeth,
Many people who do not have teeth in one or both jaws find dentures to be an economical way to restore their smiles, but it is not always easy to wear them.
Loose dentures can make you feel shy, prevent you from being able to chew nutritious food, and cause jaw bone loss over time by putting pressure on the bone spurs that previously supported the teeth.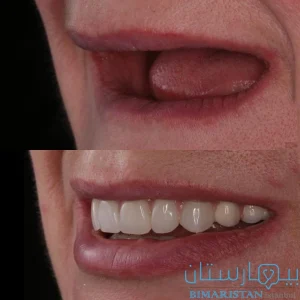 Fortunately there is a simple way to prevent all of these problems: supporting dentures bydental implants.
Why choosing mplant-supported dentures?
You may have heard of dental implants to replace the missing teeth, and this is certainly of great benefit to those who still have many of their natural teeth, but in the absence of any tooth in the jaw, the replacement of implants for each tooth will be very expensive.
An excellent workaround is to put no more than 2 for 4 implants To support the full denture so that it does not break when wearing it, and to ensure better stability and comfort.
Why is a full denture implant an important step for your health?
Dental implants are small titanium abutments that serve the same purpose as the root of a natural tooth, as they can replace teeth.
Because titanium has a unique ability to fuse with living bone, your implants become part of the bone and help maintain its size and density, which is an important consideration for your health and appearance.
When the dental appliance is implanted, it does not compress the bone tissue in a destructive way and will remain stable as you eat, talk and smile, which has a very positive impact on the quality of life.
If you already gave a denture you may be able to modify it to be implant supported or make a new custom one.
Types of full and partial implant-supported dentures
There are several options available to you when you choose to treat a full or partial denture implant, you can choose between them with the help of your doctor according to the financial condition and your personal preferences
Implant-Supported Overdentures
Implant-supported dentures are a type of dental prosthesis that uses four or six implants attached to the jawbone. These implants help maintain the level of the jawbones and prevent their regression after tooth loss, which will help improve the stability of the denture and provide a more youthful appearance.
The implant procedure to support dentures requires two surgeries: one to place the implant into the jawbone and the other to expose the implant to create a suitable denture. The implant-supported denture can be removed when it is time to sleep or when the patient needs to clean it.
Fixed Implant-Supported Overdenture
The fixed denture supported by the implant is similar to the implant-Supported Overdentures, but it is fixed in place over the implants by screws, and the patient cannot remove it and need a dentist to remove the denture from the implants to remove it.
This option provides the stability of the denture in the edentulous patient who has no teeth, but the problem is that it is not possible to clean because only the dentist can remove it, and it is usually the most expensive option because it requires four dental implants and uses screws as implant's abutments which support the denture
Bar Retained Implant-Supported Overdentures
 Supportive implants for this type of dentures are characterized by the presence of a rod on a tape attached to the implants that the dentures can apply to, as it allows the removal and installation of the dentures as needed such as cleaning and during sleep and provides more safety than the traditional dentures.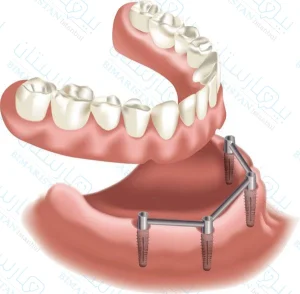 Ball Retained Implant-Supported Overdentures
It is an excellent solution for the lower jaw, as two or four implants are usually inserted into the jawbone.
The attachments of these ball head implants make it easy to clean and easily change parts if replacement is needed and this type also offers improved stability and functionality compared to traditional dentures.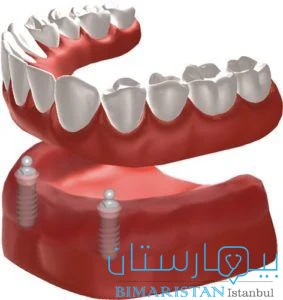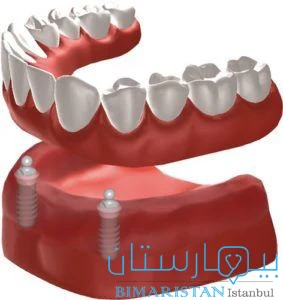 Overdenture Partials
Sometimes a person loses only a few teeth and needs partial dentures, usually
Partial dentures are similar to full dentures, where missing teeth are replaced with one or more implants as needed, and then the partial dentures are fixed to the implants.
This type gives a more natural appearance compared to traditional partial dentures.
Steps to implant a full or partial denture
Your dentist or surgeon will review all steps of the implant process with you.
1. Medical advice
Discuss with your dentist all your needs, interests, and budget.
The doctor will perform a thorough examination and review of your medical and dental history.
Photographs and 3D impressions and radiographs are usually taken to determine the heights of your bones and whether you need any additional surgeries such as bone grafting or sinus lift.
2. Placement of implants
You will have a local anesthetic and then several titanium implants will be placed in your jawbone and your gums will be sutured to help you heal.
3. The healing process
You need to recover in three to six months as osseointegration takes time.
4. Healing cap
Once you recover, your dentist will remove the implants from your gums and place a cap called a healing screw to help locate the abutment and prosthesis.
5. Impressions
An impression is taken by digital scanning Or traditional impressions and sent to the laboratory to make the prosthesis by making the structure of the denture and artificial teeth.
This process can take several appointments.
6. Insertion
Once you have a partial or complete denture implant, your dentist will attempt to make any necessary adjustments.
If appropriate, fix the kit permanently in place and then give you aftercare instructions on how to care for the new kit.
What are the advantages of replacing a full or partial implant-supported dentures?
The placement of implants helps to allow for replacement of some or all of the missing teeth in the dental arch and to prevent the bone loss that occurs in Teeth extraction.
With the absence of teeth, there is no benefit to the jawbone, which leads to its retraction and melting. This shrinkage in the jawbone has aesthetic consequences on your face, making your appearance look older, especially when all teeth are lost.
When obtaining a full or partial denture implant, bone is used, preserved and supports the face. The installation of both implant-supported dentures and traditional removable dentures replaces and replaces dental and gum tissue.
But what makes implant supported dentures stand out is that they act more like natural teeth than traditional removable dentures, the implant supported dentures stay securely in place even while chewing and speaking.
In addition, these dentures and other dental prostheses provide protection for both occlusion andjaw joints, Compared with traditional kits This safe and functional technique is likely to improve your confidence, self-esteem, and quality of life.
How many implants do you need in order to implant for a complete denture?
The number of implants you can have for a full or partial denture implant depends mainly on the arch or jawbone being treated.
There is a significant difference in bone density (the hardness of the bone foundation of the implant) between the maxillary and mandible bones.
The lower jaw, by its nature, contains a denser bone than the upper jaw, so there is a need for a smaller number to show numerous studies It is usually from 2 to 4 implants The lower jaw allows sufficient support for a complete prosthesis, while more, usually 4 or more, is needed to provide support for a complete prosthesis without covering the roof of the palate.
But this is not the only factor that the doctor must take into account when planning to implant a full or partial denture, but there are two other main factors:
oral habits
As if the patient is suffering gnashing of teeth Teeth grinding, which is one of the most common habits, or temporomandibular disorder TMD, this leads to consideration of more implants.
opposite jaw
A jaw with natural teeth has more bite force, so if the opposite arch is natural teeth, more implants are usually required and vice versa.
For example when a patient has Traditional upper dentures And he wants to get a full denture implant, in most cases, only two implants are required in the lower jaw.
What is the success rate of Implant-supported dentures?
For healthy people with good oral health, dental implant technology has recorded success rates exceeding 90-95 percent. Good oral hygiene is very important for the success of the complete and partial dentures fixed with implants.
If you want to go through this treatment experience under the supervision of the most skilled doctors and the latest devices in Istanbul, then Bimaristan Medical Center is your first choice the best treatment in Turkey.
We guide you to the best expert specialists in all departments and facilitate the language of communication between you and everyone through specialized Arab doctors who will help you communicate with your doctor.
don't hesitate tocontact us,Bimaristan center is your family in Turkey.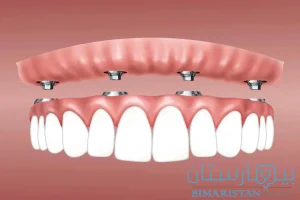 The normal life of dentures ranges from 5 to 10 years but this can vary by person, over time these devices may need to be re-lined or re-manufactured.
Lining and remaking
Denture lining is when new material is added to the inside of the denture to fit your gums, it is recreated when a new base is made and the existing teeth continue to be used.
Prosthetic dentures will usually be repaired or replaced after many years of service, as natural teeth and traditional dentures can wear and break with an implant.
On average, every 6 to 24 months, the specific nylon or rubber ring portion of the implant retainer used to hold dentures wears out. When this happens, the dentures are not holding on as tightly as they used to (reduce sealing strength).
Replacing the nylon or grommet assembly is usually sufficient to fit nicely and snugly again, however usually after several years of service (average 5 to 15 years) the braces may need to be replaced due to wear.
How should I clean dentures with implants?
It is important to keep in mind that while using any removable denture It is not recommended to wear it 24 hours a day but rather it is recommended to take it off at night as the tissues covered with denture material can be irritated all the time or even inflamed And you get sick.
You should take good care of dentures like natural teeth, be sure to clean it daily to avoid the accumulation of plaque.
When brushing, avoid using toothpaste. As most toothpastes contain abrasive particles, liquid hand soap is a good alternative.
Keep it in water or a denture soaking solution while you take it out so it doesn't dry out.
Rinse well after using any dentures as they may contain chemicals that should not enter the mouth.
Implants require regular maintenance at home and professional hygiene Just as with natural teeth, cleaning the implants and abutments twice daily is very important.
It is recommended to visit dental clinics periodically every 3 to 6 months for an examination dental implants and crews.
Full and partial dentures supported by implants are a great way to secure more alignment, better stability and better speech.
Talk to your dentist and find out if a full denture implant treatment is an option for you.
---
Sources
Family Dental