Laparoscopic herniated disc treatment is one of the latest methods in Turkey to treat herniated discs in the lower back and neck using the least invasive treatment methods, with discharge from the hospital on the same day.
What is herniated disc, or what is known as disc, and how is herniated disc treated Laparoscopically in Turkey?
Discs are cushions made of cartilage and spongy tissue that are found between the vertebrae.
With age, due to normal age-related wear or injury from sudden, incorrect movement of the spine, discs in the lower back may bulge or herniate (rupture), increasing pressure on nearby nerves, causing pain, numbness, or Weakness in the lower back, legs or buttocks.
The treatment of herniated disc in Turkey is one of the most important treatments that have been given great attention in recent times, given that about 2 percent of people suffer from herniated disc at some point in their lives, where injuries are common between the ages of 35 and 50 years, and the cervical and lumbar spine are more common, and the injury is rare in the column thoracic vertebra;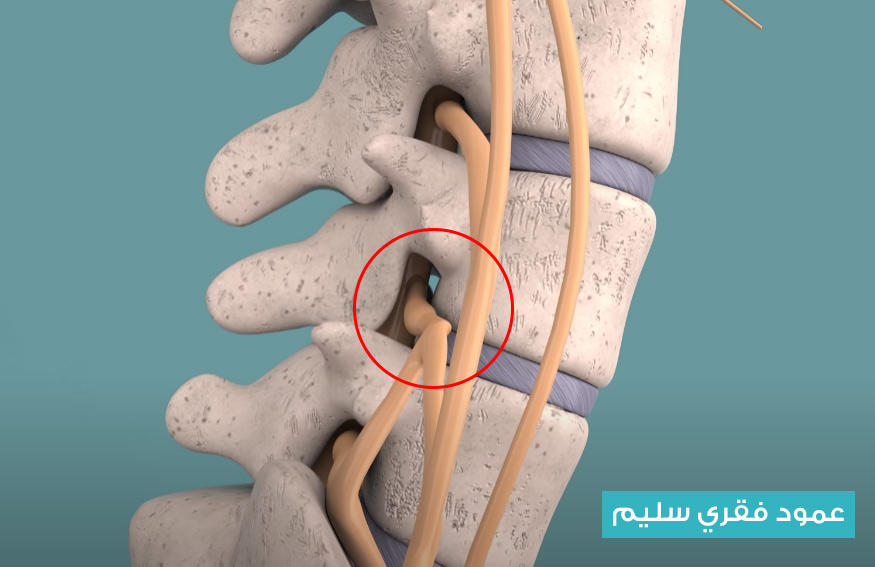 When determining the exact cause of your back or leg pain and developing a treatment plan, your doctor will perform a physical exam to check reflexology, muscle strength, and movement.
If a herniated disc is suspected, additional diagnostic tests may include a CT scan, MRI and myelography.
Electromyography and nerve conduction studies may also be done to help locate nerve damage.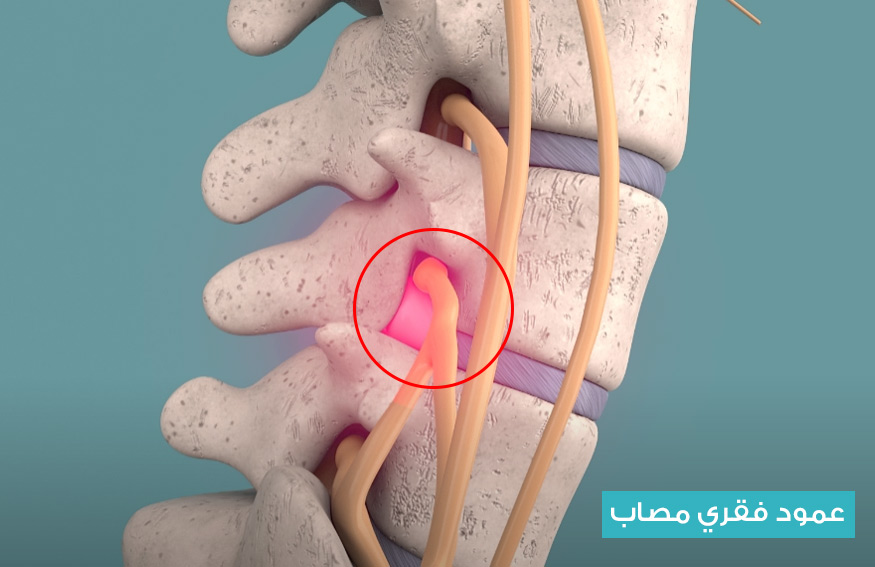 Causes of herniated disc
A herniated disc is often caused by gradual wear and tear of an aging disc.
With age, discs become less flexible and more likely to tear even with slight strain or bending of the body.
High-speed accidents, such as falls or car accidents, can cause a disc or herniated disc.
Factors that increase the incidence of herniated disc (disc)
Gender: Men between the ages of 20 and 50 are most likely to develop a herniated disk.
Wrong weight lifting: Using your back muscles instead of your legs to lift heavy weights can cause a herniated disc, and twisting while lifting can also make your back weak.
Lifting based on your legs, not your back, will protect your spine.
Obesity: Being overweight puts more pressure on the discs in your lower back.
Repetitive activities that stress your spine: There are many jobs that require physical effort, such as continuous lifting, pulling or twisting which increase disc injury, and the use of safe lifting and movement techniques helps protect your back.
Lots of driving: Sitting for long periods, as well as vibrations from a car engine, can put pressure on your spine and discs.
lazy life style: Regular exercise is very important in preventing many medical conditions, including a herniated disc.
smoking: Smoking is thought to reduce the oxygen supply to the disc and thus cause it to wear faster.
Symptoms of a herniated disc in the lower back
In most cases of a herniated disc, lower back pain is the first symptom.
This pain may last for a few days and then improve.
Other symptoms may include:
Sharp pain, extending from the buttock to the back of the leg. It is caused by pressure on the sciatic nerve.
Numbness or tingling sensation in the leg and/or foot.
Leg and/or foot weakness.
Loss of bladder or bowel control. These symptoms are very rare and may indicate a more serious problem called cauda equina syndrome. This condition occurs due to pressure on the spinal nerve roots and requires immediate medical attention.
Laparoscopic herniated disc surgery
A herniated disc excision is a surgical procedure performed to remove disc material from the lower back (lumbar column), which is pressing on a nerve or spinal cord.
When this procedure is performed using an Laparoscope, it is called a lumbar Laparoscopic discectomy technique.
This method is the least invasive method of surgical intervention.
It is considered a minimally invasive procedure because only a small incision is required. In addition, the endoscope (a small metal tube with a camera and a light on the end) provides direct imaging, as well as creating a path for surgical instruments, so that the patient's muscles are not torn.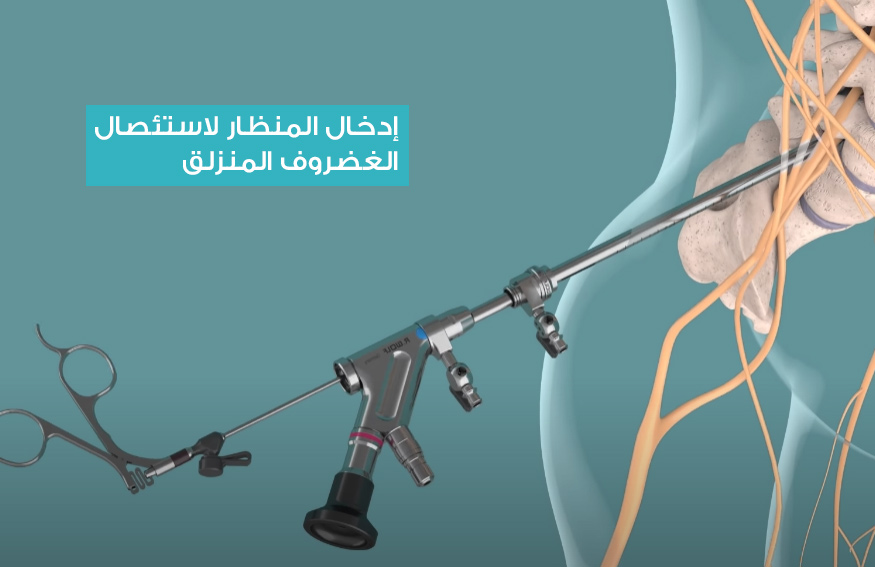 As a result of minimal damage to bone and muscle tissue, most people who undergo lumbar Laparoscopic discectomy experience less surgical trauma and a faster recovery period than those who undergo traditional, more invasive back surgery.
This method is also different from other techniques by using microscope and laser Treatment with steroid injections in the hernia.
Regarding what has been said, the medical center of Bimaristan center The leading doctor in the field of orthopedics directs you to the best doctors in Turkey and helps you break the language barrier with medical care providers.
Candidates for Laparoscopic discectomy
Candidates for lumbar Laparoscopic discectomy typically have herniated or bulging discs that cause pain, weakness, or numbness that does not respond to conservative treatment methods such as exercise, stretching, corticosteroids, pain relievers, or physical therapy.
This procedure may also be an option to reduce pain and discomfort in those who have ruptured discs or chronic radiculitis (sciatica).
Lumbar endoscopic discectomy is often used to treat patients who have numbness or muscle weakness that is getting worse in their legs and/or have serious movement problems caused by their condition.
Laparoscopic herniated disc removal benefits
Arthroscopic herniated disc treatment has many advantages over traditional back surgery. Benefits of this minimally invasive procedure include:
Same-day surgery (outpatient procedure).
Short recovery time.
Small incision and minimal scarring.
Minimal blood loss.
Maintaining spinal movement.
Lumbar Laparoscopic discectomy carries fewer risks than traditional spine surgery, and as a result, patients recover more quickly and return more quickly to daily activities.
How is a herniated disc removed Laparoscopically?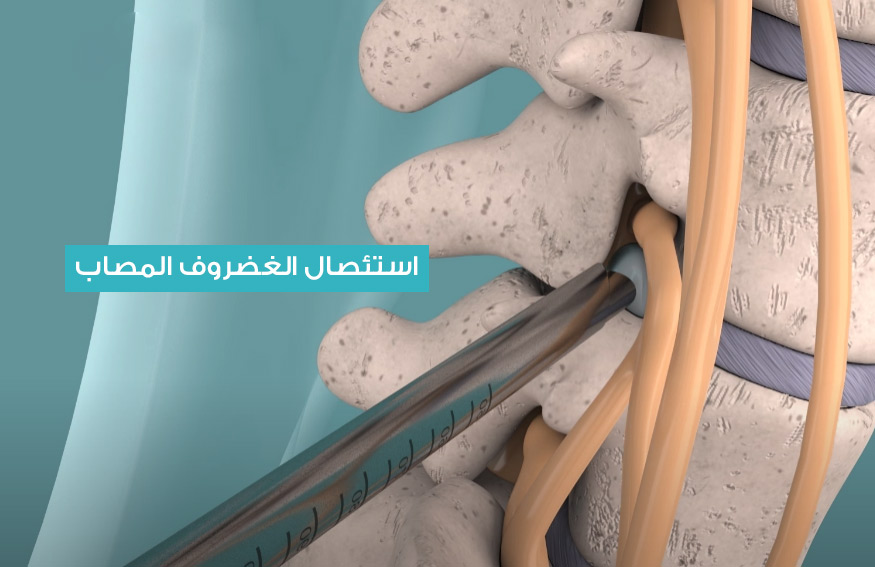 Patients are sedated with either general or local anesthesia before the procedure begins.
A small incision is made on the side of the back to allow the Laparoscope and other instruments to pass into the disc space.
The video screen displays live, magnified images transmitted from the camera onto the Laparoscope.
Once the instruments are in the disc space, the surgeon will remove the portion of the damaged disc, as well as any disc material that is pressing on the nerves and causing symptoms.
When this is complete, the Laparoscope is removed and the incision closed with sutures.
A lumbar Laparoscopic discectomy takes about one hour.
Laparoscopic herniated disc treatment risks
Lumbar endoscopic herniectomy is a safe and minimally invasive procedure.
However, as with any surgery, there are risks that include:
heavy bleeding
reaction to anesthesia.
infection.
Nerve damage.
Cerebrospinal fluid leak.
After surgery, there is also a risk of a recurring herniated disc.
If not all of the disc tissue is removed properly during the procedure, the patient may not be relieved of the symptoms.
How long does a herniated disc heal after the operation?
Patients can generally go home on the day of the operation, and initial pain from surgery can be treated with pain relievers.
Patients are advised to avoid bending, lifting or twisting for a few weeks after the procedure. The nerves may take some time to heal and patients may experience some temporary numbness and tingling in the legs.
Most patients can return to work about 2 to 4 weeks after a Laparoscopic discectomy, but those with physically demanding jobs may have to wait longer to return to work.
After the recovery phase, most patients experience a significant reduction in back and leg pain after having an Laparoscopic lumbar discectomy.
Studies on Laparoscopic herniated disc treatment
another numerous studies that was made shows that this method provides a great benefit to the patient in terms of pain and side effects, but it needs a very skilled doctor in performing this operation.
As one of the numerous studies The other is that the results of the herniated disc surgery by endoscopy are very similar to the surgery by the surgical magnifier (microscope) in terms of the results of the operations.
you can contact us On the Bimaristan page to learn more details about the treatment of herniated disc using Laparoscopy.
---
Sources: