Chemotherapy is considered chemical therapy In Turkey, it is one of the most effective and effective treatments that are mainly used in the treatment of cancer treatment of all kinds, in addition to the treatment of various other conditions. It is also used to prepare and condition patients to receive other types of treatment such as bone marrow transplantation.
In this article, we review all the details of chemotherapy, its areas of use, its side effects, and other important details for patients who go to Turkey to receive this type of treatment, such as costs and new medical procedures.
What do we mean by chemotherapy? chemotherapy treatment
It means treatment using drugs or drug therapy, and it aims to destroy and kill bacteria, viruses, fungi, and fast-growing cells in the body, such as cancer cells that divide faster than others.
It is often used in combination with other types of treatment, such as surgery, radiotherapy, or hormonal therapy. This depends on several factors, including:
The patient's stage and type of cancer, his general health, and his personal desire to take the treatment that is most comfortable for him.
The location of the cancer-causing cells.
What is the purpose of using chemotherapy?
Chemotherapy or chemical therapy is a drug taken by the patient orally or intravenously to spread in the body through the bloodstream.
Chemotherapy is mainly used for the purpose of destroying cancer cells and reducing the possibility of cancer spreading. And this reduces the size of the tumor. It also works to reduce side effects caused by other types of treatment.
If a person has had surgery to remove a cancerous tumor, such as a lumpectomy for breast cancer, the oncologist may recommend this type of treatment to ensure that any remaining, rapidly growing cancer cells are destroyed.
It is also used to prepare the patient for other treatments, such as radiotherapy. Or it can be used to shrink a tumor so that it can be removed surgically. In the case of advanced cancer, chemotherapy may help relieve pain.
Doses much lower than those used to treat cancer can be used to help disorders in which the immune system attacks healthy cells, such as lupus (a skin disease) or rheumatoid arthritis.
How is chemotherapy done and how long does it take?
In some cases, any cancer patient may need to undergo chemotherapy before or after radiotherapy or may combine the two treatments together and usually receives chemotherapy in the hospital or clinic, or at home after being trained to take chemotherapy in the correct way and on time.
Chemotherapy is often given to the patient for a fixed period, such as 6 months or a year. And it is in several parts every few days or weeks, and there may be leave from treatment for several days, weeks, or even months in between. This time off from treatment gives the immune system of cancer patients enough time to reproduce new healthy cells and reduce symptoms caused by this type of treatment.
The number of sessions depends on:
The type and stage of the cancerous tumor.
The purpose of chemotherapy.
How to take chemotherapy (intravenous or oral administration, etc.)
The body's response to treatment. The better the response, the fewer treatment sessions.
Drugs used to treat cancer
Bio alkylating agents It is known as a drug that is toxic to cancer cells, as it works to inhibit the activity of its proliferation and leads to its destruction.
This type of chemotherapy includes drugs that:
Mustard gas derivatives: cyclosulfamide. mechlorethamine; chlorambucil; phosphamide. And the coins.
Ethylene amine: thiotepa and hexamethyl melamine.
Alkyl Salguate: Busulgan
Mineral salts: or oxaliplatin. Cisplatin. and carboplatin.
Nitrozos: streptozosin. lomustine. Klermosten
Nitrosaurus is characterized by its ability to cross the blood-brain barrier and is an effective option for the treatment of brain tumors and cancer.
Plant Alkaloids Drugs: Alkaloids They attack dividing cancer cells at different stages of the dividing cycle.
It includes streptococci. And oxidants, brodophyllotoxin, and camptothecane analogues.
Antimetabolites
This type of chemotherapy includes chemicals that are similar in chemical structure to the natural substances found in cells. It works by inhibiting and stopping the division of cancer cells.
Topoisomerase inhibitors
Topoisomerase enzymes are responsible for controlling the structural processing of DNA in cells. It is essential in cell division and multiplication. These inhibitors inhibit the action of topoisomerase enzymes within the cancer cell.
How are these medicines given?
Chemotherapy (chemotherapy drugs) is given in a variety of ways, including:
A cancer patient can take some chemotherapy drugs orally in the form of pills, capsules, or liquids. Which can be absorbed from the side of the stomach or directly from under the tongue. Cancer patients obtain chemotherapy drugs from the pharmacy and take them at home, according to the instructions of the attending physician. Some of the chemo drugs are taken on a daily basis, while others are given daily for 4 weeks, followed by a two-week rest period, according to what the doctor prescribes.
Sometimes chemotherapy for a cancer patient requires drugs to be given directly by injection into a vein. Treatment in this case takes from a few minutes to a few hours. This type of medicine is rapidly absorbed into the body's circulatory system. Some types of intravenous injections include:
Vascular catheterization: The attending physician creates a line in the arm or hand and the injection of medications can last for several minutes to a few days.
–Peripherally inserted central catheter PICC: This method is temporary but can last from 6 weeks to a few months. The doctor places the long plastic catheter in one of the largest veins in the arm of the cancer patient. This can be done at home by installing it with a portable pump.
–Non-tunneled catheters: This method is used as a short-term option in emergency situations. Percutaneously, the clavicle or jugular vein is accessed and the line passes through the superior vena cava to the right atrium of the heart. They require careful maintenance and regular dressing changes.
Tunneled catheters: It passes through the middle of the chest, bypasses the cells under the skin and into the vessel of the superior vena cava, which enters the right atrium of the heart. This catheter can be left in for years with little chance of infection. It is a good option in cases of intensive treatment such as a bone marrow transplant procedure.
Port-a-cath- It is used as a permanent option. It is usually placed by a surgeon or radiologist. Its lifespan can vary from three to five years.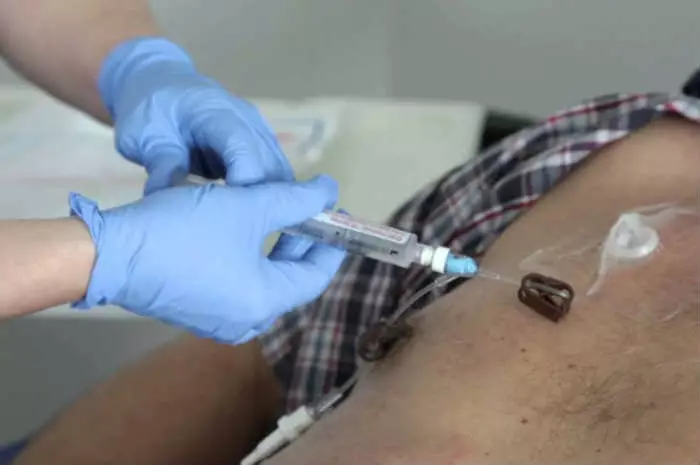 Chemotherapy can be given intramuscularly or under the skin. You may receive these injections in the arm, leg, or abdomen.
Subcutaneous injection:
Chemo drugs are injected with a short needle. This method is used for some biological response modifiers and chemotherapy drugs. If your platelet count is low, these injections are less likely to cause any bleeding than intramuscular injections.
Intramuscular chemical injection:
In this way, the drugs are injected with a large needle designated for this purpose, where the chemical injection penetrates the muscle layer until the drug is deposited in the muscle tissue. Most cases of chemotherapy are not administered by intramuscular injection because of its strength in cancer patients. It is also not recommended for people with low platelet count due to the possibility of bleeding within the muscles.
Trans-arterial chemotherapy:
An artery is a blood vessel that carries blood from the heart to another part of the body. Sometimes chemotherapy is injected into an artery that goes directly to the site of the cancer. This type of treatment is beneficial for patients with BColon Cancer and cancer of the extremities andPancreas cancer pancreatic cancer and stomach cancer.
Cancer patients can take some types of medications, including chemotherapy, in the form of a cream that is applied to the skin to be absorbed. This chemotherapy is not very commonly used to treat cancer, but it is used to treat skin cancer.
Intraventricular chemotherapy:
The drugs in this procedure aim to get into the cerebrospinal fluid of a cancer patient. As the blood-brain barrier prevents many of them from reaching it, thus this can be done in two ways; One is the lumbar puncture and the other is the Omaya Reservoir. A device with a catheter is placed in the subcutaneous layer on the scalp. Then it is connected to the lateral ventricle of the brain. A small needle is placed through the Omaya reservoir to inject the medication. This type of chemotherapy is good for leukemia.
Intraperitoneal chemotherapy:
In this case, the chemotherapy drug can be discharged directly into the abdominal cavity of the cancer patient, which is the general cavity surrounding the organs. This is what makes the organs drown in the medicine before it is absorbed at the site of the cancer or tumor.
Intra-articular chemotherapy:
This type of chemotherapy uses a urinary catheter to access the urinary bladder of cancer patients. This type of treatment is considered beneficial for people who suffer from: Bladder Cancer surface invader.
Intrapleural chemotherapy:
Chemotherapy drugs are given into the pleural cavity to control malignant pleural effusion and are used to relieve symptoms of cancer asLung Cancer.
Implantable chemotherapy:
This treatment is done by placing a Glyadel chip in the cavity after removing the tumor in the brain. It can be left for two or three weeks to ensure that all cancer cells have been completely killed in the area around the site Cancer or brain tumor.
The side effects of chemotherapy
Chemotherapy kills and destroys rapidly dividing cells, including cancerous and noncancerous cells. These cells can be negatively affected by chemotherapy and are found in: the blood. the hair. Skin. Intestinal lining and this is what leads to the emergence of a group of side effects. Among them are the following: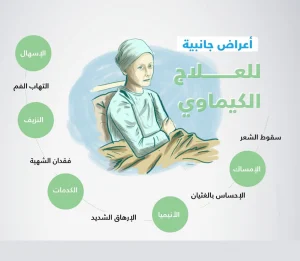 Easy bruising and excessive bleeding
diarrhea
Ulcers and dryness in the mouth
exhaustion
Fever
hair loss
loss of taste
nausea
vomiting
Weight loss
Pain
infections
Anemia
Constipation
neuropathy
Memory and concentration problems
Changes in the skin and nails
Insomnia
sexual changes
Most of these effects of chemotherapy stop immediately after treatment ends.
But there is a risk of long-term effects that may appear even years after chemotherapy, depending on the type of chemotherapy drugs used, which can damage the functions of the heart, kidneys, lungs, nerves, and reproductive organs.
What after chemotherapy for cancer?
There will be regular medical follow-up during and after chemotherapy for cancer patients under the supervision of a private doctor and cancer treatment team, and this will include imaging techniques, laboratory tests, and possibly more. The doctor can change the chemotherapy plan at any time according to the information and results that the cancer patient shares with him about the effect of chemotherapy on him. This is by informing the doctor of any side effects of treatment or problems related to the treatment he receives so that the doctor can suggest solutions and make adjustments to treatment if necessary.
Top Frequently Asked Questions About Chemotherapy
Is chemotherapy painful?
Mostly be The chemotherapy process is painlessHowever, patients may experience painful side effects after chemotherapy. It is preferable for a person to obtain sufficient information about chemotherapy and methods of dealing with it.
Do I gain weight after chemotherapy?
Chemotherapy can lead to weight gain So that: It makes the body retain excess fluid, which is called edema. It causes fatigue and makes exercise difficult. Increased nausea that improves with more food.
What foods should chemotherapy patients avoid?
A study conducted on cancer patients found that there are a group of foods that a cancer patient should avoid, including:
Hot and spicy foods (such as chili peppers, curries, and Cajun seasonings).
Greasy, greasy or fried foods.
Sweet and sugary foods.
Great meals.
Foods with strong odors (Warm foods tend to smell stronger).
Eating or drinking quickly.
What is the cost of chemotherapy in Turkey?
The average cost of chemotherapy in Turkey ranges from $600 to $3000. The cost of chemotherapy in Turkey varies according to: the type and grade of cancer. In addition to the time it takes to treat the cancerous tumor. The cost can also increase if the cancer is in an advanced stage.
How are the procedures for receiving chemotherapy in Turkey?
Cancer patients will have free medical support on the phone, and an official who will track their health status, listen to their inquiries and suggest treatment solutions.
Our medical representative communicates with specialized doctors and hospitals in Turkey to find the best possible treatment for their health condition at the lowest cost.
We communicate with the Turkish embassy in the patient's country to help him obtain an entry visa to Turkey to receive treatment and arrange his medical trip program for free.
We translate medical documents and reports into Turkish for free on their behalf.
We monitor all stages of cancer treatment for free to ensure the effectiveness of the treatment provided to them.
Book a place of residence for them and their escorts for treatment in Turkey, and transportation services are provided free of charge.
For more details and information about your health condition, do not hesitate to contact us Bimarsten doctors from here..