Hip joint replacement surgery
Total Hip Replacement (or Hip joint replacement surgery) is a technique that has spread widely in recent years in Turkey and the world in response to the need to treat hip joints affected by an injury or arthritis.
Hip joint replacement surgery provides the best treatment option for long-term improvement of the hip joint when other treatments have failed.
In most cases, a full hip replacement will reduce joint pain and mean a return to healthy, pain-free movement.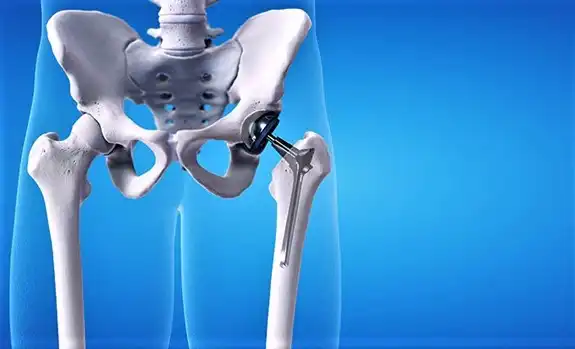 What are the causes of hip pain?
The human hip joint is a ball joint.
It is the most flexible and free-of-motion joint in the body, as it can move back and forth, and to the side, and it can make twisting movements as well.
The full function of the hip depends on the coordination of the bones, muscles, tendons, ligaments and nerves.
might happen hip joint pain Due to a variety of factors, including:
An injury that did not heal properly.
chronic disease.
Natural wear and tear from years of continuous use of the hip.
Severe cases of arthritis, especially osteoarthritis.
Traumatic injuries, such as a broken hip or dislocation from a fall.
If hip replacement surgery is the best treatment option for you, your doctor will refer you to an orthopedic surgeon with experience in the procedure.
Your hip orthopedic surgeon will do a complete physical exam and x-ray and develop a treatment plan about how the surgery can best help you. The surgeon will also ask you about any previous medical problems.
What are the benefits of a hip replacement?
Pain relief is the biggest benefit and main reason for hip replacement surgery. But the procedure offers other advantages, such as:
Improve movement, strength and coordination of the trunk and leg.
The ability to walk, climb stairs and maintain an active lifestyle with greater comfort.
What are the risks of hip replacement surgery?
There are potential risks and complications that may occur during a hip or knee replacement surgery knee Associated with anesthesia, including respiratory or cardiac dysfunction. Other complications include:
blood clots
infection
Nerve and blood vessel injury
fracture
Weakness
Stiffness or instability of the joint
The need for additional surgeries
khul
Patients at increased risk of complications are those with severe rheumatoid arthritis or systemic lupus erythematosus.
In addition, patients with insulin-dependent diabetes (type 1), malnutrition, hemophilia, or those who have previously had an artificial joint infection are at higher risk.
So be sure to contact your orthopedic surgeon immediately, if you experience any of these problems after surgery.
You should know that joint replacements do not last forever, usually 10 to 15 years. Hip revision surgery may become necessary when the artificial hip becomes painful.
There are several variables that affect the ultimate success of hip replacement surgery.
These variables include the patient's bone and muscle strength, general health and lifestyle.
Adherence to the rehabilitation program is also an important part of the recovery process, as improvement of the hip joint is determined by the patient's rehabilitation efforts.
Hip joint implant details
How do I prepare for a hip replacement surgery?
In order to prepare for hip replacement surgery Hip joint replacementBefore the surgery date, patients are required to make a series of appointments to receive the tests and examinations required for the surgery.
So you will receive a schedule one to three weeks before your surgery to tell you when to have your hip replacement surgery.
During appointments leading up to a hip replacement, studies including systemic tests, urinalysis, and x-rays are done.
Based on the results of these tests and the patient's health history, approval for surgery is initiated.
Depending on the patient's condition, additional testing may be required before surgery, and patients can also take steps at home to help ensure an easier recovery after surgery, such as making some simple changes around the house, and arranging with someone to help them during the few weeks following surgery.
Discuss with your surgeon whether you should donate blood for surgery, and make appointments to see your primary care doctor and dentist.
And if you smoke, try to stop or reduce your smoke in order to reduce the risks of surgery and improve your recovery rate.
Do not eat or drink anything after midnight the night before surgery. You can do these tips at home before surgery:
Remove any loose rugs, as they can be dangerous when walking around the house. Make sure that you connect all electrical wires.
Stock up on canned and frozen foods, and make sure all supplies are between the waist and shoulder level, i.e. not too high.
You will need to keep both legs elevated for the first 4 to 6 weeks after surgery.
This is best accomplished in a wheelchair, or a chair with armrests and an ottoman for proper leg support.
Set up a bedroom on the main floor, or make sure to take the stairs once a day.
Make sure you have a cordless phone to be more efficient in answering any phone calls.
Special equipment will help ensure an easier recovery after surgery.
Physical and occupational therapists will recommend equipment to you and help you and your family obtain this equipment after surgery.
Some of this equipment may include:
high toilet seats
shower seats
Handrails and rails, especially when entering and exiting the bathtub
Grasping device for wearing socks and shoes
Medicines used before the operation
Tell your surgeon about all the medicines you take, both over-the-counter and prescription.
Some medications do not interact well with anesthesia, and others, such as aspirin, ibuprofen, and blood thinners, increase bleeding.
For these reasons, you may need to stop taking certain medications before a hip replacement.
If you are taking aspirin or an aspirin-containing medication for arthritis, you should stop them in the two weeks before surgery.
If you're taking medications for other medical problems, don't stop taking them without checking with your primary care doctor.
Be sure to bring a list of all medications, the dosages, and how often you take them. This includes all herbal supplements and vitamins.
This is important information that will be documented in your hospital records.
dentist
Brush your teeth and make sure there are no cavities that you may need to take care of for the first few months after surgery.
Because blood flow to the hip increases during the recovery period, it's best to have any routine dental work done either before surgery or after 3 months.
Additionally, any emergency situations must be dealt with immediately.
You will continue to use antibiotics before any dental work for the rest of your life once you have a complete joint replacement.
Anesthesia
Someone from the anesthesia department will meet with you before the surgery. He or she will explain the different types of anesthesia available to you and the risks and benefits of surgery.
Spinal anesthesia, or local anesthesia, is the most common and safest method used in orthopedic procedures.
You will also be required to complete a health questionnaire from the Department of Anesthesia to obtain surgery clearance to ensure your safety.
All patients are evaluated by the physiotherapy department before surgery.
After the surgery, you will receive daily physical therapy.
blood donation
You may donate your blood for the surgery.
You should tell your doctor or physician assistant if this concerns you.
Physical therapy exercises for the hip joint before surgery?
It is important to do strengthening and conditioning exercises prior to surgery to help ensure better outcomes and recovery.
Being stronger before surgery has a huge benefit on the results of hip replacement surgery.
The following exercises are recommended before surgery:
Tighten the thigh muscles and then straighten your knee. Keep counting to 5 and then relax. Do this 10 times, twice a day.
Tighten the buttocks, and push the heels down into the bed. Keep counting to 5 and then relax. Do this 10 times, twice a day.
What happens during surgery?
The surgical technique involves removing the affected part of the hip bone and replacing it with an artificial hip joint (called a prosthesis). Where it is possible today Robot-assisted hip replacement.
Where the doctor makes a small surgical incision that does not exceed ten centimeters, according to modern technology.
Then he separates the muscles to reach the joint and then replaces the affected joint with an artificial one. All stages of the operation are performed under lumbar anaesthesia.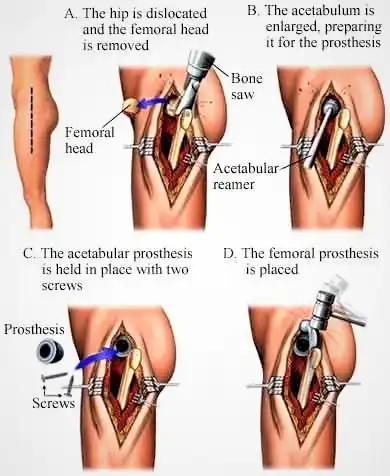 What happens after surgery?
After surgery, the surgeon may prescribe medications or physical therapy to prevent blood clots.
To reduce your chances of developing deep vein thrombosis (DVT) after surgery, you may be given certain medications, and you are recommended to wear special stockings and ankle pumps two to three days after surgery.
You may also be given a patient-controlled analgesic (PCA) that allows you to control your pain relievers and continues for a day or two after surgery.
Depending on the method of wound closure the surgeon prefers to remove the stitches, you may have an appointment after surgery.
But you should contact your surgeon before this appointment if you experience any of the following symptoms:
increasing redness
Hip pain or swelling
Bleeding in the surgical incision
bumps or blisters
What are the stages of recovery after pelvic joint surgery in Turkey
What is the recovery time after surgery?
The recovery period after surgery depends on the patient, their individual needs, and their medical condition.
What is rehabilitation after hip replacement surgery?
Rehabilitation and physical therapy begin immediately after surgery and continue throughout treatment in the hospital and at home for a year after surgery.
On the first day after surgery, a physical therapist will meet you in your hospital room for an evaluation.
On the second day, you will go to the physiotherapy department in a wheelchair for treatment.
Your physical therapist will monitor strength and flexibility in your leg and hip, as well as your ability to stand and sit. In addition, your physical therapist will give you goals and instructions to complete while you're in the hospital and at home, and your doctor may decide it's best for you if you go to a rehabilitation center after you're discharged from the hospital.
At the rehab center, you'll have extensive time with a physical therapist and occupational therapist and regain your strength, learning about all of your exercises and the precautions you'll need to take after a hip replacement.
The duration of your stay in this center ranges from approximately 5 to 14 days.
Your physician's assistant or nurse will then discuss the facilities available for your needs, and a specialist case manager will meet with you to plan your rehabilitation.
Situation after surgery
After surgery, your physical therapist will guide you regarding hip movement precautions and any limitations you may have regarding range of motion.
So keep in mind that physical therapy and strengthening exercises will help you gain greater mobility and ensure an easier recovery after surgery.
It is highly recommended that you continue treatment within the recommended time frame established by your physical therapist. Your physical therapist will tell you that there are several basic rules about posture that you should be aware of after surgery.
Make sure you don't bend more than 90 degrees, and don't raise your knee on the surgical side above your hip.
Don't cross your legs either or turn your leg out, or twist or turn your hip.
Even while sitting, make sure you use a straight back chair with armrests, and don't sit on chairs or sofas that are less than knee-high because they require excessive bending at the hips when sitting and getting up.
And don't sit on low, soft sofas or benches and remember not to bend forward or cross your legs. Since most toilet seats are below knee height, patients are advised to use a toilet seat attachment, which is available for purchase at a hospital or medical supply store.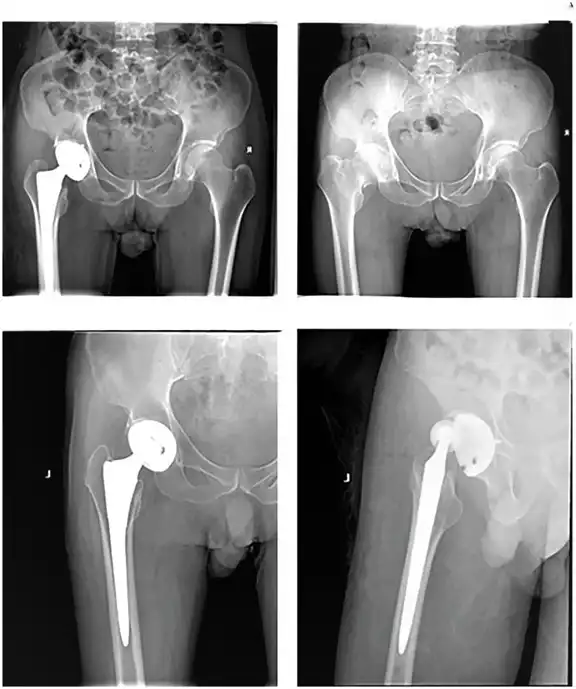 How do we preserve the artificial hip joint?
Tips after hip replacement surgery
Here are recommendations for home care activities after hip replacement surgery:
Adhere to general safety advice
Simplify your surroundings
Eliminate clutter, and keep stairs clear of things.
Keep things in the same place.
Remove small rugs around the house.
Keep walking areas safe
Secure or separate electrical and extension cords.
Watch out for your pets when walking.
Keep walkways/stairs well lit.
Buy night lights for bedrooms and bathrooms.
Stairs must have handrails that are firmly attached.
If you have vision problems, add a contrasting color to define the edges of the ladder.
Stay prepared for emergencies
Keep smoke detectors in good working order.
Keep emergency numbers near the phone.
If you have a speed dial phone, program emergency numbers for automatic use.
Cordless phones are recommended if walking is difficult, or if phone access is a problem.
Going home after pelvic joint replacement surgery
When driving home from the hospital, be sure to stop every 45 to 60 minutes to get out of the car and do some walking.
Also perform ankle movements in the car while riding.
If you're traveling home, ask for an aisle seat and make sure the injured leg extends into the aisle.
rest and sleep
When resting or sleeping in bed, it is recommended that you lie on your uninjured side for 4 to 6 weeks after surgery.
Make sure you have a pillow between your legs, as well as another pillow to support your foot and ankle.
If you lie on your injured side, keep in mind that this may not be comfortable in the first weeks after surgery and is not recommended immediately after surgery.
When you lie on your back, you should have a pillow between your legs. If you wake up in the middle of the night, sit next to the bed for a few seconds to avoid dizziness before getting up.

sexual activity
For positioning during sexual relations, be sure to consult your doctor or physician assistant.
Sexual intercourse can be resumed about 3 weeks after surgery, following the precautions prescribed by your doctor.
wear dress
Dressing To prevent your knee from being raised higher than the thigh on the side of the surgery, you may be given a shoe horn and a bandage stick that helps you put on and take off your shoes, socks and pants independently.
And always remember to put your injured leg into the pants first.
If you wear shoes that require laces, elastic shoelaces can be used to eliminate the need for laces.
the stairs
Your physical therapist will teach you the correct way to go up and down the stairs using handrails and/or crutches.
Remember to use your good leg first, then the crutches and then the injured leg.
As you go down the stairs, you start with crutches and the injured leg first, followed by the healthy leg.
Bathing
To shower, do not try to get into the bathtub or use the overhead shower.
Excessive bending of the hips should be avoided when getting in and out of the bathtub.
Make sure not to use the shower cabin or take a sponge bath until 11 days after surgery.
Keep a portable commode (or urinal) if the bathroom is far from your bedroom.
homework
Remember not to bend over too much when doing housework. Routines to avoid that may involve excessive bending include cleaning the floor, taking out the trash, and making the beds.
Walking after hip replacement surgery
After surgery, depending on your condition, you'll need to use a walker or crutches, which your occupational or physical therapist will provide.
Be sure to stay on crutches or a walker until your doctor or physical therapist advises you to use a cane.
Your doctor will decide how much weight you can put on your injured leg. In most cases, you will be able to put 100 percent of your weight on your leg, unless you are told otherwise.
Your physical therapist will help you learn how to use a walker or crutches correctly and help you get the right equipment for use at home.
A bag or basket attached to the walker will allow you to carry small items while walking.
Keep in mind that walking requires effort after surgery. While physical therapy will help patients learn how to use a walker or crutches correctly, an individual's recovery will depend on their dedication to therapy and exercises after surgery.
Eating and exercising for the hip joint
Eat balanced meals and be sure to complete the exercises you learned in physical therapy 3 times a day.
Keep in mind that it can take more than a year for your muscles to become strong, so it is very important to do your exercises to help ensure a safe and effective recovery.
Also, don't forget to elevate your legs when sitting to reduce swelling.
Driving a car after hip replacement surgery
It is recommended not to drive for 8 weeks after surgery.
You can use the car (as a passenger) about 3 weeks after you get home, but be sure to avoid sports cars and low-seat cars.
To get in and out of the car, park several feet from the curb.
Stand on the street, turn your back to the car, and sit down.
Slide slowly onto the seat, keeping your legs straight, and don't bend forward.
Get into the car by swinging your legs in the front of the seat, keeping your legs straight.
How can I ride in a car after a total hip replacement?
The front passenger car seat must be pushed back fully before entering the vehicle.
Have the driver stand on a flat surface and/or near the slope of the driveway.
Walk toward the vehicle using the appropriate treadmill.
When you're close to the car, turn around and start reversing into the front passenger car seat.
Placing a plastic bag over a fabric seat may make it easier to move around.
Reach with your right hand and grasp the door frame or headrest.
Place your left hand on the car seat or dashboard.
Slowly lower yourself into the car seat.
Slip back onto the car seat.
Swing your legs in the car. Try to move one leg at a time.
Keep your toes pointing up.
Do not put your legs on top of each other!
Reverse these steps to get out of the car.
When riding for long periods of time, be sure to take breaks every 30 to 45 minutes. Get out of the car and walk/stop for a few minutes.
How to sit and stand after a total hip replacement
For sitting after hip replacement surgery:
Return to the bed/chair so that the back of your knees touch the bed/chair.
Extend your hands back to reach the armrests of the chair. Maintain your weight bearing position!
Slowly lower your body to a seated position. Avoid bending forward on your torso.
While you are seated:
Sit on a firm chair with a straight back and armrests. And keep your hips and knees at 90 degrees (knees below your hips).
Don't sit on low, soft, or overly stuffed furniture, which can cause your hips to bend excessively.
Follow precautions and weight-bearing status as instructed by your physician or therapist.
to stand:
Run quickly to the edge of the bed/chair. Avoid bending forward on your torso.
With your hands resting on the bed or chair, push up to a standing position.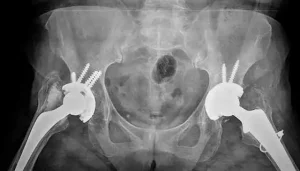 How often should I make follow-up appointments with my doctor after surgery?
Post-hip replacement visits help your surgeon know if your hip is recovering well.
Be sure to schedule your first evaluation within the recommended time frame set by your surgeon.
This recommended time frame is 4 to 6 weeks after hip replacement surgery.
Also request that any X-rays be sent to the orthopedic surgeon's office.
X-rays are usually taken the week of surgery, 3 months later, and then annually. If you have a problem before scheduling your return, be sure to contact your physician's assistant immediately. In addition to your first follow-up appointment after discharge, this additional schedule is recommended:
Three to six months after the date of hip replacement surgery
A year after the date of surgery
Annually in memory of the date of surgery
It is important to stick to this schedule and to see your doctor regularly for routine office visits to ensure safe and effective recovery from a total hip replacement.
Hip replacement in the elderly
Osteoarthritis (OA) of the hip joint is a common cause of pain and disability in the elderly.
Total hip arthroplasty can greatly improve functioning in daily life for many older adults with osteoarthritis of the hip.
What is degenerative arthritis?
Osteoarthritis (OA) is a type of arthritis that can affect the hip joint, although it is more common The knee joint.
This type of arthritis is commonly referred to as "wear and tear" arthritis.
Arthritis is a common cause of pain and joint loss of function in older adults.
It can become difficult for them to move around and do daily tasks.
So some people with arthritis need extra help from others. They may not be able to live on their own.
Surgery to replace the hip joint is called total hip arthroplasty. It can help improve performance in everyday life for many older adults with hip arthritis.
How do I know if I have OA?
The most common sign of hip arthritis is pain in the groin and front of the thigh.
Pain can occur when the hip has to lift your body weight. Your hip should do this when doing things like standing and walking. Pain can also occur when you twist your body. For example, when you turn around to put on socks and shoes, or get in and out of cars.
In the early stages of arthritis, pain may come and go. You may feel better while you rest. At this point it is possible Stem Cell Therapy.
But as the hip joint collapses further, the pain may become constant. It may happen at night.
Sometimes, you may feel pain only in the area of your knee. This is called reflex pain. Back pain is often exacerbated by hip arthritis.
People with osteoarthritis often develop a certain type of lameness.
Because they lean toward the side that contains the unaffected hip. The body does this so that the damaged joint does less work when walking. She is trying to protect the hip.
In the advanced stages, due to the lack of dependence on this affected joint, there will be muscle weakness in the joint.
as it increases Joint stiffness of walking problems. It can also make it difficult to bend and twist the leg.
Who can perform hip replacement surgery?
Surgery is not a good option for people whose joint implants limit their quality of life.
Sometimes, simpler treatments can help. Such as medication, weight control, walking aids, physical and occupational therapy and exercise.
However, surgery is the best treatment for the hip joint in the final stages.
Am I "too old" to have a hip replacement?
You will be examined very carefully before surgery. Your doctor will look for any medical conditions you have.
But some of these tests can cause problems for older people during surgery. These include high blood pressure, diabetes, and heart and lung disease.
If any medical problems are found, they will be treated before any operation.
This makes the surgery safer for older patients. After surgery, doctors and nurses will monitor you closely to ensure your health.
As the operation is performed under lumbar anaesthesia