Shoulder joint replacement surgery in Turkey is considered one of the leading surgeries, for whom the shoulder joint replacement surgery is performed and more details about this procedure in Turkey can be found in this article.
The shoulder is an important joint that rotates with a greater range of motion than any other joint in the body. If it's causing you so much pain that you can't reach a closet, or can't sleep well because of it, your doctor may recommend artificial shoulder replacement surgery. This procedure can relieve pain and increase your ability to move.
Today in Turkey, many joint replacement operations are performed, and great results have been achieved with surgery knee joint replacement And the shoulder.
What is shoulder joint replacement surgery?
Shoulder joint replacement is a procedure that helps eliminate the source of pain and dysfunction by replacing damaged parts of the shoulder joint with artificial components called artificial joints.
The most common reasons for shoulder replacement surgery are osteoarthritis, rotator cuff osteoarthritis, vasculitis or rheumatoid arthritis. This surgery aims to relieve pain, improve joint strength, increase range of motion, and enable the patient to use their shoulder and arm.
How does the shoulder joint work?
Similar to the hip joint, the shoulder is a large acetabular joint. It can rotate with a greater range of motion than any other joint in the body (the knee).
The shoulder joint is made up of bones, tendons, muscles, and ligaments that help hold the shoulder joint in place and allow movement. The bones of the shoulder joint include the collar bone (clavicle), the scapula (a large flat triangular bone called the scapula) and the humerus (upper arm bone).
The clavicle is attached to the scapula at the acromioclavicular joint. The collarbone connects the shoulder to the rib cage and helps it move away from the body. The round head of the humerus, or humerus bone, rests on the socket in the scapula. The surfaces of the bones in contact with them are covered with a soft substance called cartilage that protects the cartilage of the bones and enables them to slide and move easily. The muscles and tendons that surround the shoulder provide stability and support. A thin, smooth tissue called the synovium covers all remaining surfaces within the shoulder joint. In a healthy shoulder, this membrane makes a small amount of fluid that lubricates the cartilage and eliminates almost any friction in the shoulder.
The rotator cuff muscles are a group of four muscles that surround the shoulder joint and their tendons attach to the end of the upper arm bone. The job of the rotator cuff is to keep the shoulder joint and the acetabular joint together and help with its movement. That's why when the rotator cuff tendons rupture, patients experience pain, instability and loss of function. Trauma from a fall in an elderly patient or a sports injury may rupture the rotator cuff. Depending on the size and location of the tear, the patient's age, persistence of symptoms, the patient's general condition, range of motion and the level of activity required, rotator cuff tears may be treated with physical therapy or accidental cortisone injections. When these symptoms fail, the doctor may suggest a shoulder prosthesis.
Is shoulder joint replacement surgery common?
Yes, of course, and more than 70,000 people in the United States undergo shoulder replacement surgery each year.
How are artificial joints made?
A metal ball is used to replace the brachial ball made of a special type of stainless steel that is attached to a stem usually made of titanium and keeps the ball attached to your arm while the polyethylene cup replaces the glenoid socket.
Why is shoulder joint replacement surgery performed?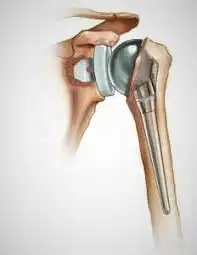 Shoulder joint replacement surgery is an option given to patients with joint dysfunction. This is usually the result of osteoarthritis, rotator cuff arthropathy, avascular necrosis, rheumatoid arthritis, or (rarely) in those who have sustained a severe fracture due to trauma or a fall.
In general, all other treatment methods are considered first, such as physical therapy and medication.
A doctor may advise a patient to undergo shoulder replacement surgery if he or she has the following symptoms:
Shoulder joint pain is so severe that you struggle with simple daily activities such as washing, getting dressed, and reaching for the closet.
Loss of movement in the shoulder joint.
 Weakness in the shoulder muscles.
 Pain so severe that it prevents the patient from getting a good night's sleep.
Try anti-inflammatory medications, cortisone injections, and physical therapy without any relief. Your doctor may suggest Stem Cell Therapy in some cases.
Previous arthroscopic surgery or fracture repair failed to relieve symptoms.
What are the types of shoulder replacements in Turkey?
Your surgeon will have a conversation with you about the type of shoulder replacement you need. There are several options in this matter. The doctor may be satisfied with replacing only the damaged structures of the joint, and a complete joint replacement may be required.
What happens in the first appointment for shoulder replacement surgery in Turkey?
Your consultation visit and initial appointment with an orthopedic surgeon in Turkey will include a series of X-rays, a physical examination, and a thorough review of your medical history.
A physical exam will help the surgeon determine the source of the pain as well as how difficult it is to move.
X-rays reveal bone spurs, damaged joint surfaces, and any narrow joint spaces. If there has been trauma or injury to the shoulder, an X-ray will help your health care provider assess whether the fracture can be repaired or if your shoulder needs replacement.
A breakdown of the history of your shoulder problem includes a description by the surgeon of the degree of pain with activity, limited use, loss of movement, pain at rest, and previous treatments including medications, injections, physical therapy, and previous surgeries.
Using this information, and with your family, you and your orthopedic surgeon will determine the best next steps for you.
How do I prepare for shoulder joint replacement surgery in Turkey? What happens before the operation?
In Turkey, unless there is an emergency, the surgery will be scheduled in advance. Knowing the history of your operation, you will have time to prepare and plan for any special help you may need after you are discharged from the hospital. It is important to have a partner to help you with home exercises after you are discharged from the hospital.
Your partner must accompany you to physiotherapy at least once or twice during your hospital stay in Turkey. Shoulder joint replacement surgery can be done as an outpatient procedure, but on average, you'll stay one night in the hospital after surgery to make sure your pain is under control and that you're medically stable before you leave the hospital.
A series of pre-operative tests will be scheduled one to two weeks before surgery. These usually include: some blood tests, an electrocardiogram (EKG) that evaluates the electrical activity of your heart, and a visit to your health care provider to make sure you're medically qualified to undergo surgery.
Some medications may be stopped because they will complicate the surgery and others may need to be continued. You should stop using any anti-inflammatory medication, including aspirin, one week before surgery unless instructed otherwise. You will be given instructions regarding your daily medications at this visit.
Most patients spend the night before surgery either at home or at a nearby hotel. They are then admitted to the hospital the next morning.
You will be notified via a phone call the day before about the exact time and place to go on the day of your surgery. You may not eat or drink anything after midnight the day before surgery.
Your doctor and anesthesiologist will discuss the most appropriate type of anesthesia. The most common form is general anesthesia by giving you medications through a vein that will keep you relaxed and comfortable. You will also be given the option to supplement the anesthesia with a local anesthetic or a block anesthetic to reduce postoperative pain.
After surgery, most patients are able to eat dinner and walk to the bathroom. Local anesthesia relieves pain for long periods after the operation. A family member may stay with you until the time of surgery (depending on the rules of the hospital visit). Any nail polish must be removed before entering. You will be asked to remove all jewelry, eyeglasses, dentures, wigs, and contact lenses. Rings may not be worn on either hand and any items of value should be left at home or given to your family members.
The nurses will prepare you for surgery by measuring your blood pressure, pulse, and temperature and administering medications before surgery. These medicines may cause drowsiness and dry mouth. An IV or IV line of fluids, medications and antibiotics will then be inserted into your arm before you go to the operating room.
You will be taken to the surgery on a cart. The different hospital staff will ask you for your name, check your identification bracelet and ask you which shoulder the operation will be performed on, right or left.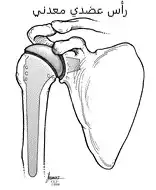 What happens during shoulder joint replacement surgery in Turkey?
In the operating room, you'll meet nurses, doctors, technicians, and anesthesiologists. The operating room will be very bright and cool. Blankets are available to keep you warm. Due to the number of people working, the room will seem quite crowded and somewhat noisy. You will then be taken to the operating table. A sterile surgical gauze will be placed to protect the surgery site. The anesthesiologist will stay close to you to monitor your condition throughout the surgery.
How long is shoulder joint replacement surgery in Turkey?
The surgery will take about two to three hours.
Will I pass out during shoulder replacement surgery?
Yes. You'll be under general anesthesia to keep you asleep.
What should I expect after a shoulder joint replacement in Turkey?
After surgery, you will be transferred to the Post Anesthesia Recovery Unit (PACU), where you will be cared for by skilled nurses and members of the anesthesia team. They will monitor your vital signs (blood pressure, pulse, and breathing) frequently while you recover from the effects of the anesthesia. When you wake up, you will have a bandage on your shoulder. An X-ray of your shoulder will be done during your stay in the recovery room.
The minimum stay in the PACU is at least one hour. The length of your stay depends on many factors including the effects of anesthesia. Your doctors and nurses will assess your condition and determine the best time for you to go to your hospital room. Your family will not be allowed into the intensive care unit, but they can visit you when you are transferred to your hospital room.
After you're taken to your room and helped into bed, your nurse will assess your condition — checking your vital signs, the dressing of your shoulder and the movement and sensation of your hand.
Because shoulder surgery is painful, pain control is very important. Your doctor will prescribe methods that can be used to fully control your pain.
While you're in the hospital, we encourage you to get out of bed and move around. Bring loose clothing with you, as this will make getting dressed easier. You will be able to shower after 48 hours.
A physical therapist will help you learn specific exercises and how to continue them at home. You will also get written instructions when you are discharged from the hospital. These exercises are fairly simple and usually only require a short amount of time.
The successful outcome of a shoulder joint replacement depends largely on the exact performance of your exercises. Through this structured exercise program, your muscles will be tightened and strengthened systematically and gradually over the course of one year. The desired result is the optimal function of the new artificial shoulder. Most patients do not require physical therapy, but in certain cases, regular outpatient physical therapy may be required after hospital discharge. Your surgeon will discuss this with you at follow-up doctors' office visits based on your progress with self-guided exercises.
An occupational therapist will visit you at least once before you are discharged from the hospital. Your therapist will provide instructions and assistive devices to help you keep yourself fed and protect your new shoulder from injury.
What are the advantages of shoulder joint replacement surgery in Turkey?
Pain relief, improved range of motion and function, and Treatment in Turkey It is considered a destination for many because of its excellent medical services at the cheapest prices.
Are there any complications of a shoulder joint replacement?
All surgeries involve some risks. There are several potential complications following shoulder joint replacement surgery:
Infection: Minor infections in the wound area are treated with antibiotics, while major infections may require additional surgery.
Joint dislocation: In the case of total reverse shoulder replacement, joint dislocation may occur that sometimes requires treatment or surgery.
Other prosthetic joint problems: Prosthetic joints can be damaged and sometimes they may come apart. Sometimes more surgery is needed.
Nerve injury: Nerves can be damaged during surgery.
There is an increased risk of complications if you have diabetes. Diabetics may have difficulty healing wounds and infections.
What are the instructions for going home after shoulder joint replacement surgery in Turkey?
Check the wound daily for increased swelling or bleeding.
Keep the bandage intact. Your bandage is airtight and will allow you to shower. Let the water flow over it and allow it to dry afterwards. Your bandage will be removed at the first revision appointment.
Upon discharge from the hospital, you will be given an appointment to return, 10 to 14 days later to remove the bandage, as well as a prescription for pain relief.
Your healthcare provider will tell you about specific precautions and activity restrictions.
General instructions include:
Drive as instructed by your doctor. However, you will need a driver to take you home when you are out.
Avoid carrying anything heavier than a glass of water for the first two to four weeks.
Avoid lifting heavy objects for two months.
Resume arm movement.
Continue to exercise at home as instructed by your physical therapist and other health care providers. be cerfull.
Do not use your surgical arm to support your own body weight while pushing yourself out of a bed or chair.
Do not do any heavy lifting repetitively. Do not engage in contact sports.
Avoid placing your arm in any "extreme position" for the first six weeks after surgery. An example is not extending your arm straight out to the side or behind your back.
After the operation
Your rehabilitation will be continuous and gradual. It may take six months to a year for optimal benefit. It is important to realize that progress is sometimes slow and not always steady. You must persevere through your treatment program, performing your exercises several times a day for five to 10 minutes each. Do not lift anything heavier than five pounds for the first month after surgery. Also, refrain from using your arm to lift, reach, push or pull above waist level (for six weeks). After about six weeks, you'll begin physical therapy where you'll use equipment from the gym to strengthen your muscles. Your health care provider will monitor your progress during visits at intervals of six weeks for the first four to five months, and then less frequently for one year.
Please note that any healthcare provider or dentist considering a future surgical procedure, including dental work, should give you antibiotics before and after surgery to prevent infection. This includes all surgeries, endoscopic procedures, tooth extractions and canals. Any infection, such as a urinary tract infection, should be treated immediately with antibiotics, as bacteria can spread to the joint being replaced. When receiving any medical treatment, tell the person in charge that you have had total shoulder replacement surgery.
Returning to work depends on your progress in treatment and your job requirements. People who do not have a physically demanding job can return to work after two months. If your job requires heavy lifting or repetitive general activity, you may have to make changes to your work environment. If you have a demanding job, you should maximize your therapeutic exercises including strengthening and discuss the best time to return to work with your surgeon. People who have had a shoulder replacement can participate in sports such as golf, swimming, and tennis.
In some cases, your doctor may advise you to visit a newer Robotic-assisted rehabilitation and physical therapy centers in Turkey.
How long does it take to recover from shoulder joint replacement surgery?
The recovery period varies from person to person and also depends on the type of surgery you had. Usually, you should use your arm for waist-level activities the first day after surgery. You should get dressed and feed yourself for the first week. Be careful driving. Only resume driving when you are sure you can do so safely.
When do you call the doctor?
When to call your healthcare provider:
If you experience any problems or have questions and concerns, contact your surgeon's office. Any symptoms such as fever, increased drainage from the wound, redness, swelling, a sudden, significant increase in pain, or a change in sensation or arm movement should be reported immediately.
Bimaristan Medical Center remains your first choice for treatment in Turkey.
We direct you to the best specialists who are experts in all fields, we break the language barrier, Arab specialist doctors will help you in communicating with your doctor, we help you book an appointment in the most important and modern hospitals in Turkey, we offer our services to secure hotel reservations for you and your companions, in addition to transportation, we help you secure a travel visa for you for free.
We provide our services throughout Turkey, the best place to provide you with treatment is our destination.
We will be with you step by step towards recovery.
Free consultations around the clock.
do not hesitate Contact us,Bimaristan center is your family in Turkey.