the Total hip replacement that associated with severe hip arthrosis, is considered as reliable and effective operation, which aims to reduce pain, increase mobility and functionality and increase quality of life.
Introduction of total hip replacement
Total Hip Replacement has become so successful that it has come to be known as the operation of the century. It is the main surgical procedure in orthopedics and a cost-effective treatment to restore pain-free movement in patients with degenerative bone and joint diseases such as degenerative arthritis. .(1)
Generally, THA can be considered a safe intervention yielding high patient satisfaction. One year after surgery, more than 90% of the osteoarthritis patients declare that they are satisfied with the results of their THA and most of them can return to normal life. This success has led to high expectations among patients, orthopaedic surgeons and researchers. (1)
Patients will have to understand and accept that THA "marks the beginning and not the end of treatment" despite almost immediate pain relief and gain in mobility that can be achieved. (1)
Improvement of surgical methods and introduction of new surgical techniques and prosthesis materials have turned total hip replacement into one of the most successful contemporary treatment methods. (2)
Hip osteoarthrosisosteoarthritisis a degenerative disease that affects the synovial joints. OA is considered the most common disease of the locomotor system and is prevalent among middle-aged and elderly adults. In these populations, a clear relationship between overweight and physical activities is observed. (3)
Characterized by focal degeneration in joint cartilage, microfractures, cysts, subchondral bone sclerosis, and osteophyte formation in the articular borders, osteoarthritis deformity, and progressive loss of movements in the affected hip joint. Symptom severity does not always correspond to the degree of damage displayed on the radiograph. (3)
Currently, no cure for OA exists and treatments focus on controlling pain and improving function. Physiotherapy is one of these treatments. In the case of lack of response to treatment, total hip replacement is the surgical procedure of choice, because this treatment improves the patient's quality of life and facilitates the patient's return to activities of daily living (ADLs) and even to labor activities. (3)
Indications for total hip replacement
Symptomatic end-stage degenerative hip arthritis is the most common reason for total hip replacement (4)
Primary osteoarthritis is related to ageing, as the cartilage becomes less resilient, and to heavy physical activity. Osteoarthritis accounts for over two thirds of the THA procedures. (1)
The second most common indication is rheumatoid arthritis, which is a systemic inflammatory disorder probably caused by a systemic autoimmune response. Severely affected joints are candidates for joint arthroplasty when medication with analgesics, anti-inflammatory drugs and steroids can no longer control the symptoms. (1)
Other indications for total hip replacement are:
Dysfunction of the tissues of the hip joints
Orthopedic defects caused by accidents or diseases
Avascular necrosis (necrosis of bone tissue due to interruption of blood supply)
Other rare diseases that impair the function of the hip(1)
Hip osteonecrosis, on average, presents in the younger patient population (35-50 years of age) and accounts for approximately 10% of annual THAs. (4)
contraindications
Total hip replacement is contraindicated in the following clinical scenarios:
Local: Hip infection or sepsis
Remote (i.e. extra-articular) active, ongoing infection or bacteremia
Severe cases of vascular dysfunction (4)
Preoperative evaluation before total hip replacement
Clinical Examination
A comprehensive history and physical examination are required prior to performing a THA in any patient. Patients should be questioned about prior interventions and treatments. (4)
Prior joint replacements, arthroscopic procedures, or other surgeries around the hip should be considered as prior surgical incisions or the presence of hardware in the femur or acetabulum can significantly impact the planned surgery and/or prosthesis design utilized. (4)
In addition, a comprehensive medical evaluation should also be performed, and medical clearance and risk stratification are recommended for all patients prior to total hip replacement consideration. (4)
Other considerations include patient body habitus, prior functional activity and goals/expectations following surgery, the pattern of arthritic involvement, and any history of prior hip trauma. (4)
The hip should be inspected for any skin discoloration, wounds, or previous scars. The soft tissues should be examined for evidence of gross atrophy, overall symmetry, and stability. (4)
Physical examination also includes an evaluation of the mechanical axis and overall alignment of the limb. It is critical to ensure spine and/or hip pathology is ruled out or at least considered prior to performing any surgery around the hip. Any leg length discrepancy (LLD) should also be noted. (4)
Atypical leg discomfort and pain at rest are common symptoms of peripheral vascular disease (PVD). While up to 50% of patients are estimated to be asymptomatic at presentation, clinical suspicion of PVD may warrant preoperative vascular surgery consultation. (4)
Radiographs
Preoperative radiographs, including a standing anteroposterior (AP) pelvis plus AP/lateral of the involved hip(s), are recommended. A false profile view is considered in cases of hip dysplasia. When the surgeon is faced with cases of severe hip dysplasia, and when considering the use of customized components, we recommend obtaining a preoperative CT scan with thin (1-mm) cuts. (4)
On imaging, the hip joint is assessed for joint space narrowing, the presence of osteophytes, and the presence of subchondral sclerosis and/or degenerative cysts. (4)
The Surgical Procedure for Total Hip Replacement
In hip replacement surgery, the damaged bone and cartilage are replaced with ceramic, metal or plastic surfaces to restore hip movement and function. (5)
The articular socket and prosthetic femoral head replace the damaged normal articular surfaces in the affected hip joint, so the prosthetic materials must have low friction and withstand wear and mechanical load during movement.(1)
The total hip replacement prosthesis consists of two parts:
Acetabular component (cup) that fits into the pelvic bone/hip socket.
Femoral component (stem) that fits into the femur or thigh bone. (5)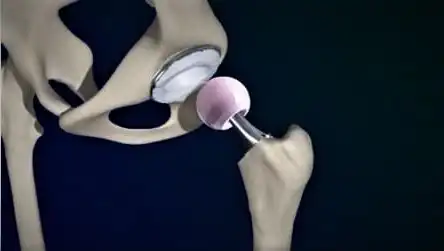 The surgical steps
An incision is usually made over the top of the thigh bone (femur).
The muscles that hold the hip in place are partially detached and the surgeon exposes the end of the femur and the pelvis socket (acetabulum).
The damaged cartilage and bone in the pelvis socket are cleaned away.
The acetabular component (cup) and a high-grade polyethylene liner (new cartilage) is fixed in place.
The head of the femur is removed.
The inside of the femur is prepared for the femoral component (metal stem) which is fixed in place and a femoral head (ball component) is placed on the stem.
Once the components are in place, the hip is put back in place and then tested for movement and stability. The incision is then closed. The surgery usually takes 45-90 minutes. (5)
Surgical approaches
The three most common approaches are as follows:
Posterior
This is the most common approach for primary and revision THA cases. A major advantage of this approach is the avoidance of the hip abductors. Other advantages include the excellent exposure provided for both the acetabulum and the femur and the optional extensile conversion in the proximal or distal direction. (4)
Direct Anterior (DA)
The DA approach is becoming increasingly popular among THA surgeons. It is advocates cite the theoretical decreased hip dislocation rates in the postoperative period and the avoidance of the hip abduction musculature. The disadvantages include increased wound complications in particularly obese patients, difficult femoral exposure, the risk of lateral femoral cutaneous nerve paresthesias, and a potentially higher rate of intra-operative femur fractures. (4)
Anterolateral (Watson-Jones)
Compared to the other approaches, the anterolateral approach is the least commonly used approach secondary to its violation of the hip abductor mechanism. (4)
Choice of prosthesis
The frequently used notations metal-on-metal (MoM), ceramic-on-ceramic (CoC) or the classical combination metal-on-polyethylene (MoP) refer to the sequence of materials used for the femoral head and the acetabular cup (liner), respectively. (1)
The first decision to be made is between a cemented or uncemented hip prosthesis. Nowadays cementation is mainly used in patients aged above 60-65 years with compromised bone quality. Uncemented prostheses are preferred for younger patients with good bone quality. (1)
Recovery and rehabilitation after total hip replacement
Postoperative rehabilitation is of the utmost importance following total joint replacement in order to ensure pain-free function of the joint and improve the patient's quality of life. Adequate and timely rehabilitation is very important for accelerating the recovery process and for prevention of complications. (2)
Patients who received THA without a rehabilitation program will develop functional limitations within 1 year after surgery, and physiotherapy plays an important role in the care of these patients. Physiotherapy can improve strength and gait speed after THA and help prevent frequent complications, which include luxation and thromboembolic disease. (3)
In addition, physiotherapy increases the patient's mobility and offers education about the exercises and precautions that are necessary during hospitalization and after discharge. Nevertheless, no consensus for the most effective physiotherapy has been reached in the field. (3)
Early mobilization after total hip replacement
Early mobilization is a key component of early recovery program. Adverse physiological effects of prolonged bed rest include increased insulin resistance, myopathy, reduced pulmonary function, impaired tissue oxygenation, and increased risk of thromboembolism. Safe and effective analgesia is a prerequisite to encourage postoperative mobilization. (6)
There is good evidence that early mobilization facilitates recovery after hip arthroplasty. A recent meta-analysis shows a significant reduction in length of stay (by 1.8 days) when patients ambulate within 24 h of surgery, and also associated with improved functional recovery and lower incidence of DVT. (6)
Pain after total hip replacement
It is normal to have pain, swelling and even some bruising after surgery. In time, the intensity and amount of pain that you experience will start to decrease. It may take up to 6 months before all the pain and swelling is completely gone. (6)
Before leaving the hospital, patient will be given a prescription for a combination of pain medications to help him manage pain. Patient may be prescribed or advised to take the following:
A pain medication to be taken regularly for 4 days and then on an as needed basis
A stronger pain medication that you can take every 2 hours as needed
Non-steroidal anti-inflammatory drug (such as ibuprofen) taken regularly for 4 days (6)
Physical therapy at home
Following discharge home from the hospital, some patients may choose to attend private physiotherapy. Most patients can manage the prescribed exercise routine independently. A basic home exercise program will be started following surgery to work on regaining the range of motion and strength in hip joint. These exercises should be practiced prior to surgery to familiarize with them. (5)
Nutrition after surgery
Healthy eating helps to prepare body for surgery. The body needs to be well nourished to heal the bones, muscles and skin that are affected by surgery. People who are well nourished are less likely to develop an infection following surgery. (5)
Aim to have a source of protein, vegetable or fruit and whole grain at each meal. Protein can be especially important after surgery as protein needs will increase as it can help with the healing process. (5)
Complications/complications after total hip replacement
Dislocation: The overall incidence is about 1% to 3%. Recurrent THA dislocations often result in revision THA surgery with component revision. (4)
Periprosthetic Fracture: Intraoperative fractures can occur and involve either the acetabulum and/or femur. Acetabular fractures occur in 0.4%, most often during component impaction. Intraoperative femur fractures occur in up to 5% of primary THA cases. (4)
Aseptic Loosening: aseptic loosening is the result of a confluence of steps involving particulate debris formation, prosthesis micromotion, and macrophage-activated osteolysis. (4)
Wound Complications: The THA postoperative wound complication spectrum ranges from superficial surgical infections such as cellulitis, superficial dehiscence, and/or delayed wound healing, to deep infections resulting in full-thickness necrosis. Deep infections result in returns to the operating room for debridement and drainage. (4)
Prosthetic Joint Infection: The incidence of prosthetic total hip infection (following primary THA is approximately 1% to 2% as reported in the literature. (4)
Venous thromboembolism events: Pulmonary embolism and deep vein thrombosis, together referred to as venous thromboembolism, comprise the most dreaded complications following THA. The median incidence of in-hospital VTE events during the index admission following THA is approximately 0.6%. (4)
Hematoma: Bleeding (hematoma) may occur in the muscles around the hip joint following the operation. If a hematoma occurs, this may require a trip to the operating room to drain the excess blood that has accumulated under the skin. (5)
Other Complications and Considerations
Sciatic nerve palsy
Leg Length Discrepancy (LLD)
Iliopsoas impingement
Heterotopic ossification
Vascular injury (4)
Expectations and outcome after total hip replacement
The life expectancy of a hip replacement (the new joint) is influenced by the amount of stress placed on the joint. Controlling body weight and adhering to the activity recommendations will increase the life of joint. In general, more than 90% of hip replacements should last at least 15 years. (5)
Patients expect from THA to recover pain-free mobility and to overcome restrictions in their private and professional activities. In this respect THA is a very successful treatment, since more than 80% of the patients are satisfied with the result after surgery. In a survey among 806 patients 94% returned to their usual job after surgery, and the number of patients with hip related job restrictions dropped from 20% before to 3% after surgery. (1)
The long-term clinical outcome of THA is determined by the materials and components used, by the surgeon and the patient himself. Durable solutions of THA can only be achieved if the surgeon manages to reconstruct the hip joint in a way that it can fulfil its proper function, and if a stable fixation of all components can be achieved. (1)
---
the reviewer: