Total knee replacement (TKR) is the gold standard method in the treatment of knee arthritis with a high success, and aimed to relieving pain effectively, restoring range of motion and improving function.
Introduction for total knee replacement
The need for Total Knee Replacement is increasing as a result of several reasons including arthritis and traumatic injuries. Arthritis is one of the biggest orthopedic problems in the world and has two main forms: degenerative arthritis (osteoarthritisand rheumatoid arthritis (1).
Patients suffering from both forms of arthritis stand to benefit from total joint replacement. Accidental injuries may also lead to the need for joint replacement. Depending on the type of fracture and the amount of bone loss to the joint, during an accident. (1)
Total knee replacement was found to be quite effective in terms of improvement in health-related quality of life dimensions, with the occasional exception of the social dimension. (2)
It should be taken into consideration that the patients, which are less satisfied following TKR, are the ones with mild preoperative complaints. All conservative treatment modalities should be exhausted before surgery. (2)
In osteoarthritis, the cartilage of the joint becomes stiff, which results in a decrease in its elasticity and increases the chances of getting damaged. The cartilage of the joint acts as a shock absorber, which gradually wears away in knee joints. The damaged cartilages & ligaments become stretched, which results in pain and eventually leads to bone-on-bone contact in the joint, causing severe pain. This form of arthritis usually affects elderly patients. (1)
Rheumatoid arthritis is commonly found in women, who are in the age group of 40-60 years. In this the synovial membrane is affected, causing swelling and pain in the joint. If this form of arthritis is not treated, it can lead to the deformity of the affected joint. (1)
Indication of total knee replacement
The most common underlying diagnosis and indication for TKA are end stage, degenerative osteoarthritis of the knee, with approximately 94-97% of knee replacements performed for primary or post traumatic osteoarthritis. These patients must have degenerative changes with pain and limitation of function in the knee that has failed conservative and nonoperative measures. (3)
The frequent common indications for TKR surgery are:
Inflammatory arthritis
Osteochondromatosis
Villonodular synovitis
Metabolic arthritis
Osteonecrosis
gout and pseudogout
Post-traumatic arthritis
fractures Intraarticular (2)
Contraindications of total keen replacement
Contraindications must be well known and considered before the surgery decision. Absolute contraindications for total knee arthroplasty include:
knee sepsis
Chronic infection
extensor mechanism dysfunction
Severe vascular disease
recurvatum deformity secondary to muscular weakness
presence of well-functioning knee arthrodesis. (2)
There are also relative and controversial contraindications include: medical conditions that preclude safe anesthesia, inadequate soft tissue coverage, morbid obesity, neuropathic arthropathy, and history of osteomyelitis around knee joint, physical and mental conditions that prohibit appropriate rehabilitation. (2)
Age is not a contraindication to surgery. There is no age cut-off for surgery, and patients of all ages may be suitable candidates for a knee replacement. (4)
Preoperative care of total knee replacement
Preoperative clinical evaluation is very substantial in assessing the current medical status and determining the relative risk profile of the patient. It is very important for the orthopaedic surgeon to understand the basic principles and nuances involved. Preoperative planning initiates with selection of an apropriate candidate for TKR procedure. (2)
The patient's expectations and general risk factors plays an import role in this decision. Questioning of the patient's complaints and life quality, assesment of the medical condition and detailed physical examination are the essentials of preoperative clinical evaluation. (2)
Drug history of the patient must be questioned too. Sources of infection such as dental, dermatological, urological or respiratory tract infections must be ruled out. Every patient must have a general medical evaluation including laboratory tests, electrocardiogram and chest graphy. (2)
Patients must have great cardiopulmonary capacity, as most of them are elderly, to withstand anesthesia and to withstand a blood loss of 1000-1500 mL over the perioperative period. (5)
Conventional radiographs are usually adequate for initial radiographic evaluation to confirm the diagnosis or assess the severity of the disease. Orthoroentgenogram or CT, MRI may be necessary in extraordinary conditions such as congenital dislocation of the patella, post traumatic deformities, severe deformities, tumors and congenital anomalies. (2)
Underlying or predisposing orthopaedic diseases, which may interact the outcome of TKR should be reviewed previously. Examples of such conditions are as follows:
Adjacent joint degenerative arthritis
adjacent degenerative arthritis
Presence of any inflammatory arthritis, which may flare after surgery
Any musculoskletal disability affecting postoperative mobility
Thromboembolic history or predispositions. (2)
The detailed physical examination should include the range of motion, ligament status, circulation and skin condition evaluation. Furthermore, alignment of lower extremities, patellar instability and gait analysis should to be assessed. (2)
Correct implant selection with proper size is one of the important stages in preoperative planning. Patient's and surgeon's expectations should be taken into consideration preoperatively to improve the outcomes and increase the satisfaction after operation. Preoperative planning of the bone cuts may simplify the surgery. (2)
During the process of planning of TKR, the surgeon aims to obtain the optimal fitting of the implant and the optimal extremity alignment. This is possible for the surgeon by thinking three-dimensionally. The prediction of the surgery pre-operatively should improve the precision of the process and shorten the length of the operation. It should also reduce the complication rate. (2)
Surgical technique of total knee replacement
In knee replacement surgery, the damaged bone and cartilage are replaced with metal and plastic surfaces to restore knee movement and function. Most of the knee replacements that are done today are cemented into place. (6)
Femoral (thigh bone) component- metal, replaces the weight bearing surface of the thigh bone, has a groove for the patella (knee cap) to move along.
The metal part of the femur, it replaces the weight-bearing surface of the femur and has a groove for the patella to move along.
Patella (knee cap) – a plastic button is attached to the back of the knee cap to allow better movement along the femoral component.
Tibial (shin bone) component – metal with a plastic (polyethylene) component attached, forms a smooth surface the femoral component can move on during movement of the knee joint. (6)
A tourniquet (tight band) is used around the upper thigh to prevent bleeding during this surgery. An incision is made over the front of the knee. The ends of the thigh and shin bones are exposed. Small amount of bone is removed from the surface of the thigh and shin bones. This allows space for the metal and plastic components. (6)
An important part of the operation is to balance the knee ligaments and straighten any deformity of the joint. The knee components are then put into the knee and tested for movement and stability. The incision is then closed. The procedure of TKR usually takes 1-2 hours. (6)
Recovery and rehabilitation after total knee replacement
Patients who have a total knee replacement generally stay 0-1 night in the hospital depending on several factors, but, in some instances, may go home from the hospital on the same day of the surgical procedure if they qualify for the enhanced recovery program. (7)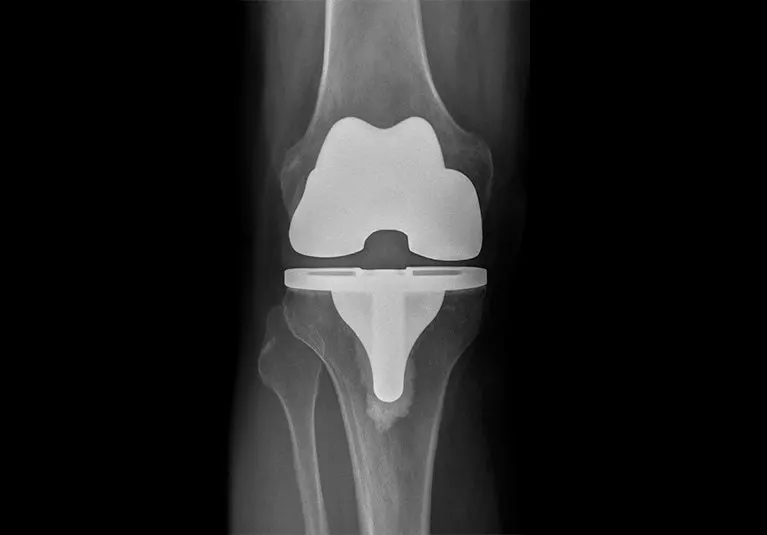 This is a very busy time for patient and his family. There are a lot of physical therapy and nursing instructions that have to be given in a very short amount of time. Instructions will be provided to the patient prior to discharge home. (7)
When is the patient discharged to home? If you are discharged to home, you should be:
Independent in a home exercise program.
Independent with ambulation with the correct use of a walker, crutches, or a cane.
Able to get in and out of bed independently.
Independent in bathing and dressing.
Climbing and descending stairs safely and correctly if necessary.
Following weight bearing precautions as ordered by your surgeon.
Getting in and out of a car correctly and safely.
Able to identify medications, name the side effects, and know when to take them.
You or a family member is able to take care of your incision and dressing after surgery.
Given necessary home equipment and be able to use it effectively. (7)
Early mobilization after total knee replacement
Early mobilization is a key component of early recovery program. Adverse physiological effects of prolonged bed rest include increased insulin resistance, myopathy, reduced pulmonary function, impaired tissue oxygenation, and increased risk of thromboembolism. Safe and effective analgesia is a prerequisite to encourage postoperative mobilization. (8)
There is good evidence that early mobilization facilitates recovery after hip and knee arthroplasty. A recent meta-analysis shows a significant reduction in length of stay (by 1.8 days) when patients ambulate within 24 h of surgery, and also associated with improved functional recovery and lower incidence of DVT. (8)
Prevention and treatment of nausea and vomiting after total knee replacement
Postoperative nausea and vomiting (PONV) can be more distressing than pain. Risk factors include female sex, nonsmoking status, a history of motion sickness. High-risk individuals should receive both dexamethasone at the beginning of surgery and a serotonin receptor antagonist at the end of surgery. (8)
Pain after total knee replacement
It is normal to have pain, swelling and even some bruising after surgery. In time, the intensity and amount of pain that you experience will start to decrease. It may take up to 6 months before all the pain and swelling is completely gone. (8)
Before leaving the hospital, patient will be given a prescription for a combination of pain medications to help him manage pain. Patient may be prescribed or advised to take the following:
A pain medication to be taken regularly for 4 days and then on an as needed basis
A stronger pain medication that you can take every 2 hours as needed
An anti-inflammatory to be taken regularly for 4 days. (8)
Taking the pain medication 30-45 minutes prior to the physical therapy sessions is anticipated. Some therapy and exercises will cause mild to moderate pain for some periods of time. If the pain persists, question the therapy or stop it. Hopefully, all of the pain you experience will be minimal. (7)
Physical therapy in hospital after total knee replacement
The physical therapist works mostly on exercises and walking. He will begin to work with patient on the day of your surgery. The therapist will teach patient all necessary precautions to allow proper healing and functioning of the new joint. The patient will walk with a walker or crutches after surgery. (7)
Patient will be taught exercises, transfer techniques (for getting in and out of bed), walking with a walker or crutches, stair climbing, and activities of daily living (i.e.: dressing and bathing). (7)
The physical therapist will instruct patient on how much weight he put on his leg when get up. The majority of patients can be full weight bearing right away after TKR surgery. Patient weight bearing status is determined by surgeon during the time of surgery and is to remain in place for 6 weeks. (7)
Physical therapy at home after total knee replacement
Following discharge home from the hospital, some patients may choose to attend private physiotherapy. Most patients can manage the prescribed exercise routine independently. A basic home exercise program will be started following surgery to work on regaining the range of motion and strength in knee joint. These exercises should be practiced prior to surgery to familiarize with them. (6)
Diet after total knee replacement
Healthy eating helps to prepare body for surgery. The body needs to be well nourished to heal the bones, muscles and skin that are affected by surgery. People who are well nourished are less likely to develop an infection following surgery. (6)
Aim to have a source of protein, vegetable or fruit and whole grain at each meal. Protein can be especially important after surgery as protein needs will increase as it can help with the healing process. (6)
Complications of total knee replacement
In a study of 4 million discharges after TKA (1990–2004), the overall prevalence of procedure-related in-hospital complications was 8.4%. Most of the complications were systemic and not specifically related to the operation performed. (9)
In a population-based cohort of patients undergoing primary TKA, in the 90-day period following surgery, 6.7% of patients experienced a new cardiac event, defined as myocardial infarction, congestive heart failure, or cardiac arrhythmia, and 4.9% of patients experienced a thromboembolic event, defined as deep venous thrombosis or pulmonary embolism. (9)
The most common reasons for readmission after TKA were limited motion (18.2%), wound complication (14%), surgical site infection (9.9%), bleeding (9.9%), and venous thromboembolism (3.3%). (9)
Failures and Revisions after total knee replacement
As many as 20% of TKA patients may be unsatisfied with their outcome; however, revision surgery should not be performed unless the mechanism of failure is understood and can be corrected. Total knee replacements have a 10- to 15- year survival rate greater than 90%. (9)
Periprosthetic Infection
The prevalence of deep periprosthetic infection after TKA is approximately 0.4–2.0%. Acute infection occurs up to 2 months after surgery, and intermediate infection generally presents 2 months to 2 years after surgery. Late infection occurs more than 2 years after the initial arthroplasty (9)
nerve damage
There are major nerves that cross all major joints. There is a small possibility that one of these nerves can be damaged during surgery or afterwards. If so, this would leave you with weakness or numbness of the lower leg and foot. (7)
Polyethylene Wear
Polyethylene wear is a frequent late complication of TKA. Polyethylene wear can result from the mechanical process of surface wear as the metal femoral component grinds against the polyethylene. (9)
Osteolysis
Osteolysis is one of the leading causes of late reoperations on patients who undergo TKA. Osteolysis has been found with both cemented and cementless modular TKA, the frequency ranging between 6% and 30% for cementless TKA and between 0% and 16% for cemented TKA. (9)
Instability and Dislocation
In total knee replacement, instability is defined as abnormal and excessive displacement of the articular elements that leads to clinical failure of the arthroplasty and is one of the most common causes of early failure after TKA. Instability usually necessitates revision surgery an average of 4 years after primary arthroplasty. (9)
Expectations and outcomes after total knee replacement
The life expectancy of a knee replacement (the new joint) is influenced by the amount of stress placed on the joint. Controlling body weight and adhering to the activity recommendations will increase the life of joint. In general, more than 90% of knee replacements should last at least 15 years. (6)
After undergoing knee arthroplasty, the majority of patients demonstrate significant improvement over their preoperative state. An appreciable minority of patients (10% to 20%) demonstrate some degree of functional impairment or dissatisfaction despite an absence of identifiable technical deficiency or complication. (4)
A number of patient-related factors have been found to contribute to poor outcome following knee arthroplasty. These include, but are not limited to, obesity, comorbidities, unrealistic expectations, and tolerance to narcotics. (4)
obesity
A recent studies found that obesity adversely affected outcome, rate of complications, implant survival, and cost of TKA. Obesity can increase the risk of superficial and deep infection of surgical wounds, one of the most significant complications that can arise and affect the success of the procedure, and can also contribute to increased length of stay and direct medical costs following knee arthroplasty. (4)
comorbidities
With increasing age comes increasing comorbidity, which can negatively affect outcome following knee arthroplasty. Comorbidity is associated with increased length of stay and hospital cost, as well as poorer patient-reported outcome, and decreased patient satisfaction following knee arthroplasty. Mental health issues such as anxiety, depression must be considered in the preoperative process, as these factors have been shown to contribute to dissatisfaction and poor outcome following arthroplasty. (4)
Expectations
Patient expectations can contribute significantly to satisfaction following knee arthroplasty. It is now well established that unrealistic or unmet expectations can lead to patient dissatisfaction independent of objective measures of knee function. To ensure patient expectations are realistic, the limitations of knee replacement surgery must be discussed. Patients who expect to be 100% pain free after surgery, to return to a high level of athletic performance, or to be able to squat and kneel unimpeded will inevitably be disappointed with the outcome of the operation. (4)
---
the reviewer: