Minimally invasive spine surgery in Turkey, the latest surgical spine treatments, benefits, features and future.
Minimally invasive spine surgery has revolutionized the field of back and spine surgery over the past two decades, which means better results and shorter recovery times.
Today, more than one million spinal surgeries are performed worldwide each year, many of which are performed using minimally invasive (MISS) techniques.
As 3D imaging techniques become more sophisticated, the frequency of minimally invasive spine surgery has increased.
By 2010, approximately one out of six spinal surgeries in the United States was considered minimally invasive.
After just six years in 2016, that number approached one in three, current estimates suggest that more than half of all spine surgeries now use minimally invasive techniques.
Not surprisingly, minimally invasive spine surgery is now available to many who previously would not have considered a viable option.
For example, patients who are obese, those with degenerative spinal diseases, and those who require surgery to treat deformities are increasingly getting good results as technology continues to evolve.
What is Minimally Invasive Spine Surgery (MISS)? Minimally Invasive Surgery
Minimally invasive is a relative word, in other words a minimally invasive procedure is a less invasive procedure than the alternative. Although there is no clear definition of MIS, the goals are always the same: to give you the same result as open surgeries, with less pain, fewer complications, and a shorter recovery time.
Minimally invasive procedures may require a special imaging procedure prior to spinal surgery. The surgeon will then upload these images to integrate with computer software to create 3D representations of your spinal anatomy.
The surgeon can then use the images in advance to determine the exact approach he will take in the operating room.
This way they can have surgical tools selected as well as any supplies that may be necessary and ready for use.
The imaging technology also allows the surgeon to see what he's doing on a computer screen during the procedure.
In some cases, minimally invasive spine surgery can be performed through an incision as small as one inch.
How is minimally invasive spine surgery different from open spine surgery?
Open spine surgery is a surgery in which the surgeon makes an incision that is usually about five to six inches long and then separates the muscles to one side in order to make an operation on the bones.
On the other hand, minimally invasive spine surgery requires a cut about an inch long and uses a special instrument called connective tissue to abduct the muscles. This causes less trauma to your muscles, which means less pain after surgery and a faster recovery.
During open spine surgery, the surgeon wears a pair of surgical eye magnifiers and a small magnifying lens attached to a pair of eyeglasses to help him see his work without special technology to allow visual access to the spinal surgery site.
Conventional surgery generally requires a larger incision, and because this incision cuts off the blood supply to much of the muscle tissue, the recovery time is greater.
Focusing on the bone itself at the expense of surrounding tissues, a single focus on musculoskeletal stability often compromises function and leads to higher levels of pain after surgery.
In minimally invasive spine surgery, more preparation and more image review are required to get a better understanding of the 3D anatomy.
The extra time it takes to review the anatomy before spine surgery is worth it The doctor has a completely 3D view of the spine before surgery, which gives him more information than visualizing the anatomy directly.
Access to this technology means that he rarely encounters surprises in the operating room.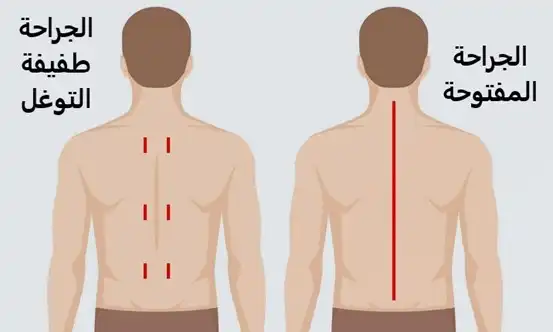 Surgical instruments used in minimally invasive spine surgery
In general, the tools required for minimally invasive procedures are longer, thinner, and curved-edged, as the surgeon works through a very small incision.
Eye magnifiers: Usually used during open procedures rather than minimally invasive procedures, they are a pair of small magnifying glasses that are attached directly to the surface of surgical glasses.
It helps your surgeon see your body and their tools in action.
connective:

 This is a long instrument with a curved end designed to hold tissues such as muscles, organs or other body tissues out of the way so that the surgeon can access your spine with minimal impact on other tissues.
Endoscopy: This instrument is intended for endoscopic spine surgery, which is a specific type of minimally invasive spine surgery. It is a long and narrow lens mounted camera with cable and light source. The cable connects to a monitor through which the surgeon can see the area he is working on.
Tubular connective: In some cases, the connective the surgeon uses to hold other tissues out of the way is in the form of a tube; This is a tubular retractor. It also serves as a tunnel through which the microscope and surgical tools are placed. It passes through a tunnel from the back muscles instead of separating them from the spine, which is what happens during open surgery.
This minimally invasive approach minimizes muscle damage and blood loss during spinal surgery.

Instruments used in minimally invasive spine surgery
Benefits of Minimally Invasive Spine Surgery
In addition to the shorter recovery periods and improved function associated with MIS, other benefits include:
Shorter hospital stays
Reduce the risk of infection
Reducing pain after spine surgery
Less blood loss during surgery
Less soft tissue damage
Reduce scars
Faster return to activities of daily living including work, self-care and leisure
Less rehabilitation after spine surgery
Better quality of life after spine surgery
Is endoscopic spine surgery minimally invasive?
Endoscopic spine surgery (ESS) is a specific type of minimally invasive spine surgery that offers the same benefits listed above.
In addition, the small incisions and the ability to target a precise surgical site results in less blood loss and faster recovery.
Also, most ESSs can be completed in less than one hour.
During the procedure, the surgeon makes a small one-inch incision through which he places a tube-shaped instrument known as a tubular trocar in your back. A small camera is then inserted through the trocar into the operation area.
Retractors keep the incision open so that the surgeon can access the surgical site.
The number of procedures that can be performed laparoscopically is constantly increasing, but some still require other methods and ESS may not be suitable for conditions such as scoliosis or spinal instability or cancer.
Additionally, since it is still considered an innovative procedure, it can be difficult to find a surgeon with enough experience to be considered highly skilled in this technique.
Am I a candidate for minimally invasive spine surgery in Turkey?
Almost all spinal surgeries involve releasing the nerves and removing bone or other structures compressing away from the nerves to release them.
When spinal movement becomes painful due to nerve damage or trauma, vertebral fusion may be needed to restore stability and stability to the spine. This includes using devices to fuse the vertebrae.
On the other hand, nerve decompression requires the removal of bone spurs, damaged discs or tissues that are pressing on spinal nerves, causing back pain, or radiculopathy (a neurological disease that can cause pain or weakness in the extremities).
While a diagnosis alone is not sufficient to determine whether to use minimally invasive surgery, procedures that can usually be performed using minimally invasive techniques include:
merging paragraphs
Reducing pressure on the nerves emanating from the spinal cord
Microscopic intervertebral discectomy
Foramenotomy is an operation to relieve pressure on the nerve roots and nerves
Herniated laminectomy (pulpal hernia)
lamina cleft
Vertebroplasty
And orthopedic surgery
Your specific condition, including diagnosis as well as your goals for surgery, general health and lifestyle, determine your doctor's surgical approach.
However, one of the primary considerations is the extent or space of the operation, often a minimally invasive procedure for a problem focused on one level that can be addressed through a small incision.
Meanwhile, people with more serious problems, such as certain cases of scoliosis or spinal problems that affect more than one vertebra, may need a traditional open procedure. The lower the levels involved, the more localized the disease, the more likely it is to be a minimally invasive process.
However, your diagnosis isn't the only factor to consider. A comprehensive case study that takes your lifestyle and surgical goals into account is an essential part of the surgical decision process.
Whichever type of spinal surgery you ultimately have, the decision should be made in collaboration with your surgeon. Your medical professional will explain the risks, benefits and alternatives of surgery to you.
MISS has become more common in recent years because patients tend to recover much faster and with less pain than open surgeries.
MISS may be done on an outpatient basis, while open surgeries are generally done in a hospital, as it comes with greater risks, including more blood loss, more pain and, often, more need for intravenous pain relievers.
While surgical precautions are usually the same in either scenario, patients should avoid bending, lifting and twisting for six weeks - with minimally invasive surgery there is less damage to muscle and soft tissue. This generally means greater ease of movement, significantly less pain, and a faster and easier return to a previous level of function.
A 2020 study found that patients who underwent spinal fusion and minimally invasive nerve decompression procedures resumed work and driving within three weeks of surgery. Meanwhile, open decompression and fusion surgeries may require months of recovery.
There are also some potential drawbacks to minimally invasive procedures. Although unusual, it is possible that the minimally invasive procedure will not be completed as planned, resulting in either a second procedure or a fully open surgery. Additionally, for being modern technology Some surgeons lack sufficient training or experience to ensure a strong chance of a positive outcome.
With any surgery for the spine and spinal cord, whether it's open or minimally invasive, there are some potential risks. These include:
Possible adverse reaction to anesthesia
Unexpected blood loss during surgery
Infection at the surgical site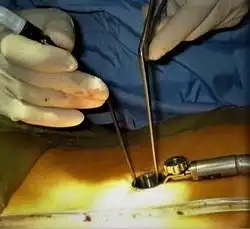 Robotics in Minimally Invasive Spine Surgery in Turkey
The Robot-assisted surgeries increasingly grown. Currently, the main role of robotics in spinal surgery is to help place screws in the right and precise place in the spine. A 2018 meta-study found that using robotic assistance in this way is sufficiently accurate on a very consistent basis.
However, one of the downsides to this technique is that the surgeon cannot feel what he is doing while performing the surgery. During open surgery, they will easily feel whether or not the screw is making contact with a solid piece of bone and making strong contact with it.
When the robot replaces the surgeon's hands, it can run into problems, especially when operating on patients with low bone density.
In addition, it remains unclear how robot assistance affects radiation exposure, length of hospital stay, and operation time.
Robots are not yet ready for "mass adoption," but the field is certainly moving in that direction. Research suggests that the role of robots may be expanded to include more complex surgical interventions, such as decompression and discectomy. It is also expected that although future robots will not replace surgeons, they will help surgeons make minimally invasive spine surgery safer and more effective.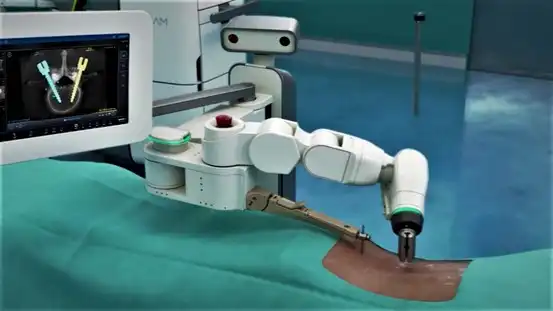 Artificial intelligence, augmented reality (AR) and virtual reality (VR) in minimally invasive spine surgery
While these techniques have the potential to improve the outcomes of minimally invasive spine surgery, their widespread use has yet to be applied.
have found A study conducted in 2019 that AI can help navigate surgical procedures and enhance surgical navigation workflows while ensuring patient safety.
Similarly, studies show that augmented reality and virtual reality also have great potential. Specifically, they have been shown to improve surgery accuracy and patient outcomes while reducing radiation exposure.
However, while these techniques are still considered nascent, there is a lack of research exploring their effectiveness so far.
While minimally invasive spine surgery technology is always evolving, one of the things we can count on is an increase in the number of surgeries that require less recovery time.
As the pandemic has taught us, since the hospital can fill up with patients, the ability to return patients to their home environments quickly and safely is the future of spine surgery.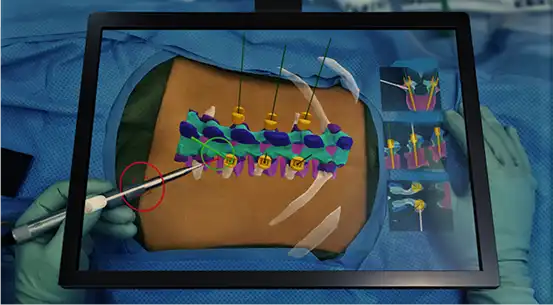 As you well know, back pain can seriously interfere with your quality of life. Limited movement, restlessness, cramps and sleepless nights related to back problems can affect your work, hobbies and relationships.
Don't wait to ask your doctor if you are a candidate for minimally invasive spine surgery.
Bimaristan Medical Center remains your first choice for treatment in Turkey.
We direct you to the best specialists who are experts in all fields, we break the language barrier, Arab specialist doctors will help you in communicating with your doctor, we help you book an appointment in the most important and modern hospitals in Turkey, we offer our services to secure hotel reservations for you and your companions, in addition to transportation, we help you secure a travel visa for you for free.
We provide our services throughout Turkey, the best place to provide you with treatment is our destination.
We will be with you step by step towards recovery.
Free consultations around the clock.
don't hesitate tocontact us,Bimaristan center is your family in Turkey.