Bat ear treatment without surgery is one of the latest and most popular cosmetic methods that restore patients' confidence in their appearance. Methods of treating bat ear have developed and differed in Turkey to suit all patients.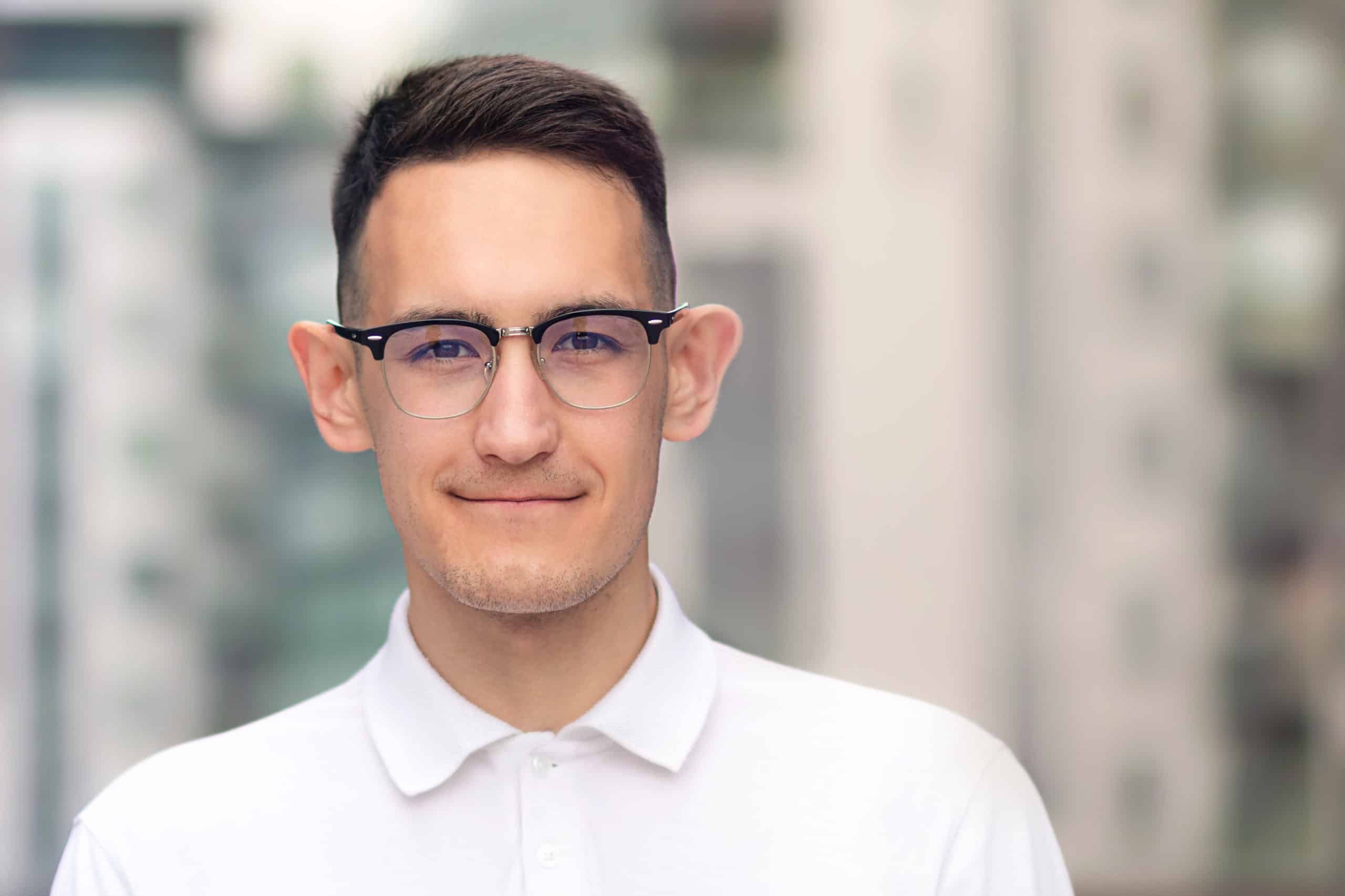 What is the treatment for bat ear without surgery - otoplasty?
Bat ear treatment without surgery is one of the latest and most common cosmetic methods. Bat ear can be treated without surgery where the ear can be pasted using different means for several weeks, which helps the ears grow properly.
Bat ear treatment methods have evolved and differed in Turkey to suit all patients.
The bat ear, also known as the prominent ear, is a common deformity, affecting 1 in 20 people around the world. Today, there are more than two hundred cosmetic procedures aimed at reducing the ears and reducing their prominence. The traditional (surgical) ear surgery includes cutting cartilage and removing skin. Behind the ears, but in recent years there has been an alternative to bat ear surgery and it has become possible to plasticize the bat ear without surgery (minimally invasive surgery) and it has become increasingly popular because of its benefits for the doctor and the patient.
This treatment is not considered modern in Turkey, as it has been around for more than 15 years, and it has proven its usefulness and effectiveness in treating bat ear.
Facts and information about the prominent or bat ear
The bat ear is an abnormal shape of the ear. The anatomical position of the ear in this case is similar to that of a bat or bat ear.
Bat ear does not cause any hearing disturbances, and does not affect the functional aspect of the ear. Psychological problems are the most important complications of this defect.
It is a congenital unacquired ear defect in most cases.
Its causes: genetics (genetic mutation), changing the position of the ear due to the infant sleeping in a defective position or exposure to an accident.
Types of non-surgical prominent ear correction operations
Non-surgical otoplasty (called bat ear) is a cosmetic and reduction procedure for prominent ears without surgical incision and gives permanent results.
It is not followed by a hospital stay and does not require general anesthesia. The process takes only one hour.
There are many ways to treat bat ear without surgery. The effectiveness of treatment depends on the type and severity of the problem. These methods include the following:
Bat ear surgery with threads without surgery
Cosmetic threads are widely used today to beautify and tighten the face and neck. It gives good, immediate and long-term results that need follow-up sessions to maintain the results permanently.
For those who wish to correct the ear without surgery, cosmetic threads are a good option, and it is suitable for everyone, even for children over the age of six. The process of ear aesthetics with thread takes only about 10-15 minutes, after which the patient can return to his daily activities immediately.
For adults it is performed under local anesthesia, and may require general anesthesia in children to ensure that the child does not move during the operation.
This procedure is done without any incisions, as it is inserted in the hidden back part of the ear, and brought inward to reduce the ear's prominence. Without pain, without scars, and when using the golden cosmetic threads that match the color of the skin, they are hidden and invisible.
Treatment of bat ear without surgery using the metal slide
In this process, the ear cartilage is folded by means of a metal slice that is installed in the ear in a hidden way. A small incision is made about 8-10 mm to place the slice, with local anesthesia that takes about 20 minutes only. You can return to work immediately after the operation or the next day, It is an appropriate procedure For all patients, it may be performed for children over the age of seven, as the cosmetic results appear immediately.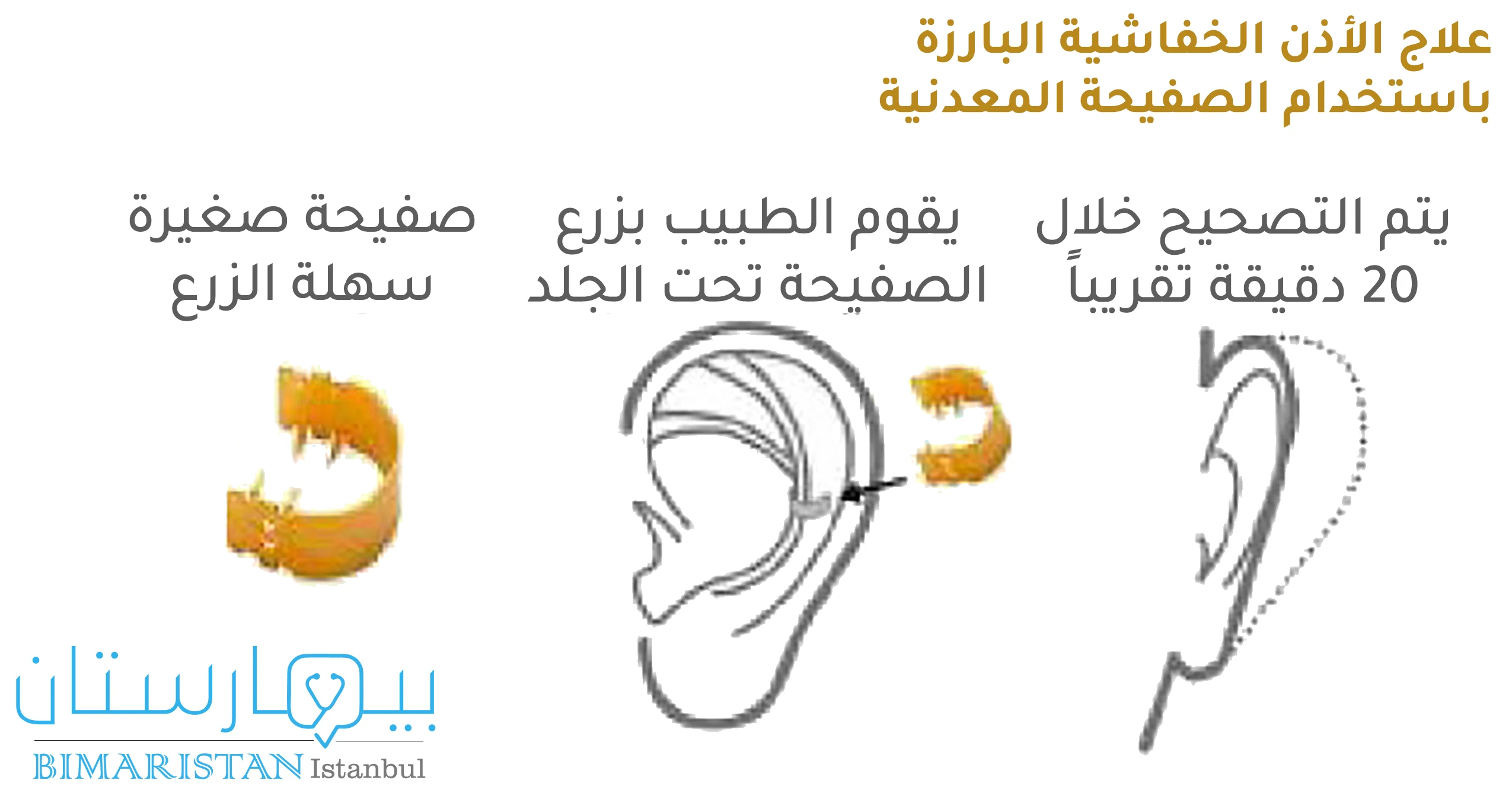 Bat ear CO2 laser treatment:
in a Bat ear laser treatment Orientation Laser beams towards the excess ear cartilage in order to evaporate water from the tissues and reduce their size to reach the desired result.
The doctor makes a surgical incision behind the ear to reach the excess cartilage that needs correction. The laser beams affect the excess cartilage and get rid of it. It is a complex technique and requires high accuracy and an expert hand.
Otoplasty without surgery for children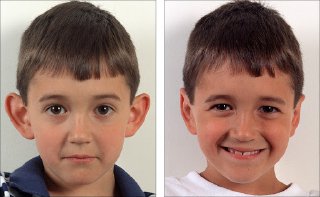 After birth, the body of infants is in the process of formation, the cartilage is soft, weak and re-formable. In some cases, the ear may grow in an abnormal way or change the direction of its growth and cases such as the prominent ear appear.
Therefore, parents are required to monitor the child's ear. If any problem or abnormal condition is noticed, it is recommended to consult a doctor at this age. The problems can be fixed by installing a silicone splint for a period of time that helps change the shape of the ear.
Ear patches at home (protruding ear patches)
Prominent ear aesthetics with or without surgery in Turkey
Prominent ear surgery helps to repair all defects and deformities and gives a permanent and immediate result.
Every patient who suffers from bat ear aged between 9-65 years can have a prominent ear surgery.
Non-surgical procedures can give a good result, but they do not treat all ear problems that may require major surgical intervention.
Plastic surgery requires incisions behind the ear that leave permanent scars and take a long time to recover.
Advantages of treating bat ear without surgery
Bat ear treatment is done without surgery under local anesthesia in most cases.
Prominent ear aesthetics without surgery does not require incisions in the skin.
 The patient does not need to wear any dressing after the non-surgical ear operation, and sometimes a soft headband must be used at night for a week.
Hair can be washed the day after surgery.
 Low risk of complications after non-surgical bat ear plastic surgery.
Satisfactory and permanent result.
What after bat ear treatment without surgery?
Bruising and pain are common, medications and ointments are prescribed to help relieve pain and speed recovery.
Complications of Otoplasty without surgery
Pain, swelling and inflammation are the most common complications after treatment. In about 3-5% people, a repeat procedure is required to achieve the desired results.
Bimaristan Medical Center It is your first choice for treatment in Turkey.
We guide you to the best expert specialists in all departments.
We facilitate the language of communication between you and everyone through specialized Arab doctors who will help you communicate with your doctor.
We help you secure the right treatment and high-end service in the most modern hospitals and medical centers in Turkey.
We provide our services extensively and precisely.
We will be with you step by step towards recovery.
Free consultations around the clock.
do not hesitate contact us, Bimaristan Center answers any questions about treatment in Turkey.