The scar of thyroid surgery on the neck has always been a suffering for many patients, and today a scar-free thyroidectomy is a dream that can now be achieved using robots under the supervision of a specialized medical team in Turkey.
Do not hesitate to contact Bimaristan Medical Center to book your appointment now.
Modern robots have revolutionized all aspects of medicine and are now being used as the latest treatment method in the world.
A new option for thyroid surgery that does not leave a scar in the neck
There is a new treatment option for patients who need Thyroid surgery It is a thyroidectomy using a robot.
But this does not mean that the robot is performing the surgery.
Robotic thyroidectomy means you won't have a scar on your neck, and for many people that's reason enough to try this newly developed surgical technique.
In this article, you'll learn more about the details of robotic thyroidectomy and whether it's a surgical option for your thyroid disorder.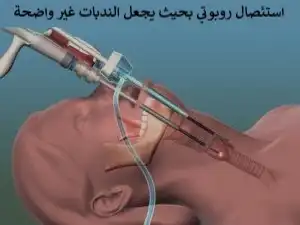 Development of thyroidectomy by robot
Robotic thyroidectomy – a minimally invasive surgical technique to remove the total or partial thyroid gland – developed by doctors in South Korea, can also be called robot-assisted thyroid surgery or robot-assisted laparoscopic surgery.
In fact, robotic thyroidectomy is a logical next step in Thyroid surgery Prior to its development, there were two main options for thyroid surgery, traditional open surgery or laparoscopic surgery.
Traditional open surgery involves a scar on the neck, while laparoscopic surgery may or may not involve the neck.
Open thyroid surgery, also known as standard or traditional open surgery, requires a 4-6 cm incision for most patients, although some surgeons perform the procedure through a 3-cm incision.
For many years this was the only technique available for thyroidectomy, in which the surgeon exposes the entire thyroid gland so that he can directly see the gland and what needs to be removed.
Open surgery led us to laparoscopic surgery, a minimally invasive technique in which the surgeon uses a small camera to see what he is working on while performing the surgery with special instruments.
There are different methods available but most of them involve making an incision in the neck leaving a 2-3 cm scar that causes neck disfigurement even in the best of cases.
Robot-assisted surgery has been performed on other parts of the body; It was used to make prostatectomy orHysterectomyHowever, robotic thyroidectomy is the first time that robotic surgery has been performed on the head and neck.
One of the first studies on robotic thyroidectomy was published in March 2009 - and as you can see, it's a really recent development.
More studies are being released now as more doctors report their experience and success with this new technique.
Introduction to robotic thyroid surgery in Turkey
Conventional (old) thyroid surgery results in an easily visible and unwanted scar in the neck that is very noticeable and unpleasant in some people.
But using completely new techniques invented in the last four or five years, thyroidectomy can now be done with results ranging from subtle to no scarring.
There are two main ways that do not form scars:
Thyroidectomy by robot
Laparoscopic thyroidectomy
Scarless thyroidectomy uses modern robotic technology to treat thyroid nodules and cancers, while laparoscopic thyroidectomy uses a camera and tools similar to the endoscopes used to remove the gallbladder.
For almost all patients who want to have a thyroid operation without traces, the robotic method is preferable.
How does robotic thyroidectomy work in Turkey?
Robotic thyroidectomy does not lead to the formation of a neck scar because the thyroid is accessed through an incision under the arm – another very small incision of 5 mm is made in the chest – this is called the axillary approach.
This incision is 5 to 7 cm long, but it is hidden and not as visible as the neck scars that result from open thyroidectomy or even most laparoscopic thyroidectomy.
A robotic thyroidectomy is performed using the da Vinci Surgical System, a system that has been used in many other robot-assisted surgeries with great success.
The Da Vinci system contains:
It's called the EndoWrist, and it works just like hands. They can grip, bend, and rotate objects while they're incredibly small.
Robotic hands allow the surgeon to make very precise movements.
It is a high-resolution camera that gives the surgeon a 3D image of the thyroid gland. He can zoom in and get a more detailed view; The camera has a 10x zoom.
The surgeon sits at the console, controlling the four robotic hands and viewing images from the 3D camera.
The four robotic hands and the 3D camera are inserted through the incisions.
The surgeon can then precisely remove part or all of the thyroid gland, depending on the patient's condition.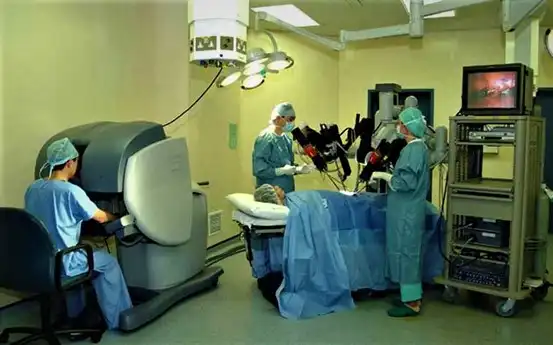 For reassurance, the da Vinci robot is completely under the control of the surgeon and the robotic hands cannot move on their own; The surgeon should tell them what to do.
The da Vinci surgical system also cannot be programmed; The surgeon must be present to make interventions and make decisions during the resection.
It was only in the past five years that robotic thyroid surgery without scars became successful. A number of different surgical techniques have been tried by surgeons globally in an effort to avoid visible scarring in the front of the neck.
These scars usually remain visible for many years, with the embarrassing feeling that accompanies many patients.
Thyroid surgery without a scar requires dissection of the thyroid gland and removing it and making the resulting scar located in places far from sight - such as the area under the armpit - so that no scar appears on the neck.
The goal of scarless thyroid surgery techniques is to obtain the same successful results as conventional surgery with cosmetic satisfaction and patient confidentiality. Depending on this technique, many benign and cancerous thyroid conditions can be treated.
Advantages of robotic thyroidectomy
There is no incision in the neck
The surgeon can get a better view than in traditional open surgery where the surgeon looks at the thyroid gland from top to bottom, making it somewhat difficult for him to see deeper structures, such as the recurrent laryngeal nerve, while the 3D camera gives him a magnified view and using this technology enables him to look directly to the thyroid gland.
Better positioning of high-risk structures: Due to the magnified 3D view, it is easier to identify high-risk structures and structures, such as the recurrent laryngeal nerve (the nerve to the larynx) and the parathyroid glands.
Better dexterity in specific areas: Robotic tools give the surgeon 6 degrees of freedom of movement, making it possible to maneuver specific parts of the thyroid gland more easily.
It is less complicated, as it does not need to inflate carbon dioxide in the surgical area, as is the case in surgery through a normal endoscope, where carbon dioxide is inflated into the neck area to expand around the thyroid gland to allow better access, which may cause swelling neck after surgery.
The recovery time for a robotic thyroidectomy is about the same as for open or laparoscopic surgery - the patient usually spends one day in the hospital after surgery.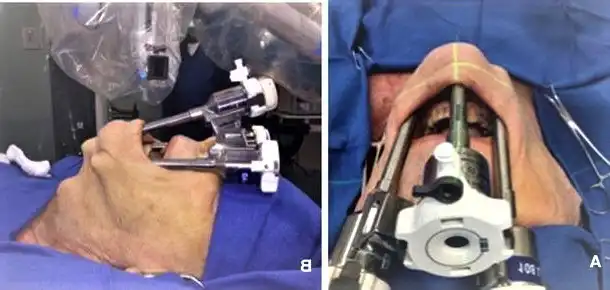 Disadvantages of robotic thyroidectomy
The only drawback of the robotic thyroidectomy at the moment is that it cannot be used on every patient.
Who can perform a robotic thyroidectomy?
Robot thyroidectomy isn't a treatment option that can be done for everyone, but as technologies improve, more people may be able to have this surgery.
Currently, robotic thyroidectomy works best for patients who:
They are not overweight
They have a small thyroid gland (4 cm maximum)
Presence of small nodules (2 cm maximum)
Nodules on only one side of the thyroid gland
If you need a thyroidectomy, talk to your doctor about a robotic thyroidectomy.
Find out if it's a viable option for you.
Regardless of your treatment options, always make sure you fully understand the risks and benefits, and ask all the questions you need to so you know what's going to happen before, during and after surgery.
Robotic thyroid surgery is a very good option for almost all patients who need thyroid surgery.
Patients with thyroid nodules and goiters are ideal candidates for robotic thyroid surgery.
At least half of thyroid cancer patients are good candidates for robotic thyroid surgery as well, provided they have a highly experienced surgeon who has performed several robotic thyroid operations.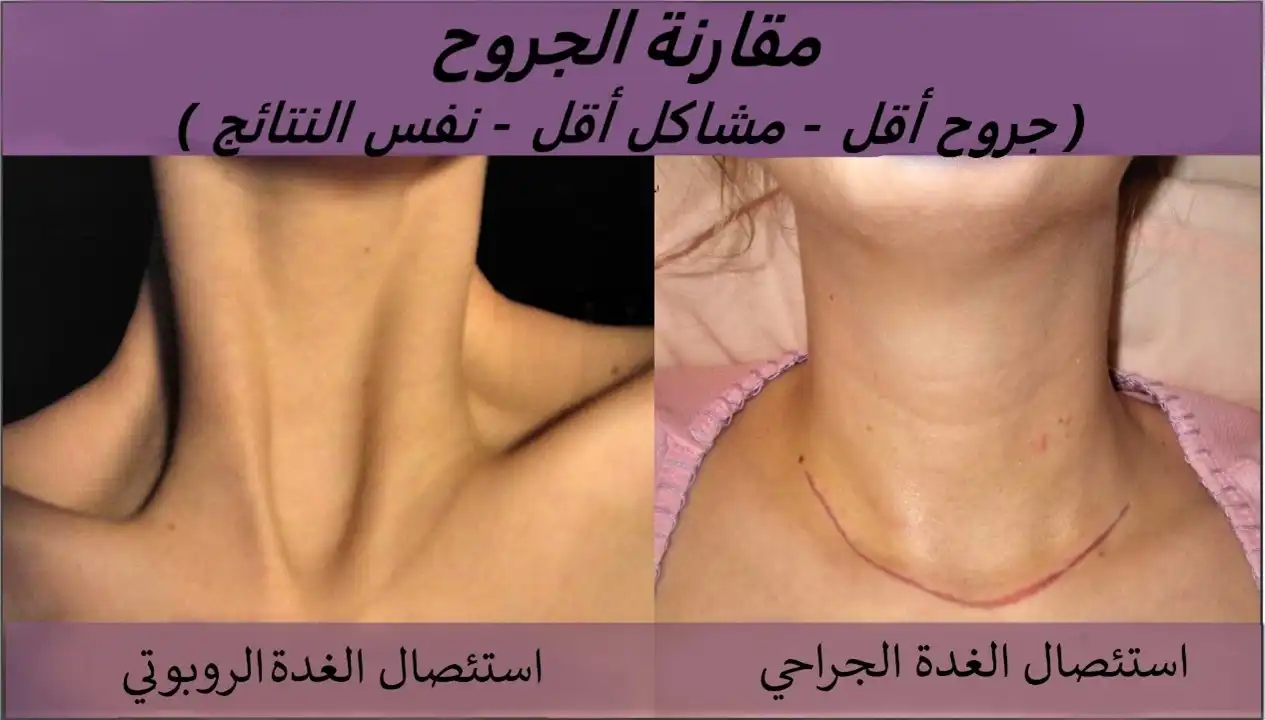 In the sections below, we will discuss the types of patients who are very good candidates for robotic thyroid surgery.
Robotic thyroid surgery is suitable for most small and medium-sized thyroid tumors that need unilateral or bilateral resection, including those requiring central and/or lateral neck dissection.
No scarring, and cure rates equal to traditional open thyroid surgeries.
Robotic surgery for thyroid nodules
Whether functional or not, thyroid nodules are ideal for thyroid nodules less than 6 cm, or if there is concern about unilateral or bilateral malignancy – both are great candidates for robotic thyroid surgery.
Robotic thyroid surgery for goiter
Robotic thyroid surgery enables patients with goiters of nearly all sizes who wish to avoid neck incision and the resulting scar.
Robotic Thyroid Surgery for Graves' Disease
Scar-free robotic surgery is ideal for female patients with Graves' disease, allowing them to recover without a scar on their neck.
Bimaristan Medical Center remains your first choice for treatment in Turkey.
We direct you to the best specialists, experts in all fields, we break the language barrier, Arab specialist doctors will help you in communicating with your doctor, we help you book an appointment in the most important and modern hospitals in Turkey, we offer our services to secure hotel reservations for you and your companions, in addition to transportation, we help you secure a travel visa for you for free.
We provide our services throughout Turkey, the best place to provide you with treatment is our destination.
We will be with you step by step towards recovery.
Free consultations around the clock.
do not hesitate Contact us,Bimaristan center is your family in Turkey.