The latest hair transplantation methods by NeoGraft which are semi-automated. It provides higher quality, faster speed, and more advanced technology in hair transplantation at an affordable price to shorten the doctor's time.
What is hair transplantation by NeoGraft?
The majority of men and more than half of women suffer from hair loss due to aging.
Many medical conditions can lead to hair loss, but the most common cause is androgenetic alopecia, more commonly known as male or female hair loss.
Hair transplants are surgical procedures where hair follicles are taken from one part of your scalp, usually from the back or sides, and transplanted to the front.
The results of these surgeries have improved significantly since they were first performed in 1939.
الأسلوبان الأكثر شيوعًا لزراعة الشعر هما زراعة الشعر بالشريحة (FUT) وزراعة الشعر بالاقتطاف (FUE).
NeoGraft نيوجرافت هي نسخة شبه آلية من تقنية FUE وتعتبر هذه الطريقة الحديثة واحدة من أحدث التقنيات في هذا المجال. توصف بأنها أكثر فعالية من تقنيات FUE الأخرى عن طريق إزالة بعض الأخطاء البشرية المرتبطة بالجراحة.
دعونا نلقي نظرة على الفوائد والمخاطر المحتملة المرتبطة بزراعة الشعر بتقنية نيوغرافت Hair Transplant using NeoGraft. سنقارنها أيضًا بتقنيات زراعة الشعر الأخرى كما سنلقي نظرة على التكلفة.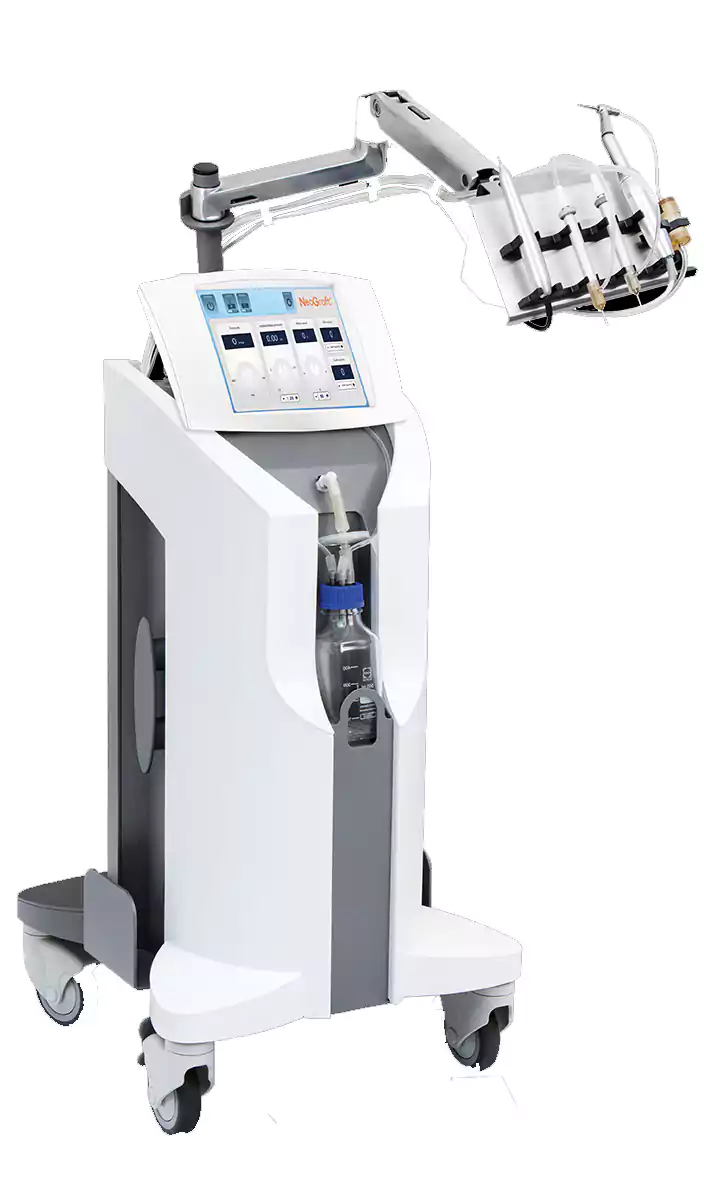 Benefits of FUE Hair Transplant by NeoGraft
نيوجرافت هي واحدة من أحدث تقنيات زراعة الشعر وأكثرها تقدمًا. إنها نسخة شبه آلية من تقنية الاقتطاف FUE التي تستخدم تقنية مملوكة لشركة Venus Treatments.
During FUE, the surgeon manually removes hair follicles either from the back or from the sides of your head.
Then they make a series of incisions in the balding sections of your scalp before transplanting the new hair.
When using the NeoGraft technology, the hair follicles are removed by a special machine that extracts the hairs by suction (air pulling).
The surgeon does not need to make an incision for the new hair follicles and can instead use another special tool to make the incisions and transplant the follicles at the same time.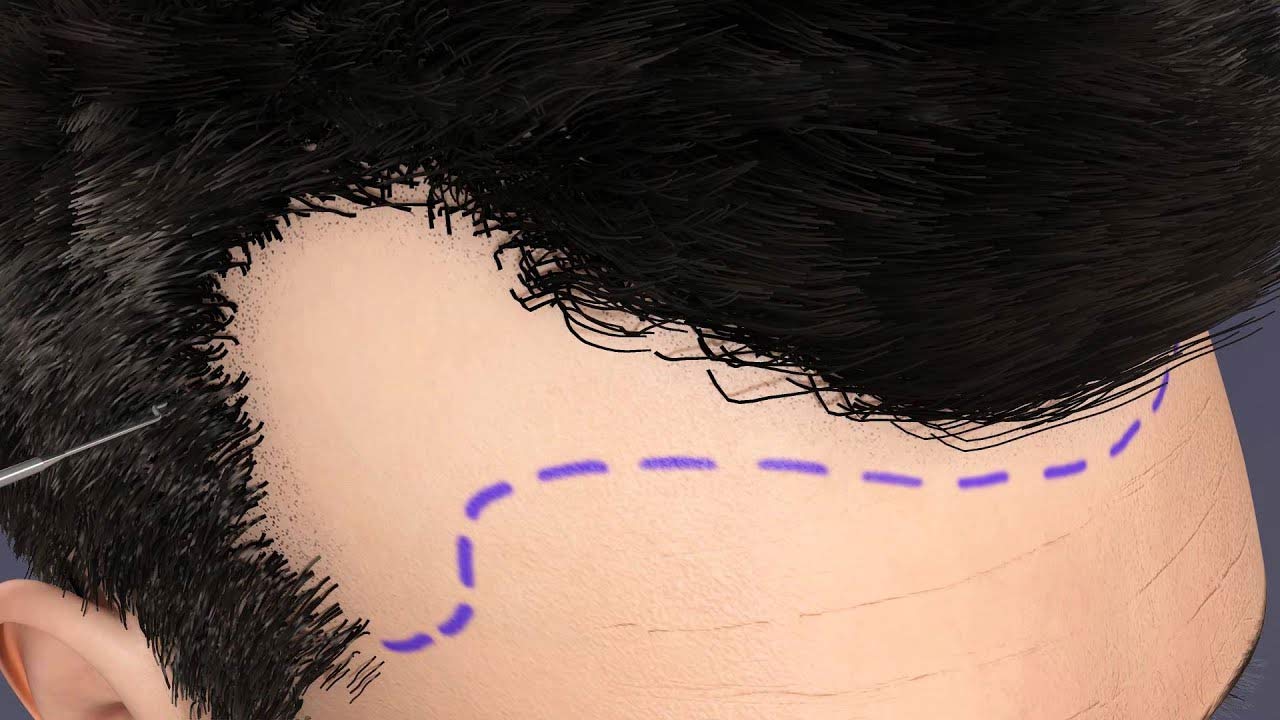 The most important features of hair transplantation using the NeoGraft device
تقليل تلف بصيلات الشعر
The NeoGraft system may reduce trauma and damage to hair follicles compared to traditional FUE and FUT surgeries. It is believed that this reduction of trauma can improve the survival rate of the transplanted hair.
Fewer complications
Because this technique is minimally invasive, it may have a lower chance of surgical complications, especially compared to a FUT surgery that involves cutting a strip of skin from your scalp.
NeoGraft requires no stitches or beads and the device's vibration reduction system helps eliminate human error that could cause nerve or blood vessel damage.
تعتبر زراعة الشعر بواسطة NeoGraft من أسرع طرق FUE في الإقتطاف
NeoGraft surgery is also faster than the traditional FUE technique, which can take several days for a large number of grafts. Whereas, a NeoGraft implant usually takes between 4 and 10 hours.
Possible side effects of FUE using the NeoGraft and the precautions to be taken
According to a 2018 study on the major disadvantages of NeoGraft related to the learning curve for surgeons and the cost of the device.
The surgery itself is generally considered safe and rarely causes serious complications. Some of the possible side effects include: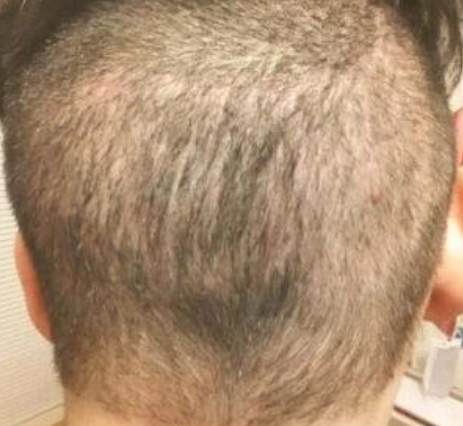 ظهور مشاكل شكلية في موقع المتبرع
If a large number of follicles are taken and random and excessive damage is caused in the donor area, this may lead to the emergence of aesthetic problems due to the noticeable hair loss that may occur.
NeoGraft and traditional FUE can also lead to this result if the surgeon removes too many follicles from one area.
ندوب صغيرة
على عكس تقنية FUT، لا تترك FUE وNeoGraft ندبة كبيرة. ومع ذلك، يمكن أن تسبب ندبات دقيقة في المكان الذي تتم فيه إزالة البصيلات. وفي معظم الأوقات، لا تكون هذه الندبات ملحوظة، لكنها قد تكون مرئية إذا حلقت رأسك أو قصرت شعرك كثيراً.
اتجاه غير طبيعي للشعر
If the follicles are not planted at an angle that matches the direction of your natural hair, your results may not look natural. Abnormal hair direction is also a potential complication of any type of hair transplant surgery.
صدمة تساقط الشعر
Some people experience hair loss, after surgery, a few days or weeks after surgery.
Trauma after hair transplantation is temporary loss of transplanted hair. Most of the time, the condition is temporary, and the hair grows back within 3 to 4 months.
Other complications of hair transplantation by NeoGraft
Other general complications include:
swelling
bleeding
Inflammation of hair follicles (folliculitis)
scalp numbness
ingrown hairs inside the skin
infections
How to FUE Hair Transplant with NeoGraft
Here is what you can expect during the NeoGraft hair transplant procedure:
The surgeon will shave your entire head or part of the scalp from which hair follicles will be donated.
Then they apply a local anesthetic to your scalp. They may offer you a mild sedative (light sedation) to help you relax during the procedure.
They will then extract your hair follicles using a special machine that uses pneumatic pressure.
The surgeon will then transplant hair follicles into the bald parts of your scalp using a dedicated instrument.
The surgeon may place a bandage over the donor site and the transplant site to help stop bleeding, if any.
Who needs a hair transplant with NeoGraft?
Although there is no medical benefit to hair transplant surgery, it may help you feel more confident about your appearance if your personal confidence is affected by the shape of your hair.
Hair transplants generally work best for people who suffer from androgenetic alopecia, also known as hereditary hair loss in both males and females.
Hair transplant candidates with NeoGraft:
Not have medical problems that may affect the surgery, such as high blood pressure, uncontrolled diabetes, and conditions that affect blood clotting.
Over 25 years old
Good hair thickness
You have hair loss along the hairline
They have a hair color that is close to their skin tone
You have hair loss that was not caused by stress or medication
Comparison of NeoGraft and FUT and FUE hair transplantation
NeoGraft, FUT and FUE follow similar procedures, and all three can provide you with aesthetically pleasing results.
During FUT surgery, the surgeon will shave the hair from the back or sides of your head before removing the hair follicles.
This surgery is generally cheaper than FUE and NeoGraft, but it leaves a linear scar at the donation site. The scar may be noticeable if you cut your hair short.
FUE and NeoGraft follow the same procedure, except that NeoGraft is semi-automated.
During the traditional FUE technique, the surgeon manually removes the hair follicles.
During NeoGraft surgery, hair follicles are extracted using suction instead of manual extraction and transplanted using a specialized instrument that controls the depth of hair transplantation.
FUE hair transplant cost by NeoGraft robot in Turkey/Istanbul
NeoGraft becomes more expensive when you have a lot of follicles to be transplanted.
The price of hair transplantation by NeoGraft varies based on factors such as:
The experience and skill of your surgeon, and the amount of hair being transplanted.
In addition, you may need to budget for travel expenses if you're traveling for surgery.
But in general, the cost of hair transplantation through the Neograft device in Turkey may range between 1000 and 2000 USD.
Hair Transplant Recovery Speed by NeoGraft
NeoGraft is less invasive than FUT surgery and traditional FUE surgery because the robotic system controls the depth of the incisions.
According to Venus Treatments, the implants should heal within about a week and most patients are back to their regular routine within two weeks. Many people return to their jobs days after surgery.
Your surgeon can give you specific expectations and recommendations on how to care for your hair after surgery.
NeoGraft is a semi-automated method of FUE technique. you can watch the video above.
It is one of the newest and most advanced hair restoration techniques in the world. It is considered safe and can be effective in restoring hair loss when done correctly.
You can read more about hair transplantation in Choi pens or Android Artas You can also find out the benefit Plasma injection after hair transplant.