Carotid angioplasty and stenting (CAS) is widely performed for the treatment of severe carotid obstructive disease, as a less invasive technique that provides an attractive alternative for patients, particularly those with significant comorbidities.
Pathophysiology of carotid atherosclerosis
Carotid artery disease is typically the result of atherosclerosis at the bifurcation of the common carotid artery or in the origins of either the internal or the external carotid artery. Cholesterol deposits in the endothelium and underlying smooth muscle of the artery are accompanied by cellular proliferation of the surrounding fibrous and smooth muscle tissues to form atheromatous plaque. (1)
Large plaque that extends into the lumen of the artery not only reduces blood flow but also presents an irregular surface prone to thrombus formation. Plaque instability and rupture create thromboembolic debris and lead to neurological injury. Plaque ulceration and thrombosis are associated with neurological symptoms, independent of the degree of stenosis. (1)
During periods prone to ischaemia, collateral flow is critical for cerebral blood flow (CBF) compensation and a major determinant of the severity of the ischaemic insult. Other factors include plaque morphology, duration of hypoperfusion, characteristics of the embolus, and cerebral vasoreactivity (cerebrovascular reserve, or the capacity for vasodilation). (1)
These influences determine the clinical outcome which ranges from mild (TIA, reversible ischaemic neurological deficit, and homonymous hemianopsia) to severe (completed stroke). The principal pathways of collateral flow are the Circle of Willis, extracranial anastomotic channels, and leptomeningeal communications that bridge watershed areas between major arteries. (1)
Association between carotid stenosis and ischemic stroke
In Western countries, stroke is the third leading cause of death and can cause permanent disability. Atherosclerotic carotid artery disease is linked directly to 20%-30% of all strokes, so the embolization to the brain vessels resulting from atherosclerotic carotid artery narrowing (stenosis) is a significant healthcare issue.
The estimated prevalence of stroke increases with age. In 2014, approximately 2.8% of the general population over 18 years of age had a history of stroke. Additionally, about 795,000 people had a new or recurrent stroke in each subsequent year. There were 6.5 million stroke deaths worldwide. Moreover, 3% of males and 2% of females were disabled from stroke in 2014.
Several risk factors are clearly associated with atherosclerotic carotid artery disease and stroke. It is very important to remember these risk factors as a means of decreasing the risk of stroke recurrence after the removal of carotid plaque. (2)
Common risk factors associated with atherosclerotic carotid artery disease and stroke
Modifiable: Hypertension; Hyperlipidemia; Smoking; Diabetes mellitus; and Obesity.
Nonmodifiable: Age >80 years; Male gender; Presence of coronary artery disease; Presence of congestive heart failure; and Positive family history (2)
Detection and Diagnostics
Carotid artery stenosis may be either symptomatic or asymptomatic. Symptomatic patients present with transient ischemic attack (TIA), stroke, or completed stroke. A TIA is a neurological event that may last from several seconds to 24 hours. It is not associated with residual neurological deficits, but it may be a forerunner of stroke. (2)
Asymptomatic carotid artery stenosis may be identified during routine physical examination by the presence of a carotid bruit or during carotid duplex ultrasonography screening of high-risk patients, such as coronary artery disease, congestive heart failure, and hypertension, because atherosclerosis is frequently manifest at multiple sites of cardiovascular system. (2)
Presence of a bruit is not a reliable criterion with which to independently diagnose carotid artery stenosis; however, its presence indicates the need for further investigation by duplex ultrasonography, CT angiography, and MRI angiography. (2)
Not all asymptomatic carotid plaques occurring with the same narrowing ratio on radiological imaging have the similar rupture and cerebral emboli risk. Some narrowings have irregular ulcerated (vulnerable) plaque with relatively high embolic tendency, which generally require invasive intervention. The smooth (stable) plaques generally possess a smaller risk and may be amenable to medical management instead. (2)
If a patient presents with signs and symptoms of TIA or stroke, the cause must be identified. Causes other than atherosclerotic carotid artery stenosis may underlie cerebral ischemia. Knowing all causes is crucial not only in getting accurate diagnosis but also in giving optimum treatment. (2)
Clinical features of carotid artery stenosis
Major symptoms of carotid artery disease include changes in vision, headache, speech, or facial and extremity weakness. Signs suggestive of carotid artery disease include a high-pitched bruit at the origin of the internal carotid artery, an increase in size and pulsation of the ipsilateral superficial temporal artery, and changes in the retinal examination. (1)
When is carotid artery stenosis treated?
Because patients with more than 60% symptomatic carotid artery stenosis have an annual risk of ischemic stroke greater than 10%, the performance of reperfusion is recommended to reduce embolic risk. In cases of asymptomatic severe stenosis, the effects of reperfusion are small because the annual stroke recurrence rate is only about 2%. Therefore, it is desirable to limit the use of reperfusion therapy in patients with asymptomatic carotid artery stenosis greater than 80%. (3)
In addition, reperfusion therapy provides maximal benefits to recently symptomatic patients if it is performed within 14 days. However, carotid reperfusion therapy can be considered even in asymptomatic patients with less severe stenosis in the presence of occlusion of the contralateral carotid artery, rapid progression of stenosis during clinical follow-up, the presence of a cerebral infarct on brain imaging that was not clinically manifest, and/or vulnerable plaque found on Duplex ultrasonography. (3)
Issues to consider in selecting a reperfusion method
Carotid angioplasty and stenting (CAS) is preferred in patients who will have difficulty undergoing Carotid endarterectomy or who are at high risk of complications during surgery. The anatomical findings for lesions should be considered. Conversely, carotid endarterectomy is preferred over CAS if it is difficult to reach the lesion site via the blood vessel. It is advantageous to choose carotid endarterectomy when stent implantation is difficult or is expected to have large complications, including type III aortic arch, bovine arch, severe proximal bending, severe calcification of the lesion, occlusion from the thigh, or severe bending of the aorta with calcification. (3)
Carotid angioplasty and stenting Treatment
CAS Endovascular techniques have continued to evolve even in supra-aortic vessels, and CAS has provided an alternative treatment for patients with carotid artery stenosis. The most significant improvement in CAS safety outcomes has been the development and utilization of devices that protect brain tissue from emboli. CAS is emerging as an equivalent and even better alternative to carotid endarterectomy in the management of carotid artery stenosis in high-risk surgical patients according to a recent trial. (2)
Timing of the carotid revascularization after a stroke is a matter of debate. Early intervention may precipitate hemorrhage in the infracted area, therefore, it is recommended at least 4 weeks after stroke, unless emergency intervention is indicated. (2)
Stenting and angioplasty are often performed when endarterectomy is technically difficult such as in patients with challenging cervical anatomy, restenosis after CEA or radiation in the cervical area. Lesions that are either high (above the level of the mandible) or low (below the clavicle) are more amenable to CAS than CEA. (1)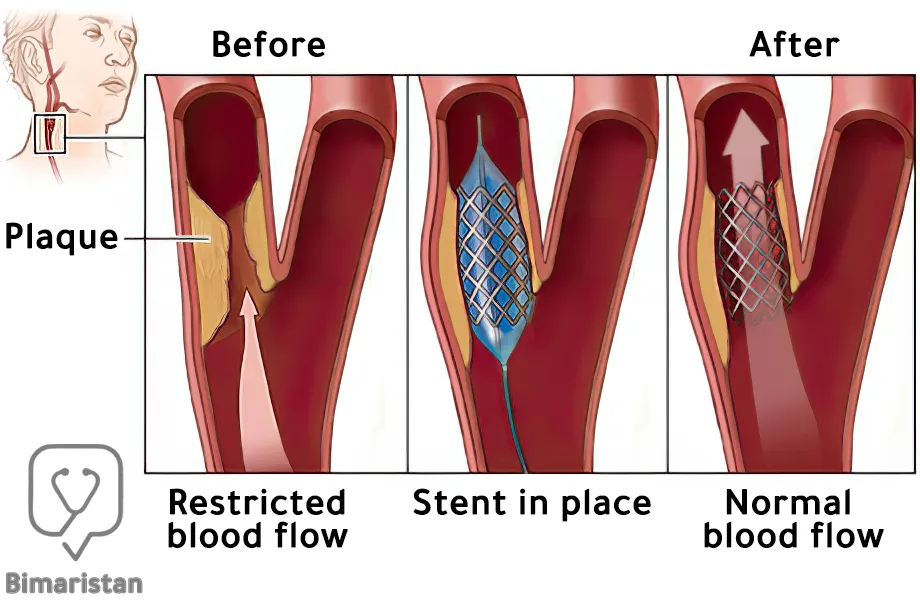 Carotid angioplasty and stenting procedure
Preparation of the patient for a typical CAS procedure starts with premedication (i.e., aspirin and clopidogrel). The medication management may vary according to the physician's preference and the patient's clinical status. (2)
The patient is taken to the angiographic catheterization suit, the femoral artery is accessed, and a guide catheter is passed to the affected carotid artery under conscious sedation or general anesthesia. The carotid narrowing is then evaluated under angiographic visualization. (2)
In an effort to prevent embolic stroke, the leading procedural complication of CAS, three approaches to emboliprotection device development have been pursued. These include devices for distal occlusion, proximal occlusion, and, most commonly, distal filtration. (1)
A cerebral protection device (it is usually a filter) is passed across the area of stenosis and deployed distal to the carotid narrowing to catch any debris dislodged from the stenotic area during the procedure. Subsequently, a self-expanding carotid stent is placed across the stenosis. The interventionalist may perform balloon angioplasty before and after stenting; finally, the filter is removed. Stent patency and absence of intracerebral embolization are confirmed by completion angiography. The length of the procedure is usually 30 to 60 minutes. (2)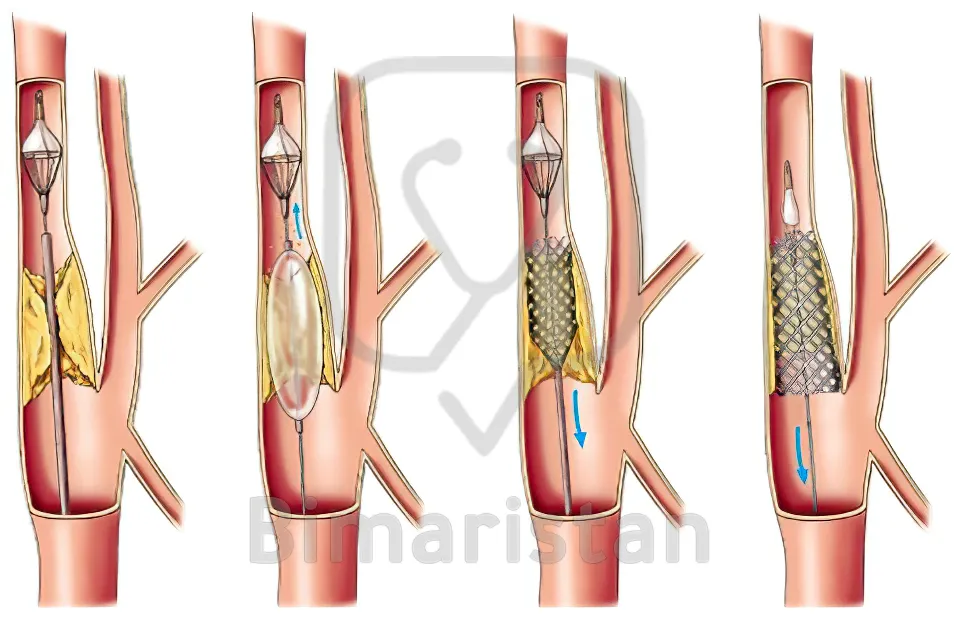 Heart rate and blood pressure were carefully monitored during the procedure, and Atropine was given to avoid or attenuate bradycardia. Severe hypotension was treated with IV infusions and small doses of vasopressors (dopamine or noradrenaline). (4)
All patients after the simultaneous procedure were neurologically and hemodynamically monitored in the ICU for at least 12 hours to check their neurological state, maintain a normal level of heart rate and blood pressure. The patient was discharged after 48 hours, and all patients continued double antiplatelet therapy, lipid-lowering, and anti-hypertensive agent. (4)
In case of severe stenosis ≥80%, pre-dilatation with balloon (3–5 mm) was performed before stent implantation. After the pre dilatation self-expanding stents were placed in the site of stenosis. After a control angiographic run, if the residual stenosis ≥30% was noted, post dilatation with a balloon (5–7 mm) was performed. (4)
Surgeons can use various types of stents for CAS. In cases with stenosis of the proximal part of the common carotid artery, it is advantageous to use a balloon-expandable stent for insertion in the correct position. In addition, a balloon-expandable stent is beneficial even in stenosis of the basal skull or petrous portion of the carotid artery. However, it is recommended to use self-expandable stents rather than balloon-expandable stents in the most common locations of carotid artery bifurcations or the proximal portion of the internal carotid artery. (3)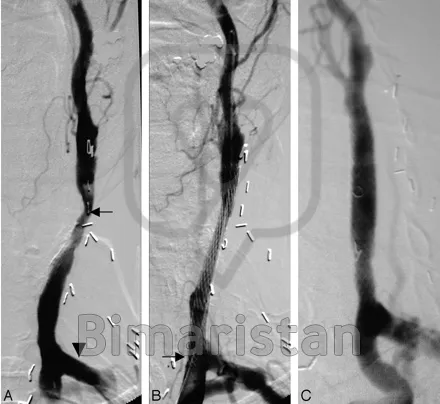 Periprocedural patient care
Carotid artery disease is not only a risk factor for stroke but is also a manifestation of systemic vascular disease and ischaemic cardiac disease. Severe correctable coronary artery disease was found in 28% of the patients undergoing CEA in one study. Preoperative evaluation of the cardiovascular system routinely includes an electrocardiogram and clinical assessment of function. (1)
Active clotting time should be maintained for more than 250 seconds by administering of heparin. Because more than half of patients who undergo CAS have significant coronary artery disease, coronary angiography is advised. (3)
Sudden decreases in blood pressure or pulse due to carotid sinus reflex are usually transient; thus, there is no special treatment. In fact, simply encouraging the patient to cough will facilitate recovery if the pulse is too slow. However, hypotension can last for 12–24 hours following the procedure in some patients; in the absence of symptoms in such patients, no special treatments are necessary unless systolic blood pressure drops below 80 mmHg. (3)
During the procedure, if the patient's brain function deteriorates during the procedure, the operator should evaluate whether blood pressure or pulse is too low and whether there is a decreased blood supply to the lesion and should check for disturbance of blood flow or cerebral hemorrhage by reassessing the brain image. (3)
Complications associated with carotid angioplasty and stenting
Although carotid angioplasty and stenting is an evolving minimally invasive treatment option not related to open surgery, it can have complications as well. Some of these complications can occur during the procedure, and others can occur up to a week later. Assessing for these complications is important to prevent further injury. In addition, patients and families should be educated on signs and symptoms of these complications. (2)
The incidence of medical complications is about 10% after CEA and less after CAS. Complications are associated with coexisting HTN, coronary artery disease, diabetes mellitus, and renal insufficiency. Preoperative evaluation should focus on identifying these conditions and optimizing modifiable risk factors when possible. (1)
Complications associated with CAS include cerebral infarction, cerebral hemorrhage or hyperperfusion syndrome, complications associated with the site of stent insertion, protective device-related complications, systemic complications, and local complications at the puncture site. (3)
---
References