It is considered Genicular Arterial Embolization a recently applied interventional technique to treat the knee pain related to osteoarthritis, with minor adverse event and good success result.
Problem of knee pain related to osteoarthritis
Chronic knee pain related to osteoarthritis (OA)Osteoarthritisis a major cause of disability in the population older than 50 years of age, with a reported prevalence of 25% to 30%. Pain related to OA of the knee necessitates various medical treatments ranging from nonpharmacological management of symptoms to total knee arthroplastyو and leads to a decrease in overall quality of life. (1)
Initial treat¬ment involves conservative measures such as physical therapy, use of knee braces, and medical analge¬sic/anti-inflammatory therapy. As the symptoms become more severe, intra-articular injections are then considered, including corticosteroids and hyaluronic acid compounds. Finally, if patients are still limited by pain despite these measures, surgical treatments including partial and total arthroplasty can be used. (2)
The pathogenesis of pain in the setting of OA of the knee has long been considered to be a result of the ero¬sion of articular cartilage, leading to "bone-on-bone" interactions between the femur, tibia, and patella. However, the latest thinking suggests that the pain is less mechanical and more often a result of chronic inflam-mation. The degradation of articular cartilage triggers an inflammatory cascade facilitated by the adjacent intra-articular synovial tissue. Inflammatory factors result in the growth of new blood vessels and nerves within the synovium. Irritation of these "new" nerves is ultimately the stimulus that causes the deep joint pain in knee OA. (2)
What is the genicular artery embolization (GAE)?
More recently, genicular artery embolization (GAE) has been proposed as an additional, often supplementary, method for management of mild to moderate OA of the knee. Early studies have revealed promising results with only self-limiting minor postprocedure complications. (1)
More recently, genicular artery embolization (GAE) has been proposed as an additional, often supplementary, method for management of mild to moderate OA of the knee. Early studies have revealed promising results with only self-limiting minor postprocedure complications. (1)
The idea that embolization of hyperemic intra-articular synovial tissue could reduce pain secondary to knee OA was first proven by Okuno and colleagues in Japan in 2014. In a case series that included 14 patients, genicular artery embolization (GAE) resulted in a reduc¬tion of pain and disability for as long as 19 months after treatment. Okuno et al went on to publish the results from a larger cohort of 72 patients (95 knees) who were treated with GAE in 2017. Within that patient group, 86% reported that their pain was reduced by at least 50% months after the procedure. Additionally, it was shown that the effect of GAE could last for as long as 2 years in some patients. (2)
Another promising finding was that the majority of the patients who were routinely taking opioid and nonsteroidal anti-inflammatory medication prior to GAE reported no longer taking them at 6 months after the procedure. (2)
Genicular artery embolization procedure
Inclusion criteria
Age ≥ 18 years
Knee pain for a duration of ≥ 6 months
Knee pain (numeric rating scale ≥ 4 to ≤ 8) on at least half of the days in the preceding month at time of inclusion
Insufficient response to conservative treatment for at least 6 months
Radiographic knee osteoarthritis (3)
knee anatomy
A fundamental understanding of knee anatomy is critical for identifying and embolizing target vascular supplies in a safe and efficacious manner. In knee OA, the medial joint compartment has a five to 10 times higher burden of disease than the lateral compartment. Therefore, branches of the medial and descending genicular arteries are often the embolization targets. GAE usually targets two to three hypervascular vessels per knee, given the need to preserve some blood supply to the joint capsule. (4)
The middle or median genicular artery is the predominant supply to the anterior and posterior cruciate ligaments. The inferior medial and lateral genicular arteries provide vascularization of the patella and associated patellar tendon. In addition to supplying the intrinsic knee compartment structures, cutaneous branches arise from the proximal aspect of the genicular arteries. (4)
The technique steps
The GAE procedures were performed with the patient under moderate sedation in an interventional radiology suite in the hospital. Immediately prior to the procedure, the focal areas of pain identified by the subject were marked with a radiopaque marker. Local anesthetic (1% lidocaine) was administered for a transfemoral approach. (5)
Access to the ipsilateral common femoral artery was performed with a 21-gauge needle, with exchange to a 3-French vascular sheath. In subjects with a high body mass index (BMI), contralateral femoral arterial access was obtained, and a 6-French sheath was then advanced over the iliac artery bifurcation to the common femoral artery of the target limb. (5)
A digital subtraction angiogram of the superficial femoral and popliteal arteries was performed through the sheath. This was followed by intraprocedural rotational cone-beam computed tomography (CT) of the knee in order to obtain a 3-dimensional (3D) assessment of the arterial supply to the knee. (5)
Using a 1.7 to 2.4-French microcatheter, the specific genicular arteries supplying the areas of the pain were catheterized. (5)
Embolization was performed with 100-mm Embozene particles. Embolization was performed until distal hypervascularity resolved, yet normal arterial flow was preserved within the selected artery. (5)
After finishing the embolization procedure, the sheath will be removed, and the puncture location is manually compressed for at least 10 min after which patient is immobilized for at least 3 h. (3)
The procedure time varies between 1 and 2 h. Subjects were discharged from the hospital 4 hours after the procedure. (5)
Embolic Agents for GAE
A comprehensive understanding of the properties of each occlusion material used is essential to improve its application, and the ideal therapeutic embolization material can be administered through any catheter end without fear of off-target distant embolization. (1)
There are two general embolic classifications for use in GAE for knee OA: temporary and permanent embolics. GAE for OA only uses particulate embolic agents to solely prune the distal vasculature and area of pathologic hyperemia while preserving the integrity of the collateral blood supply from the geniculate arteries to the osseous and ligamentous components of the knee. Such selective embolization of pathologic hyperemia and preservation of overall blood flow are also critical for future interventions such as TKA. (4)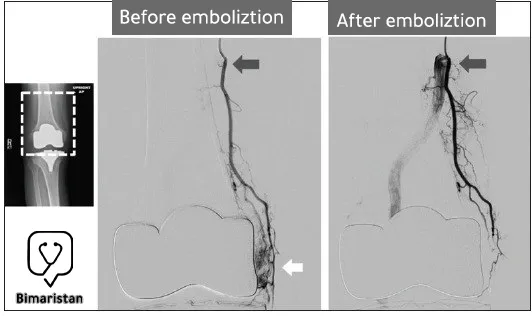 Okuno and colleagues demonstrated success with imipenem and cilastatin sodium (IPM-CS) to treat abnormal neovessels for musculoskeletal pathologic conditions (tendinopathy, enthesopathy, and adhesive capsulitis) that were refractory to conservative management, as reported in 2013 and 2014. (4)
Given such success in pain mitigation, Okuno first performed GAE for knee OA primarily with IPM-CS (0.5 g of IPM-CS in 5–10 mL of iodinated contrast agent) as well as with a permanent embolic, Embozene microspheres, for patients with allergies to IPM-CS.
IPM-CS is an antibiotic crystal mixture that exerts transient embolic effects when diluted in contrast medium. IPM-CS is the most common embolic of choice for GAE for knee OA outside of the United States, with a particle size that is approximately (10–70 μm). In addition to IPM-CS, other studies have employed permanent particles in GAE for knee OA, including Embozene microspheres (75–100 μm), Embospheres (100–300 μm), and polyvinyl alcohol (10–70 μm). (4)
Adverse events of GAE
Complications after GAE for knee OA are minor, transient, and mostly correlated with embolic selection. The most common complication after GAE, transient cutaneous erythema, occurred in 12% of patients, with the incidence and duration increasing with permanent embolics (63%, lasting 1–3 months) compared with transit (2.5%, lasting 3 weeks). (4)
Less common complications included access-site hematomas 10%, plantar sensory paresthesia 1.1%, and mild transient fevers 0.55%, all of which resolved within 2 weeks. Although overall complications were minor and transient, it appears there is an increased incidence of complications with the use of permanent embolics than with temporary embolics. (4)
Therapeutic role of GEA
Because GAE is being evaluated as a pain therapy, it will be important to determine if the effect of the treatment is greater than placebo. Results presented at the 2020 Society of Interventional Radiology (SIR) annual meeting demonstrated that GAE is significantly more effective than a sham angiogram in reducing pain and improving function 1 month after the procedure. (2)
GAE is an innovative technique that is investigated as an additional, often supplementary, method for palliation of chronic pain secondary to knee OA. Currently, the available data seem to suggest GAE is a reasonable and safe additional option to alleviate pain, decrease the use of pharmacologic analgesic agents and injection therapies, and improve functional status. Patients undergoing GAE could theoretically experience knee joint replacement at an older age compared with patients without previous GAE, a possible substantial benefit that will require long-term follow-ups for better understanding. (1)
---
Sources: